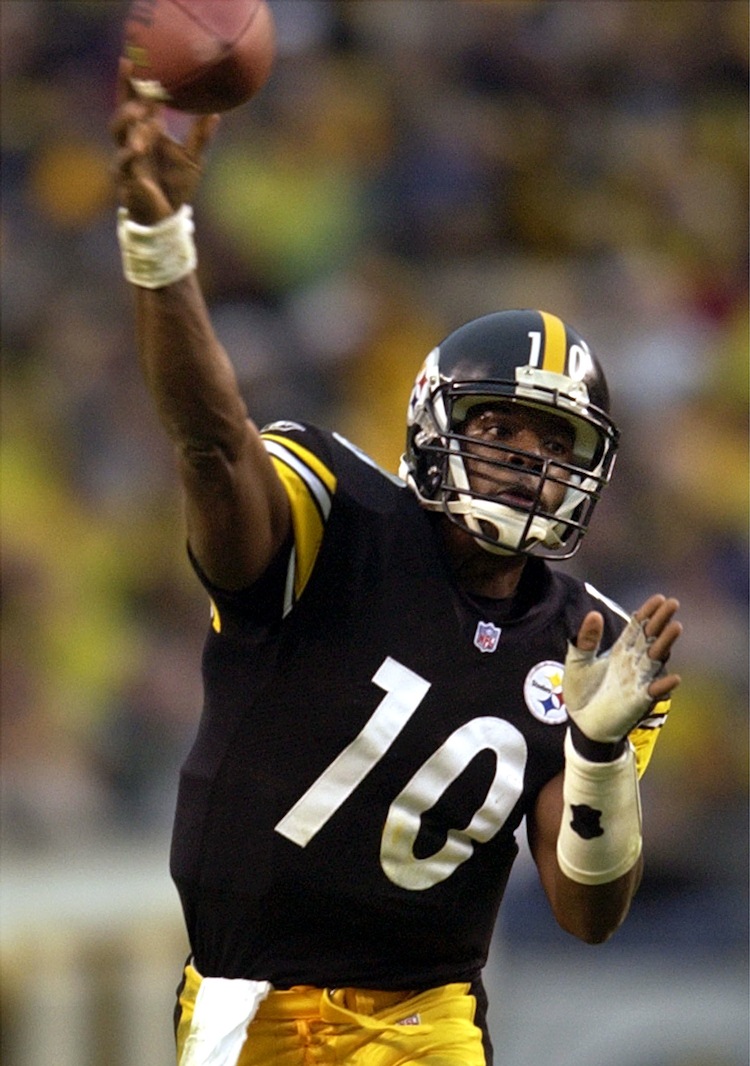 Although former Pittsburgh Steelers quarterback Kordell Stewart has been off the field for a few years, the 39-year-old officially retired on Wednesday while on a visit to the team's UPMC Sports Performance Complex.
"I just wanted some closure with my NFL career," said Stewart. "I wanted to finish it off as a Steeler. This is where I started. I talked to Mr. [Art] Rooney and he gave me the opportunity to finish it out as a Steeler. This means a lot. It lets me know how much they appreciate what I have done. I just want to tell Mr. Rooney and Dan Rooney the appreciation I have toward them and how they stuck by me during the tough times. When I talk about the Rooney family and how they do their business, they do it better than anybody."
Following his retirement announcement, Stewart took the time to pay a visit to some coaches, staff, and the 87-year-old Steelers founding owner and Chairman Art Rooney and his family.
"Closure is not about the tears and the crying," Stewart said. "It's about I did it and I had a great time. It's closure in a positive way. I got it done and I had a great time doing it. It's about the experience and what I got out of it. This is where it all started, that's where all of my success was."
Stewart stayed on the field as a Steeler from 1995 to 2002 until he was released. Stewart then had two short careers with the Chicago Bears in 2003 and the Baltimore Ravens from 2004 to 2005. In the last two years, Stewart has been working as an analyst for ESPN.
During the eight years with the Steelers, Stewart completed 1,190 passes for 13,328 yards, which ranks him third all-time in team history in both categories. He had completed 70 touchdowns.
Stewart, also an avid golfer, lives with his wife, Porsha, and their son, Syre, in Atlanta.
The Epoch Times publishes in 35 countries and in 19 languages. Subscribe to our e-newsletter.

Click www.ept.ms/ccp-crisis to read about the most recent developments in the ongoing crisis within the Chinese communist regime. In this special topic, we provide readers with the necessary context to understand the situation. Get the RSS feed. Get the new interactive Timeline of Events. Who are the Major Players?