WAUKESHA, Wis.—The man who served for 15 years as Milwaukee County sheriff said his former colleagues in the Milwaukee district attorney's office and the circuit court system "have blood on their hands" for letting Darrell E. Brooks Jr. out on low bail two days before he allegedly mowed down and killed six participants—including an 8-year-old boy—in the Waukesha Christmas Parade.
David A. Clarke Jr., who last served as Milwaukee sheriff in 2017, on Thursday blamed Milwaukee County District Attorney John Chisholm and the Milwaukee County Circuit Court for "deliberate indifference" that allowed Brooks to make bail even though he was charged with allegedly running over the mother of his child with the same vehicle used in the Waukesha killings.
"The defendant in this horrible incident was a time bomb," Clarke told about 50 people at the Waukesha Rally for Justice, who braved bitter cold and brutal winds at Frame Park along the Fox River. "The fuse was lit by your neighbors in the Milwaukee County prosecutor's office and the Milwaukee County Circuit Court system."
Brooks is charged with six counts of first-degree intentional homicide in the Nov. 21 assault on the Waukesha parade that also injured 61 adults and children. According to police and the criminal complaint filed against Brooks, he drove in a zig-zag pattern down the Main Street parade route, intentionally plowing into a marching band, the Dancing Grannies troupe, a youth baseball team, and others.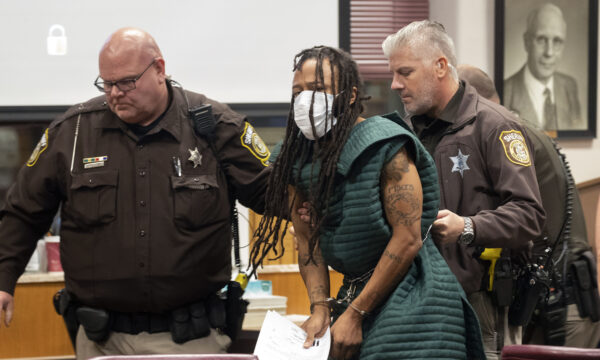 Victims were scattered along the parade route as Brooks allegedly drove past a police officer, who fired three shots into the vehicle in a futile attempt to stop him. Brooks is being held in Waukesha County jail in lieu of $5 million bail. He has a Jan. 14 preliminary hearing in the case.
Brooks was released on $1,000 bail in a Nov. 2 incident in Milwaukee involving the mother of his child, who—according to police— was punched in the face and run down by a red SUV driven by Brooks.
At the time of that attack, Brooks was out of jail on $500 bail in another case, in which he is charged with firing a pistol into a vehicle after an argument with his nephew about a cell phone. He has an arrest record stretching back to 1999.
Chisholm later called the $1,000 bail "inappropriately low," an amount recommended by an inexperienced prosecutor. Republican state lawmakers from Waukesha County demanded Democrat Gov. Tony Evers remove Chisholm from office, a move opposed by Wisconsin's Democrat attorney general, Josh Kaul. Chisholm has said he does not plan to resign.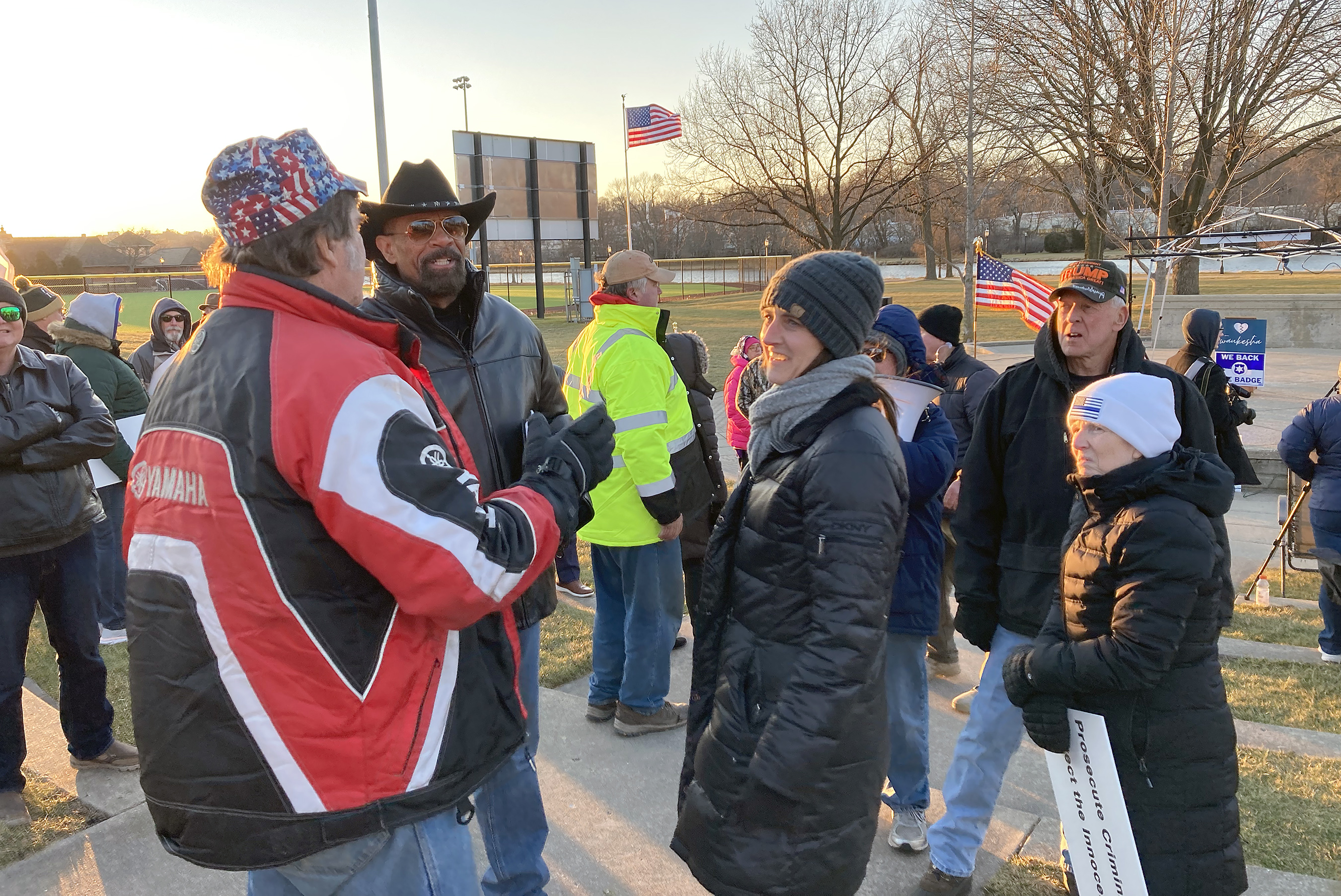 "It was the policy, it was the practice and it was the standard operating procedure of Milwaukee County District Attorney John Chisholm and their circuit court judges," Clarke said. "Those people, ladies, and gentlemen have blood on their hands."
Clarke, a frequent guest on conservative news programs, was appointed Milwaukee County sheriff in 2002, then elected to the job later that year and re-elected in 2006, 2010, and 2014. He left the sheriff's post to take a position in the Trump administration but ended up working for a conservative political action committee instead. Clarke is a fan of country music star George Strait and wears a trademark cowboy hat. He was branded a "Stetson-wearing provocateur" by the Milwaukee Journal Sentinel.
"The city and county of Milwaukee is your neighbor to the east. Unfortunately, their public officials and the criminal justice system have not been good neighbors in the area of public safety and criminal justice," Clarke said. "They showed no love for you as a neighbor by not holding violent and dangerous career criminals accountable while continuing to return them to the streets."
"District Attorney John Chisholm called returning Darrell Brooks back to the streets a mistake. Ladies and gentlemen, a mistake is thinking two plus two equals five," Clarke said. "Releasing a career criminal who intentionally drove through a parade, killing six people and injuring 62 others and leaving a community permanently emotionally and psychologically scarred, was not a mistake. It was malfeasance. It was neglect. It was callousness. Their deliberate indifference allowed their violence to spill over into this community of Waukesha."
Clarke said "somebody must be held accountable" for allowing Brooks on the street just before the deadly parade attack.
"Ladies and gentlemen, there is an opportunity to see that the six people that were killed did not die in vain," Clarke said. "There is an opportunity for justice, and not only for those who died, but those who were injured physically and psychologically and for the community that was shaken to its core."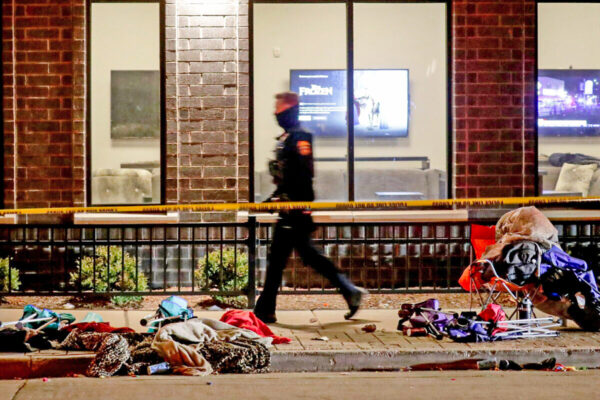 Clarke called for mandatory minimum sentences for major felonies "to restrict judicial leniency," a three-strikes law for career violent offenders, and "real bail reform" that forces judges to consider a defendant's record and threat to public safety. He said his group Rise Up Wisconsin will lobby the Wisconsin Legislature to fix the "lax criminal justice system" in the state.
"It is our time to rise up to keep the memory alive of those who were killed and injured on Nov. 21st, and now is that time," Clarke said to shouts of approval. "If not now, then when?"
"To all Wisconsin legislators hear this: we are coming for you," Clarke warned. "We want substantive public policy change on bail and sentencing of violent and repeat offenders. We want it now and we won't take 'no' for an answer. It's an election year in 2022 and we will not forget."
State Rep. Scott Allen, R-Waukesha, told the crowd that district attorneys, judges, and court commissioners must protect the public "regardless of their personal ideology."
"I've had conversations with police who told me they get tired of catching the same criminal over and over and over again," Allen said. "They catch the bad guys, they put their lives at risk and in danger. They catch the bad guys, only to have the guys back out on the street in days or weeks. And then they've got to go catch them again for another offense. And then they've got to go catch them again."