Former Shanghai Tycoon Could Face Death Penalty
November 3, 2007 12:00 am Last Updated: November 3, 2007 12:00 am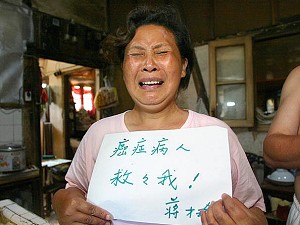 According to Hong Kong's Apple Daily, on October 27, the Shanghai Second Intermediate People's Court has concluded its case against Zhou Zhengyi. Zhou was charged with bribery and fraud in transactions valued over 100 billion dollars. He could face the death penalty.
Following the closing of the 17th Congress, the case against Zhou Zhengyi, once believed to reflect power struggles within the Chinese Communist Party, concluded without immediate sentencing. The indictment revealed Zhou Zhengyi was charged on three counts of bribery (unit, corporate, and general), forging VAT (value added tax) receipts, and misappropriation of funds.
On October 30, the Guangdong's 21st Century Business Herald reported the bill of indictment against Zhou Zhengyi. It detailed that since January 1999, Zhou was involved in a bogus transaction on electrolytic copper valued over 100 billion dollars between Liyuan Company and Nongkai Group and its 15 other affiliated companies. Through bribery of bank staff and a huge amount of fake VAT invoices, Zhou obtained bank loans amounting to billions of dollars.
Zhou's defense lawyer Ma Shuning once claimed that the death penalty is an impossibility. However, there have been numerous death sentences associated with forging VAT receipts. Since 2003, six of the seven cases involving 60 million (over US$ 8 million) to nearly 400 million yuan (US$ 53.7 million) of illegal funds were sentenced to death.
Business as Usual—Even in Prison
Back in 2003, Zhou Zhengyi was suspected of evading taxes, manipulating stocks, and obtaining huge amounts of illegal loans. He redeveloped a land parcel covering 45.2 acres in the eastern part of Jing'an District in Shanghai without paying a land lease having an estimated value of 300 million yuan (US$40.3 million). Zhou was slammed with a three-year sentence.
Zhou changed his name while in prison, and by bribing officials with millions of yuan, he received special treatment and operated his business from inside the prison. He was released last May. On January 20, he was re-arrested because of involvement in former Shanghai Party Leader Chen Liangyu's case. Chen's case which involved allegations of looting Shanghai's social security fund was later dismissed.
Jiang Zemin's Son Confides 'State Secrets' to Zhou
Hong Kong news media reported that authorities dug up evidence that implicated Jiang Mianheng—former Chinese leader Jiang Zeming's son—in a crime scandal.
Just before Zhou Zhengyi's case went to trial, the Hong Kong-based Information Center for Human Rights and Democracy in China quoted sources saying that Zhou met Jiang Mianheng in a bar before he was arrested on May 26, 2003.
Jiang Mianheng disclosed some state secrets to Zhou, including details of the case of Liu Jinbao—former president of the Bank of China in Hong Kong. Authorities are said to have obtained volumes of recordings of this conversation.