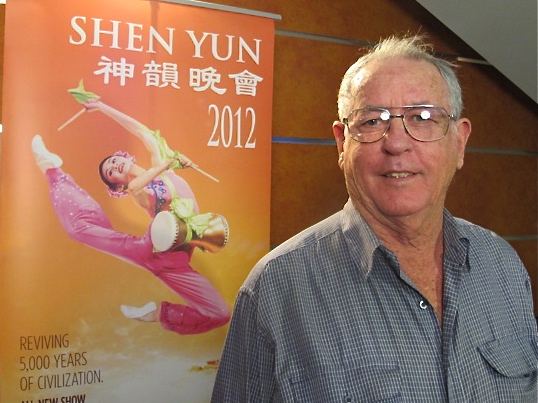 SYDNEY—Former professional dancer, Ken Coleman, came to Sydney's Capitol Theatre to see Shen Yun Performing Arts for the second time in two days. "It's just absolutely mind blowing," he said after Sunday afternoon's performance, April 29.
New York-based Shen Yun, the world's leading classical Chinese dance and music company, has as its mission the revival of China's authentic, divinely inspired culture.
"I think it is absolutely wonderful. I came to see it on Friday night and decided I wanted to see it again–and I came last year as well and saw it twice," the former dancer said.
An integral part of Shen Yun's theatrical display of classical Chinese culture is the show's digital backdrops that bring scenes from 5,000 years of history to the modern stage.
Mr. Coleman was particularly struck by Shen Yun's backdrops that transport the audience to another world.
"It's the original concept of the background effects and the graphics is something that I have never seen before," he said.
Another highlight for Mr. Coleman was the athleticism of the dancers.
"I think the highlights … when they do a back somersault or backflip they just seem to fly up in the air so high, I've never seen anything like it," he said.
Classical Chinese dance is a unique, comprehensive art form characterized by a multitude of intricate poses and movements that are integrated with a dancer's inner expression, along with a series of physical techniques that include very difficult moves such as jumps, flips, twists, spins, and tumbles, the company's website states.
As a former dancer, Mr. Coleman also appreciated the work that goes into a Shen Yun performance.
"I know the discipline it takes to be a professional dancer," he said.
Mr. Coleman especially appreciated the dance The Choice, a dance set in modern-day China about suppression of belief and the courage of Falun Gong practitioners who are persecuted for their faith.
He saw in the piece a message that people should have freedom of belief and "that it should be changed and people should continue to work to make it change."
Reporting by NTD Television and Anna Stute.
Shen Yun Performing Arts, based in New York, has three touring companies that perform simultaneously around the world, with a mission to revive traditional Chinese culture. Shen Yun Performing Arts New York Company will perform at Sydney's Capitol Theatre through May 6.
For more information visit ShenYunPerformingArts.org