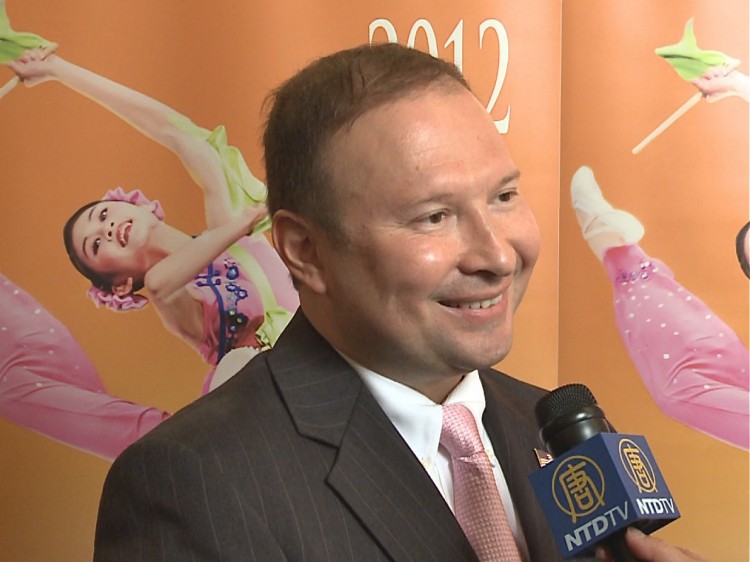 WASHINGTON—After Shen Yun Performing Arts enchanted the audience at the Kennedy Center Opera House, J.D Gordon, executive director of Protect America Today and former Pentagon spokesperson, shared his thoughts.
"The show tonight was really spectacular, and what great timing, too, because there were so many themes of renewal, revival, the spring, the cherry blossoms were depicted, so many nice colors and things," he said. "We are fully in the season, because in Washington right now we have the cherry blossom. And so it was very timely that we have an early spring to coincide with [the Shen Yun] performance tonight. I really think it was excellent."
New York-based Shen Yun has three companies traversing the globe with one mission—to revive the 5,000-year-old, divinely inspired culture of China. Although communist rule in China nearly destroyed this culture, "the deeper spiritual core of the ancient culture, with its values of benevolence, honor, propriety, wisdom, and sincerity, as well as a reverence for the gods and the heavens, cannot be destroyed," states the company's website.
Mr. Gordon's grandmother is ethnic Chinese, so he is one-quarter Chinese. He has always had a special place in his heart for China.
What Mr. Gordon drew from the performance was insight into the diversity of Chinese people.
"There are people from all around China, whether it is Tibet, Taiwan, the Northeast, there are different regions of China, and they all have the different cultures, and their different dances, and their costumes, so I think it is good to see that, that it is just not one country. It is a multitude of ethnicity, and we can see it live in these great performances over here in Washington," Mr. Gordon said.
At the heart of a Shen Yun performance is classical Chinese dance, a system both incredibly hard to master and that is one of the most comprehensive in the world, according to the music and dance company's website. Yet Chinese ethnic and folk dance is another facet of the company—China has 55 ethnic minorities with diverse characteristics.
"I think it was great to see the Chinese culture alive here in Washington. Five thousand years to celebrate, from all different regions of China," said Mr. Gordon. "I think that's what made the show so special."
Another special aspect of the performance stood out for Mr. Gordon. The Falun Dafa Association of Washington, D.C., a non-profit, honored Wounded Warriors by inviting two hundred soldiers and their families to attend the performance as guests of the Association, according to a release.
"The United States had about 50,000 wounded between Iraq and Afghanistan," said Mr. Gordon. "So I think it is very special for the dance [company] tonight to help commemorate our wounded warriors with us."
Reporting by NTD Television and Zachary Stieber
Shen Yun Performing Arts, based in New York, tours the world on a mission to revive traditional Chinese culture. Shen Yun Performing Arts Touring Company will perform at The Kennedy Center Opera House, Washington, D.C., through April 1.
For more information visit ShenYunPerformingArts.org