Former Ontario cabinet minister Michael Chan has tossed his hat in the ring for York regional councillor in the upcoming Ontario municipal election. Chan, who served in the Ontario Liberal government, had been the subject of a warning from the Canadian Security Intelligence Service (CSIS) related to China while in cabinet, according to The Globe and Mail, and has in recent years spoken publicly in favour of Beijing's national security law for Hong Kong.
Chan announced his intention to run for councillor in the York Regional Council on Aug. 8.
"Excited to share the news that I have just registered to run for Regional Councillor in Markham. I'm looking forward to beginning my campaign and meeting as many Markham residents as possible," he wrote in a Twitter post.
Chan was a Liberal member of the Legislative Assembly of Ontario between 2007 to 2018, serving as minister of citizenship, immigration and international trade from 2014 to 2016 and minister of international trade from 2016 to 2018.
He announced retirement from provincial politics in 2018 due to health issues, months before that year's municipal election. Speaking at an event on Aug. 3, Chan said his doctor has found him in good health, reported a local media.
In 2015, Chan filed a defamation lawsuit against The Globe and Mail after the news agency reported that CSIS had warned the Ontario government of Dalton McGuinty in 2010 that Chan was under the influence of Beijing and was too close with the Chinese Consulate in Toronto.
Chan had also been a vocal defender of Beijing's national security law for Hong Kong, passed in June 2020, which was used to suppress the massive pro-democracy protests in the autonomous region erupted in the previous year. The law allows the creation of a security agency in Hong Kong under the direct control of Beijing. The agency is not under the control of the Hong Kong government and not subject to the authority of Hong Kong police.
In a 2020 interview with China News Service, the second largest state-owned news agency in China, after Xinhua, Chan said the new legislation will help put an end to "social upheaval" caused by the pro-democracy protests in Hong Kong.
The Canadian government had expressed concerns about the Hong Kong national security law, which criminalizes "secession, subversion, terrorism and collusion with foreign forces," and provides "very broad definitions for these crimes that undermine rights and freedoms." Ottawa had introduced sanctions against the Hong Kong government, limiting exports of sensitive good there in the same way as those destined for China, including the export of sensitive military items.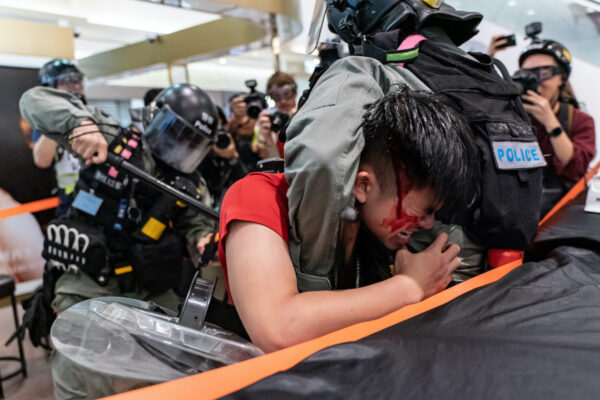 Amid the 2019 pro-democracy movement in Hong Kong, Chan had also criticized the protesters, saying they were very extreme and that, contrary to Western media's reports of excessive violence used by Hong Kong police against the civilians, the police have shown a lot of restraint.
Chan also blamed "outside forces" for fuelling the protests, aligned with how Beijing characterizes the origin of the protests in Hong Kong.
"If it wasn't for a deep-pocketed organization in here, or a deep-pocketed push from the outside, there wouldn't be such a massive unrest in Hong Kong," he said.
The Hong Kong police had opened fire on protesters with a live round, used tear gas, indiscriminately beat up protesters, and made mass arbitrary arrests during the 2019 pro-democracy movement. Following introduction of the national security law in June 2020, several pro-democracy media outlets in the former British-colony ceased operations in 2021 after police raided their offices and arrested staff members, including Canadian pop singer Denise Ho, who was a board member of the non-profit Stand News.
Omid Ghoreishi contributed to this article