Former Coalition Senator Sam McMahon will enter the upcoming Australian federal election race as a candidate for the libertarian-leaning Liberal Democrats.
The former senator resigned in late January from the Country Liberal Party (CLP)—part of the governing centre-right Coalition—after losing a tough pre-selection contest to former Alice Springs councillor Jacinta Price.
McMahon will now be competing against her former party colleague when she enters the race for one the Northern Territory's two Senate seats.
"I've had a fair beating from politics. I was happy to step away. I did not want to continue on in politics," she told reporters in Darwin on April 8. "But I have exercised my female prerogative to change my mind, and that is what I have done."
McMahon said the CLP was in shambles and that she was impressed by the professionalism of the Liberal Democrats.
She will be running alongside former CLP members, Kylie Bonanni and Jed Hansen, who will be running for the House of Representatives' seat of Solomon. Hansen was reprimanded by CLP President Jamie Di Brenni over a speech delivered at a rally against vaccine mandates on Jan. 22.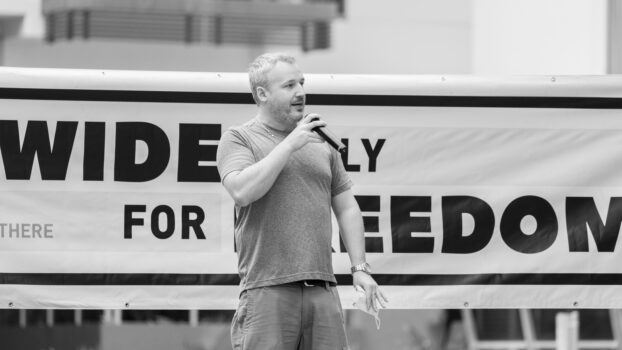 McMahon has campaigned against vaccine mandates, improved use of federal infrastructure funding, and for euthanasia.
Her decision to join the minor party mirrors that of former Coalition members Campbell Newman, Ross Cameron, and John Ruddick who quit last year largely over dissatisfaction with the handling of COVID-19 by Australian governments.
Amongst their dissatisfaction was the Coalition's bipartisan support for heavy lockdowns and tight restrictions on personal freedom. Former federal Member for Hughes Craig Kelly jumped ship to become the leader of the United Australia Party.
"I was a member of the Liberal Party for 40 years, and I can say we will tear strips off the Liberals and Nationals like hammerhead sharks tearing at the carcass of a sperm whale," Cameron told The Australian in the wake of his announcement in July.
The minor Liberal Democrats party has been steadily building up its list of candidates to run in the next federal election due in May.
Australia's major parties face challenges trying to satisfy the demands of a splintering electorate.
The centre-right Coalition has been trying to hold onto its conservative-leaning and right-leaning base, while shoring up inner-city electorates being challenged by progressive candidates and independents.
This has compelled the party to adopt policies to recognise climate change and gender equality—issues critical to increasingly progressive electorates in the major cities.
The centre-left Labor Party, meanwhile, has endured similar challenges—torn between its traditional working-class base and inner-city progressive voters, who wish to see more action on climate change, including renewable energy development—something which can conflict directly with voters who work in primary industries like coal mining.
The Australian Greens, meanwhile, have pitched radical, progressive policies including increasing welfare, a rapid transition to renewable energy, and halving defence spending.
Greens leader Adam Bandt has been confident that increasing dissatisfaction with the Coalition and Labor, could result in a hung Parliament and clear the way for minor parties like the Greens to exert more influence over policy.