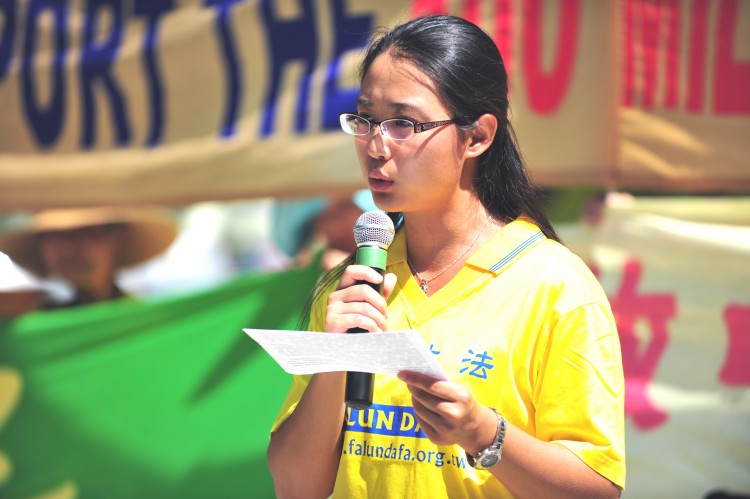 A former instructor at the China-linked Confucius Institute at McMaster University has filed a complaint with Ontario's Human Rights Tribunal for alleged discrimination in hiring practices at the institute.
Sonia Zhao, a Chinese woman who came to Canada in 2010 to teach Chinese at McMaster's Confucius Institute (CI), says she was required to sign a statement promising not to practice Falun Gong (also known as Falun Dafa) in order to obtain her position.
CIs are non-profit organizations funded by the Chinese communist regime with hundreds of branches worldwide. Although the institutes are branded as promoting Chinese language and culture, they have been cited by intelligence agencies as organizations used by China to extend its "soft power."
The Falun Dafa Association of Canada initially contacted McMaster about the discriminatory practice. Since the university failed to act after its president first acknowledged the severity of the concerns, Zhao, who left the CI in 2011, filed a case with the Ontario Human Rights Tribunal (OHRT) in September.
The Epoch Times reported last year that the CI had published a stipulation in English on its main website stating that teachers at the institutes must have "no record of participation in Falun Gong."
Falun Gong is a spiritual meditation practice whose adherents in China face heavy persecution by the regime.
CI 'Part of McMaster'
In its response to the OHRT case, McMaster has argued that since Zhao signed the agreement with Hanban, the organization overseeing CIs in China, the tribunal has no jurisdiction over the issue.
Human rights lawyer David Matas, who represents Zhao in the case, says that argument doesn't hold as the CI is not an autonomous entity.
"The reality is that the Confucius Institute is part of McMaster," says Matas. "Hanban isn't really running—what they're doing is just tying [down the instructors]."
McMaster is named as Zhao's employer in her Canadian work permit.
"The respondent (McMaster) cannot evade its responsibility to respect the Ontario Human Rights Code standards by delegating its hiring responsibilities to an agent outside the jurisdiction and turning a blind eye to discriminatory hiring practices of its hiring agent," Matas wrote in a submission to the OHRT, obtained by The Epoch Times.
McMaster has also argued that it was unaware of Hanban's rule forbidding practitioners of Falun Gong from teaching. Matas says the instruction is found in English on Hanban's website and that McMaster should have known—if they didn't it means they "didn't do their homework."
McMaster did not respond to requests for comment.
Other Canadian schools also claimed to be unaware of CIs' discriminatory hiring policy, although the statement relating to Falun Gong has been available on the Hanban website.
Barb Pollock, vice president of external relations at the University of Regina which in 2011 decided to host a Confucius Institute, told The Epoch Times last year that she did not know about the rule.
"It's not in our agreement. The stipulations in our agreement have everything to do with academic freedom," she said.
However, Pollock admitted that the hiring is handled by the institute and that the university only reviews a proposed hire after they are already selected by the Beijing-controlled CI.
Sandy Forster, director of curriculum with Edmonton Public Schools (EPS) which has partnered with Confucius Institutes in Edmonton, told The Epoch Times she had not heard about the hiring rule and could not comment. EPS occasionally receives guest teachers from the Confucius Institute.
Following Matas' submissions to the tribunal in response to McMaster's claims, Matas says the two sides have now agreed to pursue mediation. According to Matas, McMaster still has not confirmed if it's committed to the discriminatory policy being ended.
Fear of Punishment
Zhao, whose mother was imprisoned in China for practicing Falun Gong, says she was warned she would be punished for breaching the agreement that she was asked to sign with the CI, which, among other things, prohibited her from practicing Falun Gong.
She therefore hid her belief in Falun Gong while working at McMaster.
"In Confucius Institute, the staff are sent by China and I need to be careful not to let them know I'm a Falun Gong practitioner. I just feared if they found that out, something would happen to me," Zhao says.
For Zhao, the painful memories of her mother getting dragged to prison more than once because of her belief in Falun Gong made her fearful of returning to China, and she finally decided to leave the CI. She has since been granted refugee status in Canada.
'Overseas Propaganda Setup'
Li Changchun, the Chinese Communist Party's (CCP) propaganda chief and the fifth highest-ranking member of the ruling Politburo Standing Committee, has called CIs "an important part of China's overseas propaganda setup."
Li came to Canada earlier this year and had a meeting with Prime Minister Stephen Harper. Li also attended the opening ceremony of a Confucius Institute at Carleton University during his visit.
The fact that such a high-ranking CCP official was in attendance for the opening of the institute denotes the importance the Party places on CIs.
CSIS head Richard Fadden has said CIs are under the control of Chinese embassies and consulates and has linked them with some of the regime's other efforts to influence Canada's China policy.
In 2008, when Chinese paramilitary troops were sent to quash Tibetan protests, a University of Waterloo Confucius Institute instructor rallied her students to condemn "anti-China" reports in the Western press, leading one Canadian television network to apologize.
An Israeli judge ruled in 2009 that Tel Aviv University had violated freedom of expression and caved in to pressure from the Chinese embassy when it shut down a student-led art exhibition depicting the oppression of Falun Gong in China out of fear of losing its CI and other perks supported by the Chinese regime.
Other schools and organizations hosting Confucius Institutes in Canada include Brock University, British Columbia Institute of Technology, University of Sherbrooke (in partnership with Dawson College), University of Waterloo, the Toronto District School Board, and the New Brunswick Department of Education.
University of British Columbia and University of Manitoba do not to host CIs.
The Epoch Times publishes in 35 countries and in 19 languages. Subscribe to our e-newsletter.