Former Lieutenant Missing, Brother in United States Calls for Attention
December 1, 2005 12:00 am Last Updated: December 1, 2005 12:00 am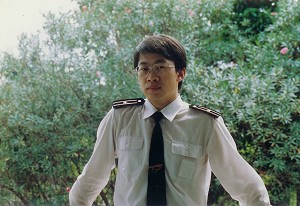 On November 27, 2005, New York resident Hu Zhihua called for urgent help in rescuing his younger brother, Hu Zhiming. Hu Zhiming worked at a high-tech company in Beijing before he became missing at the end of September.
Hu Zhiming was born in 1972 in Chaoyang City, Liaoning Province. He was educated at the Air Force Engineering University in Xi'an. After obtaining his BS degree in 1994, he attended graduate school there. After graduating with his Masters degree in 1997, he was assigned to work at the Air Force Training Equipment Research Institute in Beijing. At that time, he started practicing Falun Gong. In 1998 he was promoted to be the head of the institute's computer laboratory director with the military rank of lieutenant and was also the recipient of numerous awards.
Since 1999, the persecution against Falun Gong practitioners first began within the military. In March 2000, the government secretly ordered all of the Beijing work divisions to arrest or closely monitor all Falun Gong practitioners during the National People's Congress Conference. To avoid arrest, Hu Zhiming left the institute. However, the institute traced his phone records and found him. Hu Zhiming was arrested and illegally detained for over two months at the Beijing West Mountain detention center.
During the time when he was in custody, soldiers guarded the door 24 hours a day. Every day, the Air Force Command sent various personnel to brainwash him in an attempt to force him to give up practicing Falun Gong. Finally in May 2000, the institute discharged him from active military service because he would not renounce his belief.
[Note: according to government regulations, graduates from Chinese military academies with Masters or Doctorate degrees must maintain a lifetime of active military service.]
After Hu Zhiming returned home, the local police constantly harassed him. In order to avoid persecution from the local police and not bring trouble to the family, Hu Zhiming was forced to go into exile. In September 2000, he suddenly lost contact with his family. His parents and brothers searched for him, but with no luck. The family became extremely concerned and his mother damaged her eyesight from constantly crying.
In October 2001, his parents finally obtained a notification that Hu Zhiming had been arrested in Shanghai in September 2000 and had been detained at the Shanghai Detention Center ever since. Later, he was illegally sentenced to four years in prison without any legal proceedings and was imprisoned at Tilan Qiao Prison in Shanghai.
Hu Zhihua said that, like many other Falun Gong practitioners in mainland China, his brother has suffered from brutal and inhumane persecution during the last six years, especially when he was imprisoned at the Tilan Qiao Prison in Shanghai.
During the time Hu Zhiming was in custody, he staged a long hunger strike to resist the persecution, which made his body feeble. The prison, afraid of being found liable, notified the family to take him home. When the family arrived, they found Hu Zhiming a completely different person: he was in very poor health and could hardly walk.

After a brief period of rest, Hu Zhiming recovered quickly. He also taught himself some professional computer knowledge. However, the local police often visited and checked on him. In order to lessen the harassment of his terrified parents and to avoid further persecution from the police, Zhiming went to Beijing in search of a job.
At the end of August, Zhiming e-mailed Hu Zhihua with the news that he had found a great high-tech job in Beijing. Since then, however, Zhiming has stopped responding to e-mails. Hu Zhihua called his parents in Liaoning who told him that, "The local police suddenly searched our home. They looked for things your brother used. They did not tell us what happened."
Hu Zhihua believes that the Beijing Police Department had abducted Hu Zhiming between September 23 and 25.
Hu Zhihua further pointed out that nowadays, many Chinese feel that the persecution against Falun Gong is rarely mentioned, but this is exactly the false appearance the Chinese government hope to generate through its state-controlled media. In addition to this specific case, shortly before Hu Zhijua's brother became missing in Beijing, Liu Ping, the sister-in-law of another New York resident, Zhang Shuangying, was also abducted and sent to forced labor camp in Jinan City, Shandong Province. Earlier this year, Wang Huimin, who had just arrived in New York from Guangzhou, was abducted and sent to brainwashing class on her way to work.
Hu Zhihua said emotionally, "I just watched a Thanksgiving parade. Seeing so many happy faces really makes me think about my fellow Chinese in China. Have they ever breathed the air of freedom? Have they ever listened to a media that has not been censored? Under such a high pressure in mainland China, my missing brother has always been able to uphold his belief, how can I not be proud of him?"
At the end, Hu Zhihua calls for everyone overseas to pay attention to this matter and to provide any information that may aid in the search for Hu Zhiming. In addition, he also calls upon the international societies for their attention on the brutal and inhumane persecution against all the Falun Gong practitioners in China.