A former heroin addict said she had months to live but was able to make a dramatic transformation over a year.
Caroline Best said her life was ruled by her addiction to heroin and crack, according to The Mirror, which also reported that she spent 15 years in and out of prison.
She said that 12 months ago, she was told that she had about a year to live after doctors said her heart would fail.
An officer, Stuart Toogood, from the West Midlands Police, reached out to her to help turn things around.
Heroin addict goes through incredible transformation after being told she has months to live. https://t.co/rOJ9WIhBr3 pic.twitter.com/rUZzKmifWK

— LADbible (@ladbible) August 27, 2019
The West Midlands Police shared the story of how she was able to beat her addiction. She joined a rehab program last August. As of Aug. 27, she is 12 months clean from drugs.
"Thanks to Stuart Toogood, I'm now a productive member of society and I thank him for helping me do something I couldn't do on my own," Best said.
"I am living proof that we can recover," she said.

Police also said that she was told she no longer needed to get a heart operation after she beat her drug addiction.
Toogood said, "Our Offender to Rehab Programme has so far successfully placed nine prolific offenders into rehab. Of the five who have completed the program, one has gained full-time employment at Timpson, two have worked as volunteers for Birmingham Mind charity and completed adult education courses."
He added, "Two people are in aftercare at dry houses − one should be progressing into employment soon whilst the other is about to undertake adult education courses. Four other people are currently in treatment and doing well. Several others are in the process of being assessed for rehab placement."
Fentanyl Coming Into US Mostly From China
China's "export-led economic strategy and lack of regulatory oversight" are responsible for most illicit and synthetic fentanyl in the United States, think tank Rand Corporation recently testified to Congress.
The global policy think tank told the U.S. House Homeland Security Committee that the rising opioid epidemic was initially fueled by an oversupply of prescription oxycodone and hydrocodone, but by 2019 morphed into an illicit synthetic opioid crisis causing "approximately two-thirds of all opioid overdose deaths."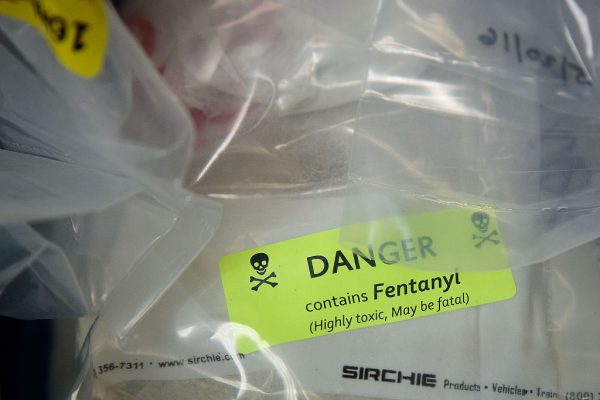 Pharmaceutically-pure fentanyl is an opioid that is 80-100 times stronger than morphine. The compound was approved in 1968 as a transdermal skin patch for pain management treatment of very sick cancer patients undergoing chemotherapy or hospice.
U.S. Customs and Border Protection Enforcement Statistics reveal that fiscal year seizures of illicit fentanyl spiked from about one kilogram (about 2.2 pounds) in 2013 to nearly 1,000 kilograms (about 2,200 pounds) in 2018. With several U.S. regions transitioning away from heroin to synthetic opioids, the number of law enforcement fentanyl seizures within the United States vaulted from about 1,000 in 2013 to more than 59,000 in 2017.
The U.S. Centers for Disease Control and Prevention reported 28,000 opioid deaths in 2017, mostly from fentanyl, leading President Trump and China leader Xi Jinping negotiating a December 2018 agreement during G-20 summit in Argentina that "China would enact policies to penalize the manufacturing and exporting of fentanyl."
Criss Street contributed to this report.