CHICAGO—Jonathan Watkins was changing the diaper of his 6-month-old, Jonylah, leaning over her on the backseat of his car. He picked her up and kissed her, as bullets whizzed right through her.
He woke up in hospital, his baby dead and his own body healing from three gunshot wounds. The shooter had a grudge against Watkins for an alleged break-in. Rev. Corey Brooks was at Watkins's bedside when he awoke.
Brooks has been a shepherd to many youth in Chicago's troubled Woodlawn neighborhood over the years. He took Watkins into his flock as well.
That was 2013. Now, Watkins seeks out the areas where there's the most danger of being shot—and convinces gangsters there to become construction workers.
He's part of Brooks's Project Helping Others Obtain Destiny (H.O.O.D.), based on King Drive, where the Woodlawn and Englewood neighborhoods meet. It's in one of the most dangerous districts in Chicago for gun violence.
Citywide last year, 2,611 people were shot. By contrast, New York City only had 766 shootings last year.

Chicago's shooting rates have been on the decline since a peak in 2016, but the city's gun violence still stands out nationwide. Illinois is the third worst state for murder by firearm, after California and Texas, according to the FBI's most recent annual crime report, for 2018.
The Chicago police department's 2018 annual report shows the district in which Project H.O.O.D. operates had 188 shootings that year.
"These are hot zones. These are known zones for people to shoot at you," Watkins said.
When he was in the Gangster Disciples gang he "took care of business," he said, so he was respected. The young Disciples out there now tend to listen to him.
"I'm a coach. When you are a coach, you've got people [who] listen to you and do what you say," Watkins said.
He tells them, "There is a better way of making more money. And you ain't got to stand right here and a person runs up and tries to shoot at you." Project H.O.O.D. offers free 10-week construction courses.
Brooks saw an opportunity in the construction boom.
Three out of four construction companies in the United States plan to hire new employees to meet strong demand this year, according to a Dec. 2019 survey by The Construction Association. The aging industry is especially looking for young workers.
Brooks and his team, including Watkins, are helping the young people selling drugs on the street corner realize they can make a decent wage in construction.
Watkins had entered the gang when he was 14, to make drug money and buy the things his mother couldn't afford with seven mouths to feed. Now he's 35 years old and still mourning the loss of his baby; he said, "My younger days are over, I want to think for the family and live."
The others working with Project H.O.O.D. have been in gangs, too. Many of them are noticing a breakdown of the morals that once held gang members to a certain level of honor and community feeling.
A Change in Ethics
James Highsmith, 70, grew up in Englewood. He remembers how different it was in the '60s and '70s.
If a member in the community couldn't afford the rent, the others would host a rent party and put in what they could spare, he said. "We had shared values that what happened to you, I'd consider it happened to me."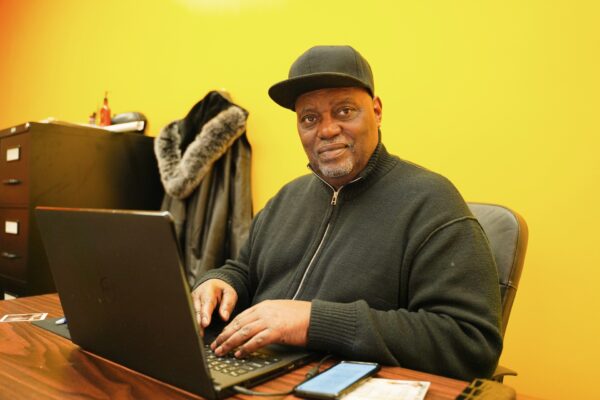 "It was a deeply rooted culture that was established from slavery and antislavery that made us bond together," Highsmith said.
When you have that ethic as a foundation, there are certain things that even a gangster wouldn't do, he said. "That seemed to disappear with the production of drugs and all kinds of things. Then the rules that regulated individuals disappeared too."
"It's dark. It's nasty," he said. "They got a saying now: 'Why do 10 when you can do a friend?'" Meaning, you can set up a friend to save yourself from a 10-year prison sentence. The older, bigger gang structures have broken down into smaller factions, he said. So there's less unity and more rivalry and animosity on the street.
Highsmith was a high-level gangster most of his life. He rose to the top of the "totem pole," he said. "A lot of guys in the city called me a legend."
He went to prison three times on different charges. But he had a 25-year stretch between the second and third time—and that's a long time to be active in criminal activity and stay out of jail. That gave him the time and prestige to rise within the gang.
But he did end up in a federal penitentiary in the '90s on a 14-year sentence for drug trafficking. He saw black young men coming in with life sentences for selling crack cocaine, he said, and he felt an urge to do something different with his life for the first time.
"Their whole life is over at 20 years old," he said. Talking to them, he also started to notice the changes in gang life. It was "dog eat dog" and "stab me in the back before I stab you in the back," he said.
"You gotta get out," Highsmith told them.
Redemption of a Gang Leader
He now heads a violence prevention team at Project H.O.O.D. "It's imperative to somebody like myself, who got a long history to … understand that my job is to keep youngsters alive and out of [jail]."
The team members check hot spots on the streets multiple times throughout the day to talk to young men out there. If any are interested in the program, they can go with the team member to the project's office to learn more.
Watkins brought in six gang members for the current construction class.
The office is furnished with pieces made by students of the project's carpentry class. It's a place kids from the local housing project like to come and play during summer break. Pastor Brook is known to offer money or pizza to kids who help clean up the neighborhood by picking up trash.
Lavondale Glass, known as "Big Dale," is a case manager at the office. He greets new recruits and gets them started.
Glass, 46, is also a former member of the Gangster Disciples in the Woodlawn area. When his son's 14-year-old best friend, whom he helped raise, was shot and killed, he began to see that the kind of life he found "normal" was really bad.

Like Highsmith, he's noticed a big change in the area over the years.
"I was here when 63rd Street was full of stores, black-owned stores," Glass said. "We destroyed our own neighborhoods." He used to proudly call a drug dealer "an entrepreneur in the street." But no longer. He said he wants to "right his wrongs."
He tells the new recruits at Project H.O.O.D., "It's not the right way. It's only a one way ticket to either jail or hell."
He said he understands where these young men are coming from and adjusts his approaches depending on how they accept his message.
Many of them are from broken homes. They see their mothers struggling to feed and clothe them. "Many of these kids … are really just looking for a father figure," Glass said.
Sometimes he plays the role of father, he said. Sometimes he plays the role of friend.
"If they accept it [from me] as a father figure, cool. If they accept it as a friend figure, then cool. As long as they accept it," he said.
"You cannot force yourself on them. You can lead a horse to water but you can't make them drink."
Replacing Guns With Hammers
The current construction class at Project H.O.O.D is the third and the largest to date, at 28 students. The violence prevention team is new, and that's made all the difference in bringing people in, said Pastor Brooks.

"If you replace a gun with a hammer, things will be more productive," he said.
Funding has always been a challenge, and it takes $100,000 to conduct a 30-student construction class well, he said. The majority of the funding comes from private donors.
The Associated Builders and Constructors (ABC) partners with Project H.O.O.D. Susette Crenshaw, a workforce development coordinator at the Illinois chapter of ABC, told The Epoch Times, "We've decided to come into the communities to provide these trainings that will lead to industry-recognized credentials, and also give individuals from this community an opportunity for employment."

Since the peak in gun violence in 2016—762 murders, and 3,550 shooting incidents—the city has hired more law enforcement and boosted programs to help areas most affected. Project H.O.O.D. and other publicly and privately funded violence prevention programs are helping out.
The number of homicides in Chicago dropped 13 percent in 2019 from the year before, and fell below 500 for the first time since 2015. The number of shootings declined 8 percent from 2018 as well, according to Chicago Police Department data.
Project H.O.O.D. operates in District 7, the northernmost of three districts heavy on gun violence. District 7 saw a decrease of almost 8 percent in shootings from 2017 to 2018. The district just to its south saw a decrease of about 5 percent, and the district below that one saw an increase of 20 percent.
Whatever Project H.O.O.D. has contributed to that larger decrease in a troubled area, Glass feels that, "If we could save one life, I believe we work miracles."