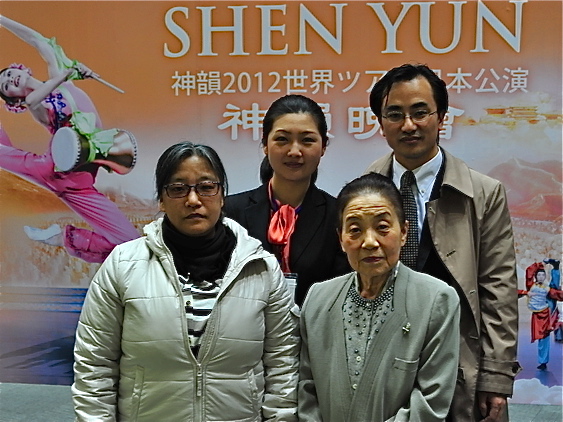 NAGOYA, Japan—Shen Yun Performing Arts New York Company presented another uplifting performance on its Asian tour at the Nagoya Congress Center on the evening of Feb. 17. Awestruck by the magnificence of the performance, the audience applauded enthusiastically. "Shen Yun is conveying divine messages," 80-year-old former dancer Nishikawa Daimi said in excitement.
She believes Shen Yun is doing something very wonderful, that is, conveying messages of divinity through its artistic display of China's 5,000-year-old divinely inspired culture. "In China, there are people who believe in divinity, Buddha. It's a question of one's belief. Today's programs fully express such an atmosphere. Each program is conveying divine messages. Very well-done, really wonderful," she said.
As for Shen Yun's classical Chinese dance, she said with unrestrained enthusiasm, "So wonderful, I feel like dancing with them!"
She has been to Shanghai, China, and has some understanding of current arts in China. With no chance to view such a performance in China, she feels touched and looks forward to Shen Yun's return to Japan, when she said she would bring her students to the performance.
Reporting by Wu Lili and Amy Lien.
Shen Yun Performing Arts, based in New York, tours the world on a mission to revive traditional Chinese culture. After its performances in Japan, Shen Yun Performing Arts New York Company will continue to top venues in Korea and Taiwan, followed by Australia and New Zealand.
For more information visit ShenYunPerformingArts.org
Read the Chinese article