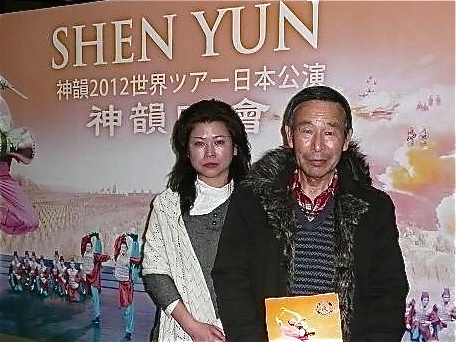 TOKYO—Following the grand premiere of Shen Yun Performing Arts New York Company in Tokyo on Feb. 14, the company performed two shows at Nagoya's Congress Center on Feb. 17. Nagoya is one of the four famous historic cities in Japan.
Shen Yun's performance, with complete benevolence and complete beauty, allowed the audience in Chukyo to feel the greatness of the divinely inspired Chinese culture. Among them was Mr. Gishi Ichio, former councilor of Minokamo, who watched Shen Yun for the first time at the evening performance. He spoke highly of the presentation of classical Chinese dance and music.
"Accompanied with music played by the live orchestra, and figures on the backdrops directly descending to the stage, I have never seen such a wonderful performance. It indeed touched me so much. In the program How the Monkey King Came To Be, the Monkey King was so tiny in the beginning, and he turned out to be so large in a wink, flying down to the stage, and then immediately flying back. It's so great! It is indeed not easy to present this kind of performance."
Mr. Gishi Ichio said that he was a Chinese history lover and has visited China many times. Being different from other countries, China he said is like the origin of Japan's ancestors. He continued, "Shen Yun displayed the Chinese history, one scene after another. The performances were really beautiful, beyond my imagination. I warmly welcome Shen Yun to return to Japan, and I look forward to seeing the show next year."
He also especially mentioned that some of the audience members around him had come all the way from Tokyo. He commended Shen Yun for a fantastic performance.
Reporting by Wu Lili and Joseph Wu.
Shen Yun Performing Arts, based in New York, tours the world on a mission to revive traditional Chinese culture. After its performances in Japan, Shen Yun Performing Arts New York Company will continue to top venues in Korea and Taiwan, followed by Australia and New Zealand.
For more information visit ShenYunPerformingArts.org