Former Hillary Clinton campaign lawyer Michael Sussmann has filed a motion to dismiss special counsel John Durham's case against him, claiming "extraordinary prosecutorial overreach."
"Defendant Michael A. Sussmann, by and through undersigned counsel and pursuant to Federal Rule of Criminal Procedure 12(b)(3)(B), respectfully moves this Court to dismiss the Indictment because the single count therein 'fail[s] to state an offense,'" Sussmann's lawyers wrote on Feb. 17. Previously, the former Perkins Coie lawyer pleaded not guilty to charges of lying to the FBI.
Last year, Durham alleged Sussmann had told then-FBI General Counsel James Baker, who now works for Twitter, in September 2016 that he wasn't working for any client when he met with Baker to hand over debunked information that connected the Trump Organization to a Russian bank.
And on Feb. 12, Durham filed a motion that a technology executive, identified in reports as Rodney Joffe, electronically infiltrated Trump's residences and the White House when he was president. It further said that Sussmann had "assembled and conveyed the allegations to the FBI on behalf of at least two specific clients, including [Joffe] at a U.S.-based internet company (Internet Company 1) and the Clinton campaign."
Joffe—who hasn't been charged with a crime—said via a spokesman that when he explored former President Donald Trump's executive office, Trump Tower, and Trump's nearby apartment, "there were serious and legitimate national security concerns about Russian attempts to infiltrate the 2016 election."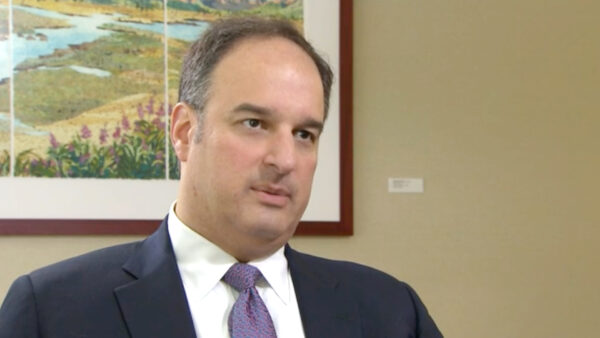 In the motion to dismiss, Sussmann's lawyers said Durham is overreaching with his recent allegations.
"It has long been a crime to make a false statement to the government. But the law criminalizes only false statements that are material—false statements that matter because they can actually affect a specific decision of the government," Sussmann's lawyers said in their motion.
The attorneys cited previous instances in which people have been prosecuted for giving tips to federal agents, adding that they were historically "charged with making a false statement only where the tip itself was alleged to be false, because that is the only statement that could affect the specific decision to commence an investigation."
In 2016, his lawyers added, Sussmann went to the FBI to "provide a tip," adding that there is no claim in Durham's indictment that it was false. Instead, "Sussmann has been charged with making a false statement about an entirely ancillary matter—about who his client may have been when he met with the FBI—which is a fact that even the Special Counsel's own Indictment fails to allege had any effect on the FBI's decision to open an investigation," they said.
His lawyers didn't directly refute Durham's allegation that Sussmann intentionally misled the FBI and Baker in September 2016 when he said he wasn't working for any client, when he was actually working on behalf of the Clinton campaign. Durham's latest filing said Sussmann was repeatedly billing the Clinton campaign for his work at the time.
"At the end of the day, Hillary Clinton herself could have publicly handed over the Russian Bank-1 Information and the FBI would still have investigated it," Sussmann's filing reads. "And if Mr. Sussmann had not met with Mr. Baker and Newspaper-1 published its article as anticipated … the FBI surely would have initiated its investigation then as well. Thus, Mr. Sussmann's purported statement about his clients was utterly immaterial."
Regarding the claim that the Trump Organization had established a connection to a Russian bank, the FBI investigated and concluded there wasn't enough evidence to support those allegations.
For his part, Trump released a statement last weekend saying Durham's recent court filing vindicates Trump's claims that his office was being spied on while he was president. Clinton, in a Twitter post on Feb. 16, alleged that Trump and Fox News "are desperately spinning up a fake scandal to distract from his real ones."