Former Chinese Diplomat Returns To Consulate For Hunger Strike
February 10, 2006 12:00 am Last Updated: February 10, 2006 12:00 am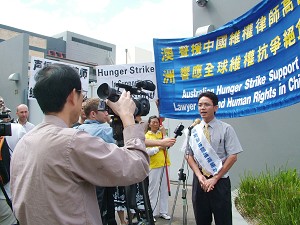 The former First Secretary of the Chinese Consulate in Sydney, Chen Yonglin, began a hunger strike outside the Consulate on Friday February 10. The action is in support for the Chinese human rights lawyer Gao Zhisheng and other activists inside China, who recently began a relay hunger strike to protest increasing state violence against activists and growing social unrest in China.
Standing outside the drab grey green walls of the consulate Mr Chen addressed the media and supporters of human rights in China.
"Last year I was working and living inside this overseas prison of the CCP [Chinese Communist Party] and now I'm outside, I stand here also to support Mr. Gao Zhisheng and a number of lawyers in China who have been engaged in the Human Rights movement. They are maintaining the basic human rights of the Chinese people that have been totally robbed away by the Chinese Communist Party," said Mr. Chen.
The former diplomat said that hunger strikes have begun inside mainland China and around the world and will become the biggest campaign for freedom since the 1989 democracy movement.
"We hope more people, more Chinese people will stand up and join us because the Chinese people can only save themselves by standing up themselves," said Mr. Chen.
He also called upon his former colleagues behind the consulate walls to stop co-operating with the Chinese communist regime. Mr. Chen said he is grateful to now be an individual who is able to speak freely and with no fear, something he hoped his former colleagues in the consulate were able to do.
"These people who are still working inside, my [former] colleagues, most of them are actually kind and good people but because [for] generations Chinese people have been spiritually brainwashed by communism and people are frightened and scared by communism's brutality and people they will not speak out loudly what they want to express," said Mr. Chen.
The former diplomat went on to say that one day he would like to be able to contact his former colleagues, something that he now would not want to do out of concern that if he did they may face serious consequences.
"After I left the Chinese consulate the Chinese government sent an official from the state security to work inside, to monitor their activities and it's not easy for them to live such a life.
"I hope that everybody [in the consulate] can try to do something, otherwise they will regret in the future, otherwise they will be accomplices of this brutal, evil government," said Mr. Chen.
"And the soul of the Chinese nation has been kidnapped by the Chinese communist Party for the last 57 years"
Mr. Chen said that he hoped more people in Australia and in the world would pay attention to the human rights situation in China.
Joining Mr. Chen in the first 24-hour stage of the hunger relay outside the Chinese consulate in Sydney was leading Chinese dissident writer and academic Professor Yuan Hongbin who was a prominent figure in the democracy movement in China. The Professor read a statement on behalf of The Oceania Hunger Strike Support Network for Human Rights in China in which he said that the CCP had "forced people into a corner" and has people "no legal means to safe guard their own rights, it has forced the people to use hunger strikes to express their anger and total injustice."
Professor Yuan Hongbin and Mr. Chen formed the support network, which consists of overseas democracy advocates, Chinese patriots, victims of past and present persecution campaigns by the CCP, as well as human rights organisations. The Network was formed in response to and will work in conjunction with a similar group in China established by Mr. Gao Zhisheng.
Both men are to finish their hunger strike after 24 hours and then others will take their positions. Organisers say 30 people will be part of the relay and more are expected to join.
One of the organisers said that anyone is welcome to come to sit with the hunger strikers in a show of support.
Similar hunger strikes supporting the lawyer Gao and the human rights activists in China are to begin outside the Chinese embassy in Canberra on Sunday February 12 and in Melbourne on the following day.
Relay hunger strikes are also happening globally with reports of them to occur or already occurring outside embassies and consulates in the Hong Kong, the US, the UK, France, Germany, Canada and New Zealand.