Former Chinese Diplomat Given Suspended Death Sentence
November 21, 2007 12:00 am Last Updated: November 21, 2007 12:00 am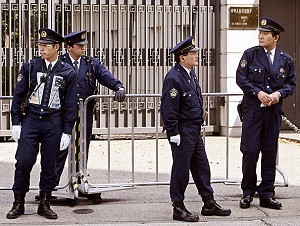 The former first secretary of the Chinese Embassy in Japan, Wang Qingqian, was secretly sentenced to death, suspended for two years, on charges of leaking China's military secrets to a Japanese national at a military court this spring, according to Japanese media outlets.
Wang is a standing council member of the China Association for International Friendly Contact (CAIFC), a people-to-people organization affiliated with the Chinese military.
According to a report in Japan's Sankei Shimbun, 51-year-old Wang Qingqian is a senior colonel with Chinese military intelligence background who started working with Japan at CAIFC in the 1980s and served as the first secretary of the Chinese Embassy in Tokyo in the late 1990s until 2001. He built ties with people from a wide range of circles in Japan.
According to a Sankei Shimbun report from Beijing, Wang gave Chinese military intelligence to a Japanese national last summer. After being investigated by the Ministry of State Security last fall, Wang was prosecuted for leaking confidential military information. He was sentenced to death in a closed military trial this spring. The leaked military information and the identity of the Japanese to whom Wang allegedly provided the information were not revealed.
The report quoted an informed source who said that the trial of Wang Qingqian was extremely confidential, and is known of by very few people outside the CAIFC.
The report also said that Wang's former subordinate, Chai Yongguang, the former deputy head of the Asian department of the CAIFC, was also sentenced to three years in prison on corruption charge, but the report didn't explain whether Chai's case had any connection with Wang's. The sources mentioned that Chai, who studied abroad at Sophia University in Tokyo, has published many research papers on Chinese military strategy in recent years.
Wang is known to be a good friend of the Japan and Korea affairs expert, Yu Jiafu, who, along with his wife, was earlier detailed under "double regulations" (a form of house arrest for members of the Chinese Communist Party suspected of wrongdoing). Their names [Wang and Yu], however, have still remained on the CAIFC Web site until now.