A former staffer for presumptive Democratic presidential nominee Joe Biden has filed a lawsuit accusing him of sexual assault in 1993.
The complaint, filed last week with police in the District of Columbia, was first reported on by Business Insider.
Tara Reade told the outlet that she told police Biden assaulted her in the U.S. Capitol when she was a staffer for him in the early 1990s. Biden, vice president from 2008 to 2016, was a U.S. senator for decades starting in 1973.
"I filed it because I had been harassed so badly last April," Reade, 56, said, referring to when she first made the allegation against Biden, 77.
"I also wanted to make it clear that I would be willing to go under oath or cooperate with any law enforcement regarding it, because it did happen. Even if it was 26 years ago," she said.
In honor of April Sexual Assault awareness month, I will continue to stand and speak up. 1993 was the year I was sexually harassed and assaulted by Joe Biden, my then boss. The smears and mistruths about me will not take my dignity or change what happened. This was me 1993 pic.twitter.com/mrMnkaenff

— taratweets ( Alexandra Tara Reade) (@ReadeAlexandra) April 9, 2020
Reade told the Associated Press that Biden pushed her against a wall in the basement of an office building on Capitol Hill before carrying out the assault.
"I remember wanting to say stop, but I don't know if I said it out loud or if I just thought it. I was kind of frozen up," she said, adding when she pulled away Biden appeared shocked and told her: "Come on, man, I heard you liked me."
Reade first went public with allegations against Biden last year in an interview with The Union. At the time, she described what happened as sexual harassment, but the report says sexual assault happened. She said she held back details because she was fearful of the reaction to her allegations.
"Already I was being threatened and kind of smeared, and I just I wasn't ready," Reade told the AP. "So I talked about the sexual harassment and what I was comfortable talking about, but I wasn't ready to talk about sexual assault."
No former Biden staffers have corroborated Reade's story, but a friend said she was told about what happened in 1993. Reade also told Business Insider that she told her mother, who has since died. Reade's younger brother Collin Moulton said Reade's mother wanted Reade to speak to the police about the matter. Reade says she did not go to the police at the time but did file a sexual harassment report with a Senate office, which has not been confirmed.
The Biden campaign did not respond to requests for comment. In a statement sent to other outlets, spokeswoman Kate Bedingfield said: "Women have a right to tell their story, and reporters have an obligation to rigorously vet those claims. We encourage them to do so, because these accusations are false."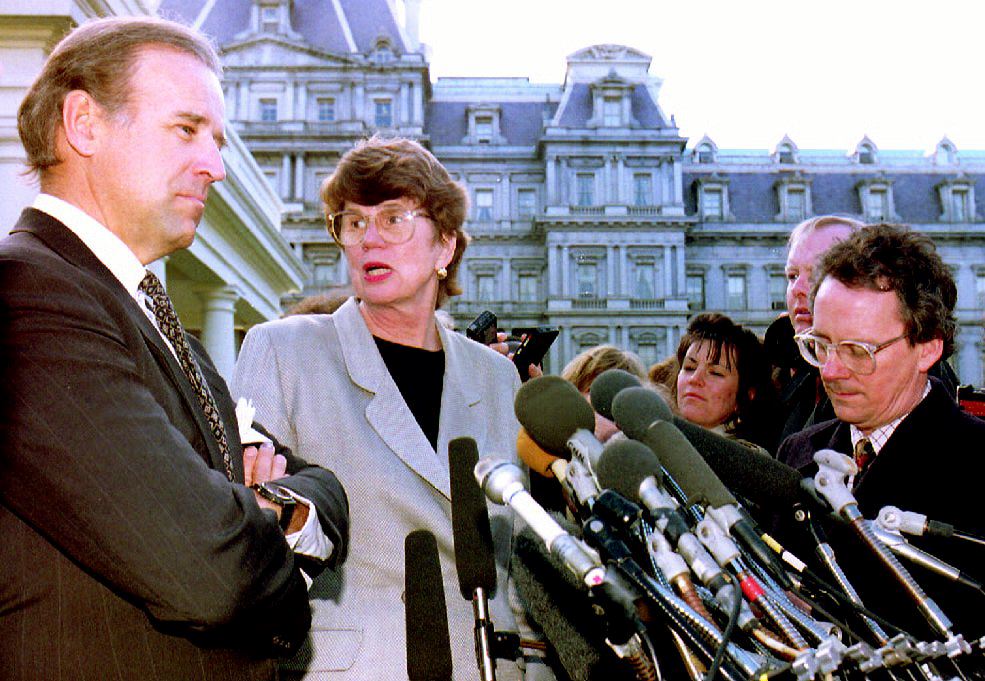 Biden in 2018 suggested that women who enter the national spotlight to accuse high-profile men of sexual wrongdoing should be believed.
"For a woman to come forward in the glaring lights of focus, nationally, you've got to start off with the presumption that at least the essence of what she's talking about is real, whether or not she forgets facts, whether or not it's been made worse or better over time. But nobody fails to understand that this is like jumping into a cauldron," he said.
Reade told Business Insider she felt she had to file a police report even if doesn't lead to criminal proceedings.
"It's very imperative that I think, for me, for my voice to be heard. I've been silenced and threatened before, in the past, and I feel free now," she said. "And after I hung up with that detective, I felt a lift, like okay, my voice was heard and law enforcement has this. And I feel safer."
Other women have also accused Biden of sexual misconduct. Biden in April 2019 responded in a video saying that he would pay more attention to not invading people's personal space.
"Social norms are changing," Biden said in a Twitter post accompanying the video. "I understand that, and I've heard what these women are saying."
Bowen Xiao contributed to this report.