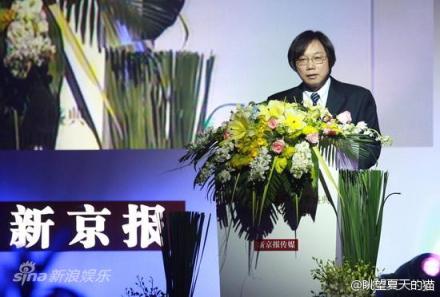 Dai Zigeng, the publisher that was reported to have resigned recently after refusing to reprint state propaganda, was honored with the 2012 Most Influential Person award at a prominent Chinese media conference ceremony.
The news that Dai had received the "2012 Golden Great Wall" award spread on Weibo recently. It was given at the China Media Conference, a forum of experts and scholars in the Chinese media industry, held in Sanya, Hainan Province.
The censorship row against Southern Weekly, a liberal newspaper in southern China, was triggered when the Guangdong chief propaganda official Tuo Zhen altered the paper's New Year's edition to praise the Communist Party.
This angered the staff of the paper and caused a global condemnation on the Chinese regime's media censorship. 
One of the regime's mouthpiece media, the Global Times responded with an editorial titled "Southern Weekly issue prompts soul-searching over media's role," saying that the defiance displayed by Southern Weekly was incited by hostile foreign forces. 
Dai was publisher of the Beijing News, a newspaper that was forced to reprint the Global Times' attack. He refused, and resigned. The paper was made to print it anyway. 
The Central Propaganda Department then commanded all municipal level newspapers to reprint the Global Times editorial. According to Hong Kong media Ming Pao, propaganda chief Li Qibao issued a "must print" mandate to newspapers that hadn't reprinted the editorial. Standing Committee member of the Political Bureau of Chinese Communist Party, Liu Yunshan also reportedly helped with enforcement.
According to the South China Morning Post, the Beijing Municipal propaganda chief, Lu Wei, confronted Dai with the ultimatum to either print the editorial or be dismissed. 
The two had disputed intensely over the phone, Dai having gained the support of colleagues in refusing to publish the editorial. The staff all voted "refuse to print," while citing Article 35 of the Constitution of the People's Republic of China, which stipulates that "citizens… enjoy freedom of speech, press, assembly, association, procession and demonstration."
The news of Dai's recent award was quickly purged from Weibo.  
In sacrificing his career—at least temporarily—for a greater principle, Dai can also find solidarity in Chinese thought and tradition. Noted Chinese scholar Wu Jiaxiang said: "Life, seemingly long, only provides one with a few important chances." Former Huaxia Times director, Zhang Baolin, had his own aphorism: "Victory is never giving up." 
Read original Chinese report. 
The Epoch Times publishes in 35 countries and in 21 languages. Subscribe to our e-newsletter.