Duncan Lewis, the former director-general of the Australian Security Intelligence Service (ASIO), has called on the new Albanese government to develop relations with Indonesia facing the challenges of international affairs in its Pacific neighbour.
Anthony Albanese, the new Australian prime minister, has promised that his government will take the geostrategic environment of the Pacific seriously.
"My government will take action. We will engage much more strongly with our neighbours," Albanese told Sky News on Thursday.
"China is seeking to extend its influence into the region. During the election campaign, the Solomon Islands (security) deal was front and centre, but we know that from China's perspective, that's just the first of a range of deals they want to exercise."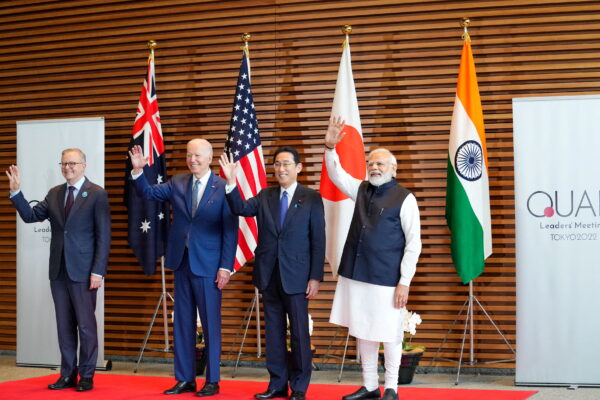 The comments from the head of ASIO come as Chinese Foreign Minister Wang Yi is on an eight-nation tour of the Pacific region to boost alliances, starting in the Solomon Islands on May 25.
The visit comes amid Beijing's attempt to pursue a South Pacific-wide deal with 10 island nations to entrench its influence and presence in the region.
Wang is expected to sign the controversial Solomon Islands security agreement formally and is likely to unveil a series of other memorandums of understanding during his visit. He is also reported to be forging a similar security agreement with Kiribati.
Apart from the Solomon Islands, where he was received with a red carpet welcome, Wang will also visit Kiribati, Samoa, Fiji, Tonga, Vanuatu, Papua New Guinea, and Timor-Leste, the CCP's Ministry of Foreign Affairs revealed late on May 24.

Speaking on the Australian National University's National Security Podcast, Lewis, the former head of ASIO and national security adviser, said the newly elected Labor government would face challenges on international issues.
"If you're going to start a meaningful conversation with other countries in the region about the future, that needs to be done on the basis of some trust and some goodwill," he said. "You don't start in opposite corners.
"To this extent, the current that the change of government has just taken place might allow better, freer, more free-flowing discussions to take place.
"My concern in the last few years has been that we have been rather louder than we should have been.
"We've been in the forefront of some of the criticism of states such as China when we might have been better to have been one back and one wide. Speak softly but carry a big stick."
Albanese has spent his first days in office meeting with the leaders of the United States, Japan, and India at the Quad Leaders' Summit in Tokyo. In addition, he and U.S. President Joe Biden discussed issues in the Indo-Pacific region and the recent trilateral security pact, which is known as AUKUS, between the United States, the United Kingdom, and Australia.
The former ASIO head told the podcast that AUKUS is a game-changer in the region and that a better Australia-Indonesia relationship would be critical for Australia at this point.
"Indonesia is a relationship which requires even more attention than it has over the years. It is a critical relationship," Lewis said.
"It is one where we have enormous resources in this country of knowledge about Indonesia, and it's not … being properly harnessed."

Meanwhile, Penny Wong, the new Australian Foreign Minister has, travelled to Fiji on May 26 for a South Pacific tour.
"I will travel to Fiji to strengthen our Vuvale partnership and to discuss how we can best secure our region and help build a stronger Pacific family," Wong said in a statement on May 25.
"The visit, in my first week as Foreign Minister, demonstrates the importance we place on our relationship with Fiji and on our Pacific engagement."