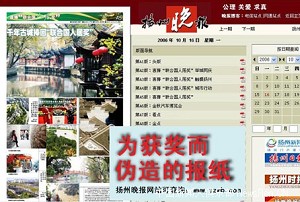 Forged Report Wins China's Top News Prize
Updated: September 6, 2007
On August 29, the day after the recipients of the 17th China News Awards—the most acclaimed annual prize of outstanding works of journalism presented by the Association of China Journalism (ACJ)—were announced, a blog post disclosed that the winner of the third-prize report from Yangzhou Evening News was forged. When the forgery was discovered, Yangzhou Evening News' prize was revoked. According to xinwenren.com, Cheng Jianping, Vice Chief-Editor of the Yangzhou Evening News, wrote the award-winning article entitled, "Thousand Year-old City Won UN-HABITAT's 2006 Habitat Scroll of Honor Award ", see award Reviewed by the editor on duty at the time, Chen Zhengyu, the article was supposedly published on page A5 of the paper's October 16, 2006 edition. see original article
However, the actual article published on page A5 of the Yangzhou Evening News on October 16, 2006 was completely different to the award-winning article. On the very same day, the content published was actually a special edition of "A 24-hour Snapshot of People Living in Yangzhou." This article discussed people's daily lives and the local culture of the city. The photos, authors, and editors listed was also completely different to those mentioned in the award-winning article. This actual newspaper can be found in various libraries, documents rooms and residential homes throughout Yangzhou.

At present, the award selection committee for the ACJ has confirmed that the Yangzhou Evening News applied for the award with a forged article and has since revoked its prize. An investigation is underway. The Yangzhou Evening News has been delivering news for over 50 years, but has never won any awards for China journalism. Eager to bring prestige to Yangzhou, the media organization's recently appointed president, Wang Genbao, had often promised a $100,000 yuan (approximately US$13,200) and a promotion to anyone who wrote an award winning story.
But evidence suggests that the scheme involved more than just one individual. Compared to forging a news article, forging an entire newspaper is much more difficult. The process involves a group effort of reporters, editors, designers, printing department, department heads, editors and others, In fact, the scheme may have gone all the way to the top, as without the tacit approval or support from the company leaders, a forged newspaper could never have been pulled off. While the Yangzhou Evening News hoax may seem like an isolated incident, it is not alone amongst China's news fabrications. Recently, CCTV's Channel 12 broadcast a report entitled, "Disclosing Secrets in Pyramid Schemes," in which a young girl who was so obsessed with pyramid schemes, committed suicide by jumping out of a train.
In the report, pictures of this girl before and after her death were shown for comparison, playing on the sympathies of viewers who were made to feel deep regret for the tragic loss. Yet one individual, who knows the allegedly deceased girl in the story, reported that she is in fact alive and well. The girl said to have killed herself has a blog and is still posting entries everyday under the name "Ayawawa," and can even be seen on www.mop.com, as the company's beautiful spokesperson. The report also claims that this same girl is currently using "little angel" as her ID on the forum www.tianya.cn.