Clothing store Forever 21 filed for bankruptcy and might close as many as 178 stores across the United States, according to reports on Sept. 30.
The chain—popular in malls—filed for Chapter 11 bankruptcy protection, according to a statement.
In a statement to customers, Forever 21 said the move is necessary to take "positive steps to reorganize the business so we can return to profitability."
"This does NOT mean that we are going out of business – on the contrary, filing for bankruptcy protection is a deliberate and decisive step to put us on a successful track for the future," said a statement from executive vice president Linday Change. "Most importantly, our stores are open and it will continue to feel like a normal day – you will not see any changes in our stores, gift cards will continue to be accepted, and our policies, including returns and exchanges, remain the same."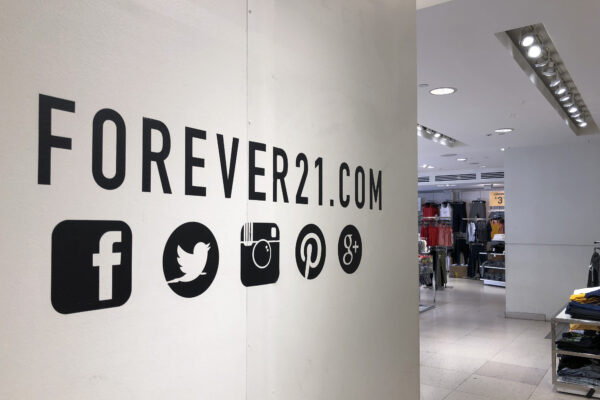 But, according to news reports, up to 178 U.S. stores could be shuttered. Overall, the firm has 549 U.S. stores and 251 in other countries.
"As part of our filing, we have requested approval to close a number of stores across the U.S. The decisions as to which domestic stores will be closing are ongoing, pending the outcome of continued conversations with landlords. We do however expect a significant number of these stores will remain open and operate as usual," Chang added.
Forever 21 said that it received $275 million in financing from JPMorgan Chase along with $75 million in new capital from TPG Sixth Street Partners, CNN Money reported.
As such, the firm is "confident this is the right path for the long-term health of our business. Once we complete a reorganization, Forever 21 will be a stronger, more viable company that is better positioned to prosper for years to come. We look forward to continuing to provide you with the great service and curated assortment of merchandise that you expect from us," it said.
According to the CNN report, in 2019, U.S. retailers have announced the closure of over 8,200 stores, exceeding last year's figure of 5,589.

Payless and Gymboree have both filed for bankruptcy for a second time. The two companies have nearly 3,000 stores in combination.
"Retailers relying on debt to finance their growth have always been particularly susceptible to slowdowns," said Greg Portell, with consulting firm A.T. Kearney.