National Weather Center (NHC) forecasters are monitoring four other tropical disturbances in the Atlantic Ocean and the Gulf of Mexico.
One disturbance is located approximately 300 miles west of the Cabo Verde Islands near West Africa. It has an 80 percent chance of forming into a tropical depression over the next 48 hours, and it has a 90 percent chance of forming over five days. It's moving northwest across the eastern Atlantic.
Another tropical disturbance is located in the south-central portion of the Gulf of Mexico and has a 60 percent chance of forming over the next 48 hours and a 70 percent chance of forming over the next five days. It's moving westward toward the coast of eastern Mexico.
The NHC is also monitoring a third disturbance several hundred miles south-southeast of Bermuda and has a 30 percent chance of forming over the next 48 hours and a 40 percent chance of forming over five days.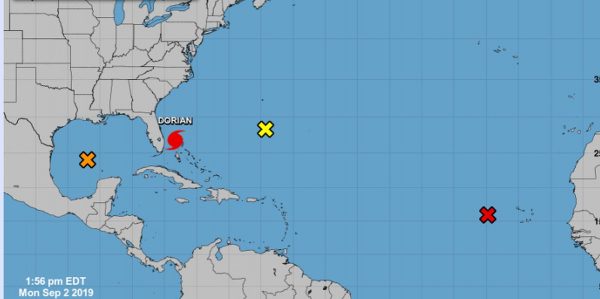 Meanwhile, a tropical wave expected to emerge between Africa and the Cabo Verde Islands only has a 40 percent chance of forming over the next five days.
The NHC released the information on these four disturbances as of 4 p.m. on Monday, Sept. 2.
Meanwhile, the agency said at 4 p.m. that "extremely dangerous Dorian" is bringing life-threatening conditions to Grand Bahama Island in the Bahamas.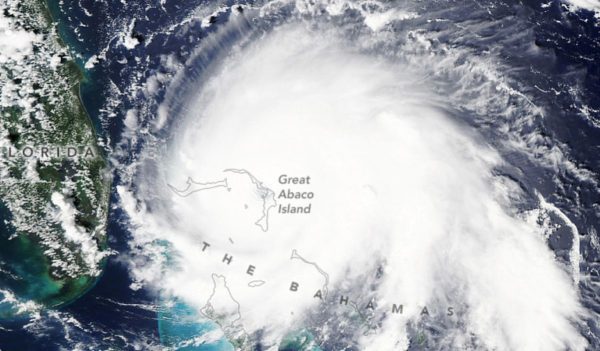 "Residents on Grand Bahama Island should not leave their shelter if the eye passes over, as winds will rapidly increase on the other side of the eye. Residents in the Abacos should continue to stay in their shelter until conditions subside later today," adding that Dorian has winds of 145 mph, enough to make it a Category 4 storm.
The storm is essentially stalled over the Bahamas and is moving west at 1 mph. It is currently 105 miles east of West Palm Beach, Florida.
Wind and storm surge "hazards will continue over Grand Bahama Island during most of the day, causing extreme destruction on the island," said the agency.
Officials said they received a "tremendous" number of calls from people in flooded homes. A radio station received more than 2,000 distress messages, including reports of a 5-month-old baby stranded on a roof and a grandmother with six grandchildren who cut a hole in a roof to escape rising floodwaters. Other reports involved a group of eight children and five adults stranded on a highway, and two storm shelters that flooded, The Associated Press reported.
Forecasters warned that Dorian could generate a storm surge as high as 23 feet (7 meters).
Police Chief Samuel Butler urged people to remain calm and share their GPS coordinates, but he said rescue crews had to wait until weather conditions improved.
"We simply cannot get to you," he told Bahamas radio station ZNS.
On nearby Abaco Island, Parliament member Darren Henfield said he received reports of deaths but officials could not confirm them.
The Associated Press contributed to this report.