MOSCOW—Ford said Wednesday it will close three factories in Russia, causing heavy job losses, as it pulls out of passenger vehicle manufacturing in the country.
The U.S. carmaker said it will stop making passenger cars in Russia by the end of June, closing vehicle assembly plants in St. Petersburg and Naberezhnye Chelny, as well as an engine plant in Yelabuga.
Ford said "significant employee separations are required." The Ford Sollers joint venture employs around 3,700 people in total in Russia, Ford said, adding that the total number of people leaving the company has yet to be determined.
The company blames a slow recovery in the Russian car market after an economic slowdown in recent years and moves toward cheaper cars.
Ford will now focus solely on commercial Transit vans in Russia through its Ford Sollers joint venture. Russian partner Sollers will take 51 percent majority ownership of the joint venture, which was previously equally owned by both parties.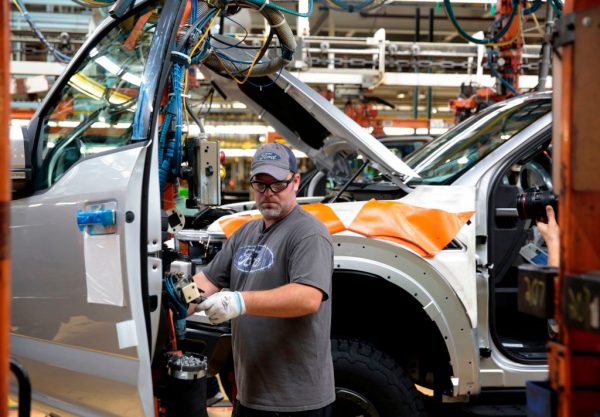 Ford didn't comment on whether any of the plants could be sold.
Ford Sollers has repeatedly paused or scaled back production at the St. Petersburg plant in recent years, citing low customer demand.
An independent trade union operating at the St. Petersburg plant has criticized the restructuring plans and said it would try to persuade the regional government to pressure Ford to reconsider.
Russian Deputy Prime Minister Dmitry Kozak told the Vedomosti business daily on Wednesday that the government was in talks with Sollers about ways to support production of Transit vans at the vehicle assembly plant in Yelabuga.
According to the Association of European Businesses, a trade body for foreign companies in Russia, Ford sales of cars and light commercial vehicles such as vans grew by 6 percent in 2018 to 53,234 units. That ranked Ford the 10th highest-selling brand while Lada and the Korean sister brands Hyundai and Kia led the way.
However, AEB statistics show a 45 percent fall year-on-year in Ford sales in the first two months of 2019, down from 7,566 to 4,168.
Ford Europe to Slash Thousands of Jobs in Turnaround Plan
FRANKFURT—Ford said on Jan. 10, it will cut thousands of jobs, look at plant closures and discontinue loss-making vehicle lines as part of a turnaround effort aimed at achieving a 6 percent operating margin in Europe.
Ford Europe has been losing money for years and pressure to restructure its operations has increased since arch-rival General Motors raised profits by selling its European Opel and Vauxhall brands to France's Peugeot SA.
Ford said it will seek to exit the Multivan segment and focus on developing more profitable "crossover" and sports utility vehicles, and will stop manufacturing automatic transmissions in Bordeaux in August. It will also review its operations in Russia, and combine the headquarters of Ford U.K. and Ford Credit to a site in Dunton, Essex.
"We are taking decisive action to transform the Ford business in Europe," Steven Armstrong, group vice president, Europe, Middle East, and Africa, said in a statement.
We are taking decisive action to make #Ford sustainably profitable in Europe, working collectively with all stakeholders to deliver a more focused line-up of European-built passenger vehicles, while growing our import and commercial vehicle businesses. https://t.co/39tgKKt8gs

— Steven Armstrong (@StevenArmstrong) January 10, 2019
"We want to be a net contributor of capital and not a net detractor," Armstrong told journalists on a later call, referring to Europe's financial contribution to U.S. parent Ford Motor.
Asked whether the revamp could include plant closures in Europe, Armstrong said: "A review of the manufacturing footprint is part of this process."
Ford's announcement on layoffs came as Britain's biggest carmaker Jaguar Land Rover (JLR) is also set to announce "substantial" job cuts, a source told Reuters.
Armstrong said any layoffs and plant closures at Ford would be subject to the outcome of formal negotiations with labor representatives, adding that he hoped that job cuts could be achieved by "voluntary means."
Unite, Britain's biggest trade union said it was engaging with Ford in an effort to safeguard jobs.
The cost-cutting plan has not been adjusted to account for the possibility of a "hard" exit by Britain from the European Union without securing tariff-free cross-border trade, Armstrong said.
"If Brexit went in the wrong direction we would have to have another look, to mitigate that," Armstrong said. A Ford spokesman said the carmaker currently assumes that any Brexit deal would keep tariff-free trade between Britain and Europe.
Ford Europe, which employs 53,000 people, has struggled to turn a profit, reporting a $282 million (245 million euro) loss before interest and taxes in the third quarter, equivalent to a negative 3.3 percent EBIT margin.
Armstrong declined to quantify the job cuts, pending negotiations with labor leaders but said they would run into the thousands.
The company was in negotiations with worker representatives about potential cuts at its Saarlouis plant in Germany, where 6,190 staff assemble cars, as the carmaker considers discontinuing production of its Ford C-Max model.
"We will migrate out of the MPV segment," Armstrong said, referring to the family vans segment.
The company is unlikely to develop next-generation diesel engines for smaller vehicles, Armstrong said, explaining that customers have been abandoning the segment more aggressively than anticipated.
Going forward Ford will seek to offer an electric or hybrid version of all its vehicles and the electrification plans are not contingent on striking a deal with Volkswagen, Armstrong said.
We will have one of the most encompassing line-ups of electrified vehicles in Europe — every #Ford nameplate from the all-new #FordFocus onwards will include either a mild-hybrid, full-hybrid, plug-in hybrid or full battery electric option. pic.twitter.com/s8hACVEdUo

— Steven Armstrong (@StevenArmstrong) January 10, 2019
The carmaker continues talks about a far-reaching alliance with Volkswagen in a deal that could increase Ford's manufacturing scale in commercial vehicles, Armstrong said.
Volkswagen and Ford will unveil an expanded alliance during the Detroit auto show, which starts next week, that goes beyond cooperating in the area of commercial vehicles, two sources familiar with the discussions said on Wednesday.
Reuters contributed to this report