Forced Eviction Leaves Hangzhou Residents Begging in the Streets
May 15, 2008 12:00 am Last Updated: May 15, 2008 12:00 am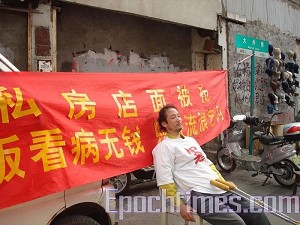 Mr. Zhang, a handicapped citizen in Southeast China's Hangzhou city, has made up his mind to lead a beggar's life. He was illegally forced into eviction by the local government in 2007 and is now protesting outside the local government office.
Because he lived in the famous historical heritage area of Wushan scenic district, Zhang used to have a steady income and made a fairly good living. For more than 1,000 years, Hangzhou city has been a famous tourist attraction.
Most residents here rely on their inherited stores to make a living and many do okay. But many others, like Zhang, were thrown into poverty because of an eviction order from the local Shangcheng District Government.

Before the evictions, local residents argued with the government based on two previous municipal policies issued in 2002 and 2004 respectively that defined the area as historical heritage block — meaning it could only be renovated but not torn down.
Buildings could be privately-owned but had to maintain the original historical ethos and traditional cultural style. But Shangcheng District Government paid no respect to that document.
Zhu Yangdi, another local resident, told The Epoch Times that his family had been living in the city for more than a hundred years, and she and his brother operated teahouses to make a living after being laid off from state owned enterprises.

"The officials took my house and rented to others to run the teahouse business. We are laid-off workers without a source of income, our children need to go to school and we now need to pay rent. Our lives are extremely difficult now. We have no alternative but begging in front of the district government."
The Zhu family's "Big Bowl Tea" used to have a bit of a reputation in the area. But now, seven of the nine teahouses run by the authority occupy the land once used by the Zhu family.
Many other local residents have had a similar experience. After the local regime drove them out, they rented the land to other businesses to open new stores.

Local residents have appealed numerous times in the past year, and for this they were arrested, harassed and beaten. There is currently no indication that their poverty-stricken existence will end any time soon.