Forbes Rich List: Forbes Lists 1,426 Billionaires in Global Wealth Tally
March 4, 2013 6:36 pm Last Updated: April 3, 2013 9:32 am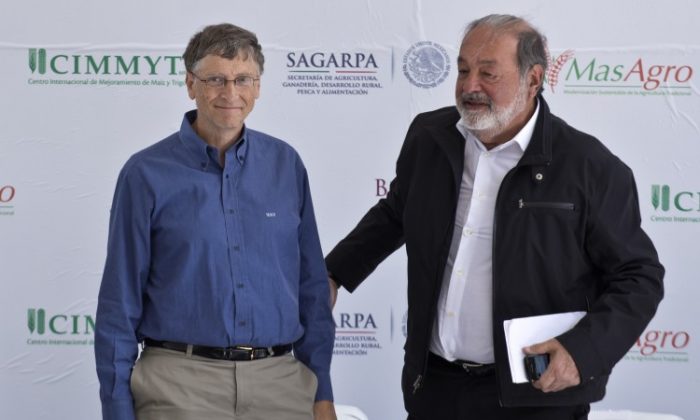 Forbes magazine released its ranking of the world's richest people March 4. They found a total of 1,426 billionaires worldwide, 442 coming from the United States. Mexican Carlos Slim takes the top spot with a net worth of $73 billion. 
"To compile net worths, we value individuals' assets—including stakes in public and private companies, real estate, yachts, art and cash—and account for debt. We attempt to vet these numbers with all billionaires. Some cooperate; others don't. We also consult an array of outside experts in various fields," states Forbes, which has been compiling the list for 27 years.
Among them, the 1,426 billionaires control a fortune of $5.4 trillion or $38 billion on average. Their fortunes are up 17 percent from last year, as rising stock prices boosted the worth of the companies they control. Since 2003, the number of billionaires has skyrocketed, when 476 people controlled $1.4 trillion. 
Forbes says they only included people on the list who have sole control over their fortunes. Shared trusts, for example, are not included. 
The United States dominates the rich list with 5 of the top 10. Household names who have held positions on the list for years include:
• Bill Gates, founder of Microsoft—No. 2—$67 billion
• Warren Buffett, investor—No. 4—$53.5 billion
• Larry Ellison, founder of Oracle—No. 5—$43 billion
• Charles and David Koch, owners of Koch industries—No. 6 and 7—$34 billion each
The top spot goes to Mexican Carlos Slim, who made his money with Telecom firm Telmex after the state privatized it. Amancio Ortega of Spain is third with $57 billion; his fortune comes from the Zara fashion stores. 
The youngest billionaire is Dustin Moskovitz, 28, who owns $3.8 billion and is a co-founder of Facebook. New York City Mayor Michael Bloomberg is ranked 13 and has a net worth of $27 billion, earning him the unofficial title of the richest politician.