Forbes Rich List: Average Person Worth $5 Billion
Forbes releases annual 400 Richest People in America list
September 16, 2013 5:51 pm Last Updated: September 16, 2013 5:51 pm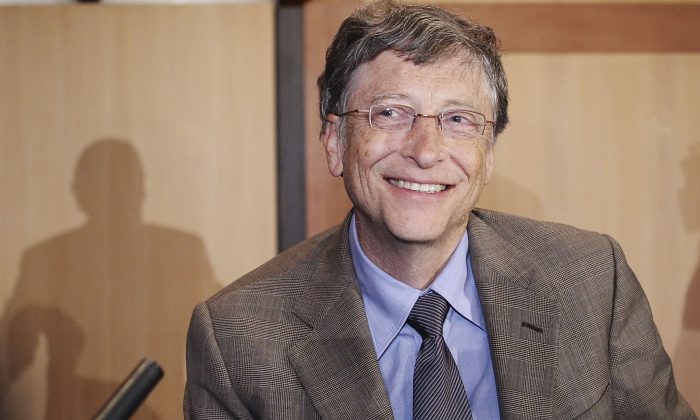 The combined net worth of the 400 richest people in America totals $2 trillion, according to a list released annually by Forbes Monday.
The average net worth rose by $800 million this year to $5 billion and 61 billionaires didn't make the list. 
The bottom of the list starts at $1.3 billion, with 15 billionaires tied for 386th, including newcomer Nicholas Woodman. 
Woodman, one of the 20 new faces on this year's list, is the founder of the wearable video camera company GoPro. GoPro, self-dubbed "the world's most versatile camera," was prototyped in Woodman's bedroom in 2002 and released in 2004. The company's revenue has nearly doubled every year, according to Forbes.
The other billionaires who made their debut on the list include a near even mix of entrepreneurs and heirs. John Morris, 65, sells fishing tackle. Morris, tied for 110 on the list with a net worth of $4 billion, is the majority owner of Bass Shop Pros, which started as a side business in his father's liquor store. Today the company has 115 million shoppers a year, with about $3.3 billion in sales.
Catherine Lozick on the other hand was supposed to inherit the majority of industrialist Fred Lennon's fortune 21 years after his death in 1998. A lawsuit brought forward by her nephew in 2002 was settled in 2003 and brought forward the inheritance according to Forbes. Her net worth is estimated at $1.7 billion, which ranks her 327 on the list. 
While many of the newcomers to the list were boosted by a positive 2012, 34 people dropped from the list this year despite many seeing their net worth rise over the period. Six of these people are deceased, Forbes reports, including Ray Dolby of Dolby Laboratories.
Campbell Soup's heiress Charlotte Colke and former telecommunications mogul Kenny Troutt were just below the cutoff at $1.27 billion. Los Angeles Angels owner Auturo Moreno's net worth rose by $100 million, but he dropped out of the list at $1.25 billion.
Manoj Bhargava, the 5-Hour Energy Drink creator, saw the largest percentage decline since last year. His net worth halved to $800 million according to Forbes. Sales of the drink have been falling and the parent company owned by Bhargava is being sued in court for wrongful advertisement. 
The biggest percentage increase this year came on behalf of David Duffield, 72, CEO of enterprise software firm Workday. His net worth nearly tripled to $6.4 billion, putting him at position No. 65 on the list.
Nearly half of the wealthiest 20 under the age of 45 are in the tech industry. The list includes Twitter cofounder Jack Dorsey, newcomer Robert Pera of Ubiquiti Networks, Google's Sergey Brin, and Larry Page. The youngest member is 29-year old Facebook cofounder Dustin Moskovitz. Facebook CEO Mark Zuckerberg is richer, but eight days older than his former roommate.
The third youngest is Scott Duncan, 30, whose fortune rose $1 billion from last year because of dividends from Enterprise Products Partners. His father Dan Duncan was formerly the richest man in Houston until his death in 2010.
Only 30 people on the list saw a dip in their net worth, Forbes reports, while many others saw significant jumps. Bill Gates tops the list for the 20th year in a row, with $72 billion, up from last year's $66 billion.