LVIV, Ukraine—Almost eight years ago, Slovyansk, a small city in eastern Ukraine, was the first to be captured by pro-Russian separatists.
Svetlana Isakova, 42, didn't flee the city back then, but sent her daughter away to safety. After days of fighting and shelling, the Ukrainian military recaptured the city on July 5, 2014. The separatists fled to Donetsk.
After Russia invaded Ukraine late last month, the first explosion that Isakova heard brought back the memories and trauma of 2014, when she spent a week in a bomb shelter.
This time, Isakova fled, taking her daughter, son, and three grandchildren along. The two women and four children found a taxi driver willing to pick them up when an air raid alert was in place. They traveled for two days and arrived at the Lviv train station late on March 23.
"It's just to keep the children safe," Isakova told The Epoch Times the following day. "Last time, a children's hospital was blown up where we lived."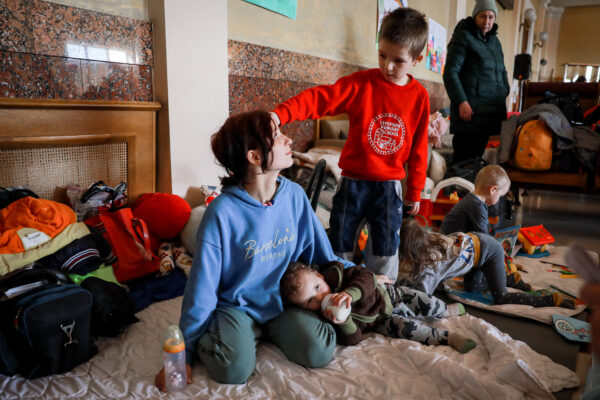 Isakova's daughter, Alina Katonskaya, 21, was in relative safety when the fighting took place in 2014, but still remembers crying when she heard rumors—which later turned out to be untrue—that Slovyansk was completely destroyed as a result of the fighting.
Katonskaya's three children, Maximillian, 5, Maria, 3, and Denis, 6 months, played with toys on the mats set up for mothers with small children in a hall at the Lviv train station on March 24. When volunteers came with trays of cookies and candy the night of their arrival, the children took what they could every time they were offered.
"They just kept on eating. They were so hungry," Isakova said.
Katonskaya didn't want to leave Slovyansk, but she said the people there are living in a state of panic and anxiety. She had given up going to the bomb shelter when the air raid sirens went off. The shelter is too far away and was usually at capacity before she could get the three children ready to go.
Isakova managed to convince her daughter to leave Slovyansk, but not Ukraine.
"It's our home. How can we leave?" Katonskaya said.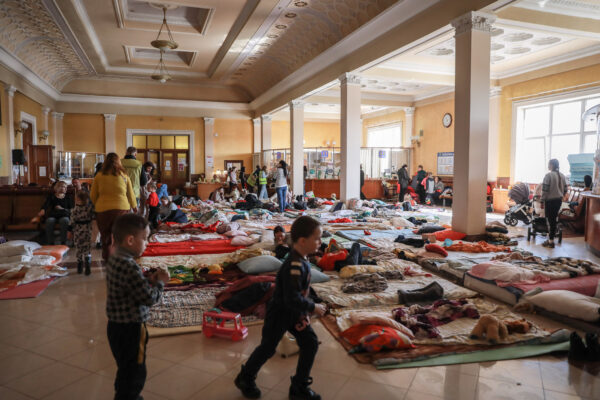 In 2014, roughly 40 percent of the residents of Slovyansk fled the city after it was captured by pro-Russian separatists. A refugee crisis of greater proportions has ensued after Russia's invasion in 2022. According to a United Nations report, one in four Ukrainians—roughly 10 million people—have fled their homes since Feb. 24, 2022.
Many of the refugees come to Lviv. The western region is now home to 450,000 people who have fled from central and east Ukraine, according to the region's governor. Others head further west or across the border.
Isakova's sister had fled from Slovyansk to Kharkiv in 2014. This time, she fled from Kharkiv to Germany.
"She calls me crying on the phone now. She can't learn German and wants to go home," Isakova said. "Everything she worked for for eight years, she left behind. She lost two homes in eight years."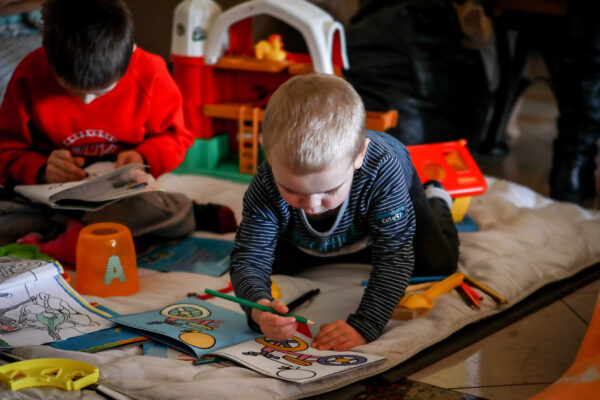 Isakova and Katonskaya aren't sure where they'll go next. Lviv is overloaded with refugees, so they're considering heading to another city. Both women have been touched and surprised by the help of the volunteers at the train station.
"I was nervous, but this young man came up to me and asked if there was anything he could do to help," Isakova said. "Everybody is so kind here."
Correction: This article was updated to say Slovyansk is in eastern Ukraine.