Funeral home employees across New York City are working long hours to deal with an unprecedented death rate due to the COVID-19 pandemic. They also don't have, or will soon run out of, sufficient personal protection equipment.
As of April 9, the city's death toll from the CCP virus stands at 4,571; nationwide, there have been more than 15,900 deaths.
Gerald Joseph Neufeld, owner of Gerald J. Neufeld Inc. in Elmhurst, told The Epoch Times on April 7 that before the CCP virus pandemic, he dealt with about seven funerals per week. Because of the pandemic, he has conducted 50 funerals in the past 10 days.
"For 50 years, I didn't see anything like this. I hope I don't see anything like this again," he said, adding that his team of four, including his son, are working 24/7 to deal with the surge.
When asked if he feels emotional or sad due to the overwhelming numbers, Neufeld said: "I just have to do it. To be honest, we just try to keep going. It's very difficult. I've just had no time to think."
Neufeld said the people he has cremated in the past 10 days came from a wide range of nationalities, as the city's borough of Queens is home to people from all over the world. He listed the dead from Nepal, Indonesia, Philippines, Laos, China, India, Pakistan, South America, Bhutan, Taiwan, Bangladesh, Burma, and Vietnam.
The youngest was 23 and the oldest was 107.
"The virus doesn't discriminate," he said, adding that he's saddened for families, as they aren't able to perform death rites according to their religion because of the pandemic.
The Epoch Times reached out to 23 funeral homes in Elmhurst, Manhattan, and the Bronx over four days for comment; most said they were dealing with the dead and couldn't comment. The most-common statement was, "This is not the time."
The Epoch Times contacted Steve Baxter from the Gannon Funeral Home in Manhattan on three different days. On the first call, Baxter said: "I have just put two bodies into the morgue and I have three emails to check. I need to catch a breath."
Gannon's facility cremated 30 bodies during the past 10 days; previously, they were getting only one body on average a week.

John J. Sisto, director of the Sisto Funeral Home Inc. in the Bronx, also said his team was working 24/7 and are "receiving bodies all the time," before quickly hanging up.
Heliot Lara, manager of the Williams Funeral Home, also in the Bronx, provided a grim picture on April 8—the funeral home had cremated a record 20 bodies that day alone.
"We were getting on an average 15 every month. We got more than that just in the last one week," Lara said. He said his team was working morning to evening, seven days a week.
"It's a situation we have never seen before. We are trying to deal with it as best we can."
Mike Lanotte, executive director and CEO of the New York State Funeral Directors Association (NYSFDA), said that since New York City is the epicenter of the pandemic in the United States, funeral homes are working at maximum capacity and are challenged by lack of storage and space. The NYSFDA was created in 1889 and represents 900 funeral homes in the state.
"Other areas of NYS are seeing more cases than normal, but at this point, not to the extent as NYC and surrounding areas," Lanotte wrote in an email to The Epoch Times, adding that the funeral homes are continuing to work around the clock.
"Funeral service professionals are among the most dedicated, hard-working folks," he said, when asked how the funeral homes are managing so much grief. "Many of them are coping by finding alternative and unique ways to continue to serve families. They are working around the clock to support their local communities and one another."
'Extreme Shortage of PPE'
Almost all of the businesses contacted said they either don't have sufficient amounts of personal protective equipment (PPE) or that they will soon run short because of the surge.
"They are at maximum capacity and challenged by lack of storage/space, an extreme shortage of PPE, and a backlog of decedents needing care," said Lanotte.
Neufeld wasn't sure if he has a sufficient amount of equipment, saying: "Probably not! Doing best with what we have. I feel unsafe. I always worry."
Baxter expressed similar concerns.
"We don't have it. They haven't given us anything," he said.
Lara and Sisto said their funeral home employees have the required PPE, but because of the increasing number of funerals, they'll soon run short.
The city's administration currently has to limit who it distributes the equipment to, with a priority on health care workers, the New York City Department of Health and Mental Hygiene (DHMH) told The Epoch Times in an email.
"At this time, the Health Department is not distributing PPE to funeral homes. We must prioritize ensuring the availability of protective equipment for healthcare workers working with patients with severe COVID-19 illness at this time," the department's spokesperson stated, adding that it's "working aggressively to protect the health and safety of New Yorkers during this crisis."
In a media briefing at the Brooklyn Navy Yard on April 6, New York Mayor Bill de Blasio asked DHMH Commissioner Dr. Oxiris Barbot about "the nature of what happens with bodies."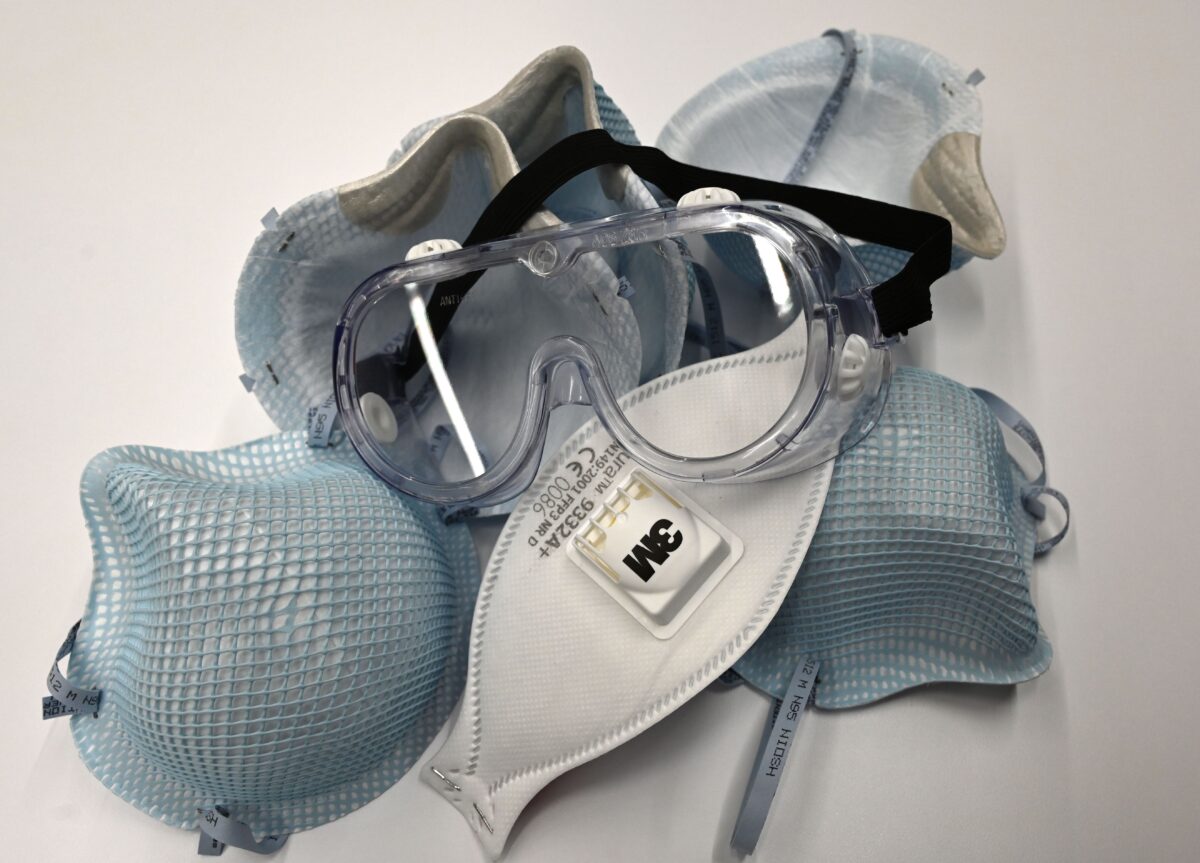 "There are no special precautions that are needed to be taken with people who have died because of COVID-19. You know, we've made the comparison to other infectious illnesses in the past," Barbot replied.
Barbot said that while very specific precautionary measures needed to be taken to deal with those who died due to Ebola, the situation with COVID-19 is different.
"People who die because of COVID-19 are treated the same way as someone who dies from, let's say, a heart attack or any other reason," she said.
The NYSFDA, however, told The Epoch Times that it's important for funeral home workers to follow standard protective measures since they can't quarantine at home.
"We have encouraged all funeral service professionals to follow OSHA's [Occupational Safety and Health Act] Standard Precautions and use proper PPE when handling decedents," an NYSFDA spokesperson said. "Both the CDC and OSHA have provided guidance."
The CDC guidelines used by the association and shared with The Epoch Times are the same as those recommended for general health care workers and those conducting postmortems on COVID-19 victims. The OSHA's guidance includes recommendations for all workplaces.
The National Funeral Directors Association (NFDA) said in a statement on March 29 that because of the unprecedented nature of the pandemic, it has observed some pitfalls and confusion in the communication between "local, state and federal agencies and funeral homes making requests for PPE at the local or state level."
"NFDA is continually petitioning federal officials—CDC, FEMA, Health and Human Services, the President, Congress, state governors, and others—about ensuring funeral home[s] are on the priority list for receiving these critical supplies," the NFDA said.
"We are also exploring private avenues from around the world for securing PPE for funeral professionals."