Food Poisoning in Chinese School Cafeterias a Growing Concern
October 17, 2011 9:14 am Last Updated: October 1, 2015 3:22 pm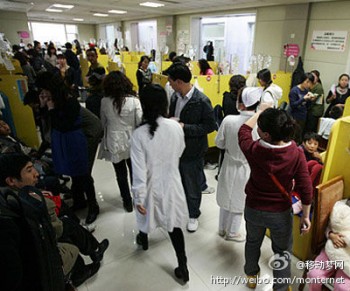 On Oct. 9, over a hundred boarding students of Xinxiao bilingual experimental primary school were admitted to the Children's Hospital in Shanxi Province. Following dinner at the school cafeteria, they had displayed symptoms of fever, vomiting, and diarrhea—the latest of several recent outbreaks of food poisoning among young Chinese students.
Initial tests at the Children's Hospital pointed to gastrointestinal and foodborne infections.
The Epoch Times reporter contacted the hospital. A hospital staff member who preferred to remain anonymous responded, "A total of 141 students were diagnosed with poisoning, and it's not that serious, some of them have already been sent home." She refused to disclose further details, including what food caused the onset of symptoms.
"I am not at liberty to say what food they had, it has to be communicated by the local police, after investigation."
The Epoch Times attempted to contact the local district police station, but the call was not answered.
"Over 100 students have been sent to the provincial Children's Hospital, they are all boarding students. So many of them are having the symptoms of diarrhea, vomiting, and fever, it must be some kind of food poisoning. It has to be a problem with the school's dining hall," Mr. Li, a local resident, told The Epoch Times.
A Chinanews.com report says the children are all aged between 8 and 12.
The headmaster of the school stated that the school dining hall is contracted to an outside company. The school had been partnering with them for the past 6 years, and it's the first time such an incident occurred, he says.
A post on China's largest forum, Baidu (tieba.baidu), on this issue, says "I hope the school and relevant government departments reveal the truth to public. Today [Oct. 10] my kid came home from this school and told me that many students were taken to the hospital. There are dead rats in the school and the boarding room. I'm very worried."
Other posts echo similar concerns: "There are no sanitizing soap and paper towels in the dining hall; students just wash their hands using cold water then dry them up using their own clothes. This can't achieve the purpose of sanitizing the hands. There are so many infectious diseases out there, and the school has a boarding quarter; they need to focus better on sanitation. "
A netizen using the name "HuaHoaYueYuan" posted on the popular Chinese online forum qq.com, saying, "We should check all bilingual schools. My son called me last week and told me he is dizzy, [having] nausea, and diarrhea. [He] must have eaten some poisoned food. Hope the government can step in. I have paid 22,000 yuan (US$3,450) per year as tuition; he should be unlikely to eat gutter-oil processed foods."
On the same forum, a netizen named "Good mood," posted: "All the school cafeterias need to be inspected properly. A lot of them don't care about children's health but about the money. An example is the Middle School of Hengqu. The food is often not clean, and students often report seeing flies and mosquitoes in their food."
Food poisoning incidents involving school cafeterias are on the rise in China. In the past month, not less than three such incidents involving primary school students were reported.
On Sept. 16, at the primary school of Tianpingwan at San Cha River town of Yunan Province, 17 students reportedly exhibited symptoms of diarrhea and vomiting after dinner. It was suspected as bacterial food poisoning.
On Sept. 20, at the middle school of Maoshi Township, of Tong Xin County in Guizhou Province, 34 students were taken to hospital for treatment. The cause of food poisoning was traced to the school's moon cake servings, a Chinese traditional snack eaten during the mid-autumn festival.
On Sept. 7, in the Mingtian Primary school of Xin County in Shandong Province, 86 students exhibited symptoms of vomiting and diarrhea after taking lunch. The children had been served meatballs with bun that day in the school cafeteria.

Read the original Chinese article.