Flushing Woman Arrested for Assault and Harassment
October 13, 2011 6:14 pm Last Updated: October 13, 2011 6:29 pm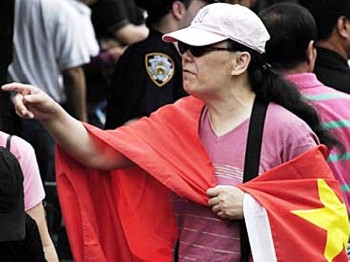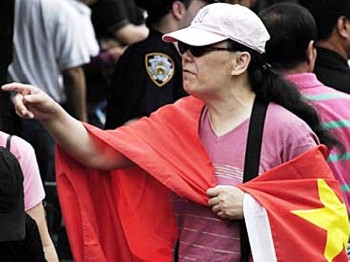 NEW YORK—A woman who distributes hate literature against a Chinese spiritual practice was arrested in the Chinese enclave of Flushing, Queens, on Tuesday for an assault she allegedly carried out in August.
It was the fourth time that Li Huahong, 49, has been cuffed and taken away by police for misdemeanors such as grand larceny (when she stole a cell phone) and assault (the recent instance).
Li's violence and the hate propaganda she distributes have the same target: Falun Gong, a Chinese spiritual practice that teaches truthfulness, compassion, and forbearance.
Falun Gong has been persecuted in China since July 1999. The traditional meditation practice became so popular, with an estimated 70 million–100 million practitioners, that the Chinese Communist Party's leader at the time embarked on a course of statewide persecution.
As in most campaigns of political agitation conducted by the Party, Falun Gong was ceaselessly slandered in the Chinese media. According to human rights groups, special media bulletins wielded fabricated news stories to warn the public about the so-called dangers of Falun Gong practice.
Since 2008 Li has handed out this and similar propaganda on the streets of Flushing, along with a dose of direct action.
Violence in the Streets
On Aug. 26, 2011, Li was assaulting and humiliating a Japanese woman who practices Falun Gong and who was visiting New York, according to Cheng Changhe, who stepped in to stop her. Ms. Li's recent arrest relates to the assault of Cheng.
At about midday, just as Cheng was walking past, Ms. Li was clutching the woman by the collar and blouse, yanking her around so roughly that her breast was exposed, while verbally abusing her, he said in an interview with The Epoch Times. The smaller woman was clearly distressed, Cheng said.
Cheng intervened, talking loudly about the rule of law in the United States, and prying Li's hands loose. The Japanese woman broke free and fled.
Cheng then became the target. Li first latched onto his bag, and then grabbed his shirt.
"She was clutching and would not let go. She then grabbed my shirt and was punching me violently, pulling it back and forth," Cheng said.
Cheng Changhe, 57, knew about Falun Gong as a teacher and defense attorney in China. He had attempted to defend practitioners in the Chinese court system and gained a deep understanding of the campaign that the Party is carrying out against practitioners in China.
With the shirt grabbing and roughing up of Cheng, Li was only getting started.
Accomplices Around the Corner
"I didn't know there was a trap there. Apparently there are people sitting around a restaurant who come as soon as they get a call from her," Cheng said.
Six or seven men in their 40s and 50s, known to walk around the neighborhood and curse at Falun Gong practitioners, came running to the scene. They surrounded Cheng while Li was still holding his shirt. Then they joined in.

"They thought I was a Falun Gong practitioner. When I told them that if they don't stop I'm going to fight back, they realized that I was not," Cheng said.
He proceeded to pull Li's hand from his collar, at which point she clawed at his face, removing a strip of skin from below his chin. Li simultaneously grabbed Cheng's bag.
Li pulled down on the bag and sat on it while crying out, pretending that she had been punched.
Witnesses talked to the police about what they saw happen. Li is expected to appear in court before the end of the year, according to a spokesperson of the Office of the Deputy Commissioner, Public Information, of the New York Police Department.
Cheng is gratified by the arrest, but will be more satisfied when Li's propaganda table is taken away. "Why is it here, in the United States, that someone can openly attack Falun Gong practitioners?" he said. "It is heartbreaking to see such a table exist in Flushing."