This month, Australian state governments and major businesses have rolled out some of the most comprehensive vaccine mandates encompassing millions of employees across the country.
Authorities are pushing to speed up inoculation efforts in the hope that a degree of immunity will be present in the community once public health restrictions begin winding down.
The state government of South Australia (SA) on Oct. 21 issued a public health order targeting the medical profession, including GP clinics, dentists, pharmacies, and allied health professions including physiotherapists, podiatrists, speech pathologists, optometrists, and other testing and administrative roles.
Under the health order, those working in the areas identified above must have their first and second vaccine doses by appropriate deadlines. It follows an earlier mandate for public hospital workers to be vaccinated by Nov. 1.
The deputy chief public health officer, Emily Kirkpatrick, said the mandate would push "vaccine hesitant" communities to take up the jab.
Kirkpatrick was appearing before a parliamentary inquiry into the state's fight against COVID-19, where it was revealed pockets of Adelaide's northern suburbs—lower socio-economic profile—were slow to take up the jab.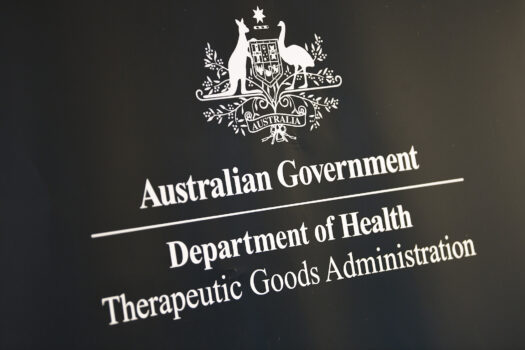 "We know there is a level of hesitancy that will exist across the community," she told the inquiry, noted AAP. "Unfortunately, COVID-19 will enter the state at some point, so we have to try to get those hesitancy levels as low as possible."
A new public health direction to vaccinate children from five to 11 is expected before Christmas, as well as possible directions on booster shots.
Meanwhile, on the same day, the Australian Capital Territory (ACT) made it mandatory for disability and aged care workers to be fully vaccinated by Nov. 29. The first dose must be taken by Nov. 1.
The ACT is also considering a mandate for prison workers.
On Oct. 20, the Western Australian government announced one of the broadest mandates covering three-quarters of the state's workforce (1.1 million employees). It was accompanied by the heaviest fines rolled out by a state authority thus far, ranging from AU$20,000 (US$14,970) for individuals breaching the rules and AU$100,000 (US$74,830) for businesses.
It follows the Oct. 13 vaccine mandate by the Northern Territory government for frontline and public-facing workers to be inoculated by Nov. 12 (first dose) and Dec. 24 (second dose).
Michael Gunner, NT chief minister, said failure to comply would result in workers losing their jobs and being fined AU$5,000 (US$3,380).
On Oct. 1, the Victorian government issued a directive saying all "authorised workers" needed to be vaccinated—affecting 1.25 million individuals.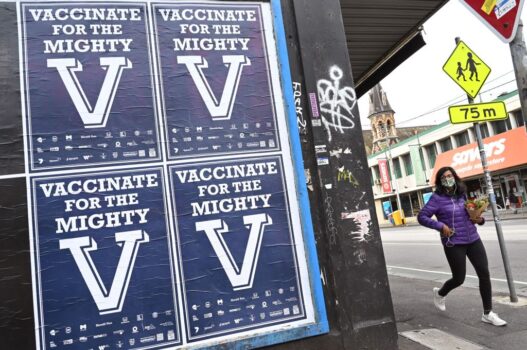 The move was met with anger from segments of the community, with protests breaking out in the capital city of Melbourne.
Business and sporting groups unveiled their position on vaccine mandates on the same day, Oct. 21.
Australia's largest supermarket chains, Coles, Woolworths, and Aldi, announced mandates for all employees encompassing around 300,000 individuals.
While the Australian Football League (AFL), the country's largest sporting competition, announced that all players would need to be vaccinated by mid-February.
To refuse the jab, players must have proof of a medical exemption, otherwise, they risk being transferred to the inactive list and be paid no less than 25 percent of their contracted salary. Otherwise, they can part ways.
In contrast, AFL competitor, the National Rugby League (NRL) has ruled out a mandate but warned unvaccinated players would be subjected to more stringent protocols.
"We are busy working on the protocols for the players who are vaccinated and the players that are not vaccinated. Hopefully, we are talking about a very small group of players," Andrew Abdo, NRL CEO, told Channel Seven.
"They will have, I'd imagine, some pretty rigorous requirements around what they will be able to do in order to train and play," he said. "Of course, this might be taken out of our hands by health orders or by airlines, so there will be repercussions for those that don't choose to be vaccinated, but it's not our approach as a governing body to mandate it."
The mandatory vaccination issue has made headlines in the NRL, with several high-profile players speaking out against it. The code also has a high percentage of players of Polynesian descent who are deeply religious.