An 18-year teaching career came to an end for Broward County's John Alvarez after "repeatedly refusing to wear a mask" on school grounds.
Alvarez's stance was deemed in violation of a school district policy that has since been rescinded.
On Dec. 14, members of the Broward County School Board heard recommendations for suspending and then terminating Alvarez for refusing to wear a mask on campus.
The board unanimously moved to sack him for an incident on March 10, 2021.
Alvarez, 57, had not returned to his classroom at Piper High School since May.
At the beginning of the school year Broward County School Board voted in favor of a mask mandate for students, teachers and staff, which went against Florida Gov. Ron DeSantis' rule on parental choice.
School district officials accused Alvarez of "insubordination, neglect of duty, and incompetence," according to a complaint filed by attorneys for the board.
Alvarez said he planned to appeal the decision to a state administrative law judge.
"This is a demonstration of hypocrisy," Alvarez told The Epoch Times.
"I am a district employee, but my license is from the state of Florida–I'm not being insubordinate, I just want my questions answered by administration and by the board."
The main question Alvarez wanted answered was why masks were necessary when he believed that they were not effective in preventing a virus. Plus, he said, he was conflicted when the district and the state could not agree on the same rules.
"I was a medical student before I went into teaching," he said. "I left in my second year because of a death in the family, but I took courses in virology and organic chemistry–on the mask box it will tell you that it does not protect against viruses–I'm not being insubordinate, just inquisitive."
A complaint was filed to the district because Alvarez had been spotted in the parking lot during a fire drill on March 10, 2021, without a mask and not social distancing.  At the time, the district's policy said masks were required outdoors in "most instances" unless people could maintain "three feet of social distancing."
Alvarez said the complaint was not accurate, but admitted he was not wearing a mask outside.
"I was out in the parking lot during a fire drill and the students were not even in school," he continued.
"I was leaning against my car when a golf cart full of people came by telling me to put on a mask … they weren't even wearing their masks appropriately."
After that complaint was filed, school staff members noticed Alvarez without a mask "repeatedly."
When school administrators asked him to put on a mask, Alvarez said the requirement "is about compliance and has nothing to do with science," according to the complaint.
Administrators emailed Alvarez and asked him to comply with board policies and he replied back, "Thank you for your directive, but I kindly refuse."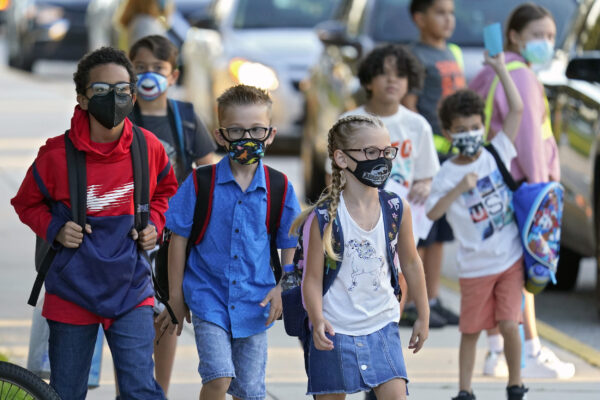 However, the Florida legislature drafted, and Gov. Ron DeSantis signed, a bill that stopped mask mandates for students, but the law did not state if that included teachers and staff members.
"Gov. DeSantis has said clearly that he's opposed to mask mandates of any kind," said his press secretary Christina Pushaw.
"It is ironic that the same politicians who express concerns over a teacher shortage in Broward are willing to fire teachers for not covering their faces."
At the beginning of the school year, board members had put into place a mask mandate because the CCP (Chinese Communist Party) virus was on the rise.
The mandate followed the advice of the U.S. Centers for Disease Control and Prevention (CDC) and the American Academy of Pediatrics but defied Gov. DeSantis' directives.
The Florida Department of Education that wrote the rule on masking at the directive of Gov. DeSantis, later sanctioned the school board and fined it.
Alvarez said he was being made an "example of" and he's being "railroaded by the board."
"They're trying to trample on my rights," he said. "They're not answering my question and hitting me in my career.
"I'm not saying you shouldn't wear a mask, if you want to wear one and it makes you feel safe wear one. But it's not for me."
Alvarez was unsure of what his next step would be, but obtaining legal counsel was at the top of his list.
As for teaching again, he said he loved to teach but "only time will tell" what the future held for him.