Florida has secured about 1 million self-administered COVID-19 tests and will distribute them to nursing homes and senior facilities first, according to a Jan. 6 announcement.
Kevin Guthrie, director of the Florida Division of Emergency Management, said the at-home tests will be sent out immediately.
The number of tests to be shipped will be dependent upon how many beds facilities have, Guthrie said, adding that sites can then ask for more kits if they are needed.
This week, Florida Surgeon General Dr. Joseph Ladapo said testing centers were overwhelmed with people who aren't experiencing symptoms but are testing "just to test."
This prompted him to write guidelines for testing that will be released next week.
Ladapo said at a Jan. 6 press conference at the Rehabilitation Center of the Palm Beaches that current testing practices were abnormal.
"Testing people for a respiratory virus, when they have no symptoms, on a massive scale is abnormal. If you have symptoms, we will test you."
Gov. Ron DeSantis echoed Ladapo's statement.
"If you're young and healthy, you don't need to be running out and getting tested every day," DeSantis said at the news conference.
"People who are testing that have high-value, that's where we want to focus."
The Omicron variant of the COVID-19 virus is making its presence known in Florida, but the Delta variant is still here, the governor said.
"This variant [Omicron] is spreading much faster than other variants, but is less lethal."
"COVID is not something that is going to vanish off the face of the earth, but it's going to be something we're going to live with," he said. "With prevention, treatments, and acquired immunity … it's something the state can manage."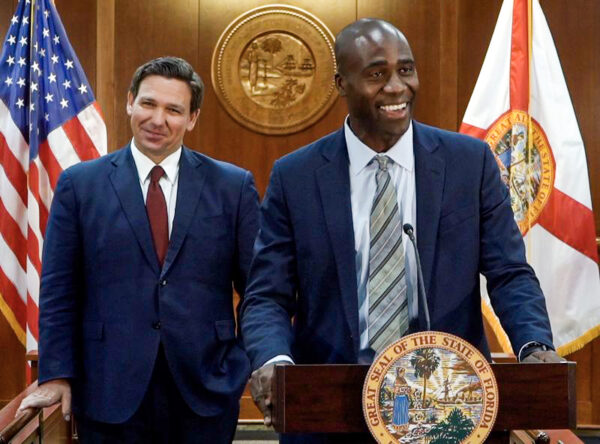 Ladapo said he is focusing on testing those who are at risk, showing symptoms, or are otherwise vulnerable to becoming ill with COVID-19.
"National leadership has infused people with the instruction that if you're healthy, you still need to get tested," Ladapo said, calling it a "nonsensical approach."
The surgeon general said the governor is helping the state focus on the "seniors-first" process that he first adopted when the state was inundated with the virus.
On Dec. 30, 2021, Democratic gubernatorial candidate Nikki Fried accused DeSantis of hoarding test kits to the point of expiration.
"It's come to my attention that Gov. DeSantis's Department of Health has a significant number of COVID-19 tests stockpiled that are set to expire imminently. Given the governor's lack of transparency throughout this pandemic, there's no known public information about these tests or how soon they expire," Fried stated.
DeSantis said that wasn't the case, as the tests she was referring to were part of a shipment they received in September 2021, when the need for testing was low.
For three months, Florida saw a dramatic decrease in COVID-19 numbers until Omicron became prevalent, and testing rose partly due to politicians wanting to "whip people up in a frenzy."
"There are some politicians that the minute you see an increase in cases they want to run in front of the camera and they want to start selling that fear because the fear gives them the ability to exercise more power," DeSantis said.
"Fear doesn't work in Florida."