The story of a giant wolf named "Yuki"—rescued from a kill shelter and now at a Florida sanctuary—is generating buzz on social media.
The massive animal—who is nearly 90 percent gray wolf—was dropped off at a kill shelter when his owner found him too much to handle, according to WFLA.
Luckily, a nonprofit called the Shy Wolf Sanctuary stepped in and rescued the huge wolfdog and have been looking after him since 2008.
"We rescued him from a failed house pet situation. Someone purchased him from a breeder and realized he was too much to handle. They dumped him at a kill shelter at 8 months old. We stepped in and provided a home for him and he has been with us ever since," said volunteer Brittany Allen of Shy Wolf Sanctuary, speaking to Bored Panda.
Allen said Yuki weighs about 120 pounds and in person doesn't seem quite as enormous as he does in some of the photos.
Yuki is one of the highest content wolfdogs at the Shy Wolf Sanctuary, which also houses other exotic species like Cougars, Sugar Gliders, and the North American Bobcat.
"His DNA testing came back as 87.5 % Gray Wolf, 8.6 % Siberian Husky, and 3.9 % German Shepherd," Allen told Bored Panda.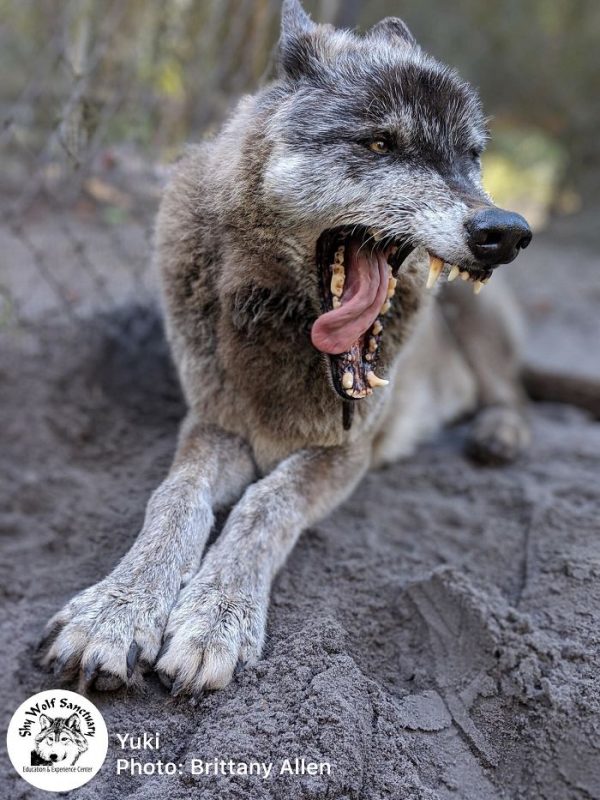 Handling Yuki can a challenge even for seasoned volunteers, the organization says.
"Yuki is very much a 'ham' and loves to be the center of attention," according to the Shy Wolf Sanctuary website. "He has shown us that he doesn't like to hear 'NO,' doesn't like to be restrained or controlled in any way and does have a number of triggers. Volunteers need to be able to read his body language and react quickly as he doesn't always give a warning when 'Mr. Hyde' is going to appear."
"Yuki is one of the most interesting animals in the sanctuary," said Jeremy Albrecht of the Shy Wolf Sanctuary, according to Bored Panda. "He is not an easy guy to get to know, but he does have a small number of volunteers he has bonded with. He has gained the nickname 'Woowoo' because when he sees any of his chosen volunteers that is the noise he makes, beckoning that volunteer to come spend time with him."
Yuki: "Sorry everyone, but I am not available for adoption. I am 12 years old and terminally ill so I will be staying at…
Photos of Yuki have been getting attention on social media, helping to raise awareness for "Yuki"—and funds for the shelter—as he is terminally ill with blood cancer.
"He was diagnosed with cancer last year and unfortunately it is terminal. We have dealt with this particular cancer before and ultimately you don't really know how fast you caught it and how much time they have," said Albrecht, according to Bored Panda.
Albrecht added, "Yuki has been fighting it for quite a while now and is persevering so it is business as usual while we enjoy our time with Yuki. When the day comes that he starts showing symptoms we will, as we always do, make the right decisions for Yuki's quality of life."
"Saying goodbye to one of our animals is always difficult for our staff and volunteers, and Yuki will be no different," Albrecht said, adding, "but it's important to remember that while many of these animals have rough beginnings, their stories always have happy endings once they get to Shy Wolf Sanctuary. When their time with us is over the last thing they do is make room for our next rescue and happy ending."
Founded in 2001, the Shy Wolf Sanctuary takes in 60 captive-bred or rescued animals every year.