The results of two of the most closely watched midterm election races in Florida may take days to determine, after state officials announced a machine recount on Nov. 10.
If the races are forced into a manual recount, the official results would be certified on Nov. 20. But the fate of the races may ultimately rest with the courts, since both Democrats and Republicans have filed lawsuits questioning the integrity of the election.
A Florida state law triggers an automatic recount when victory margins in key elections are less than 0.5 percent. Florida Secretary of State Ken Detzner ordered the tallying of more than 8.2 million votes to be finished within five days. If any race ends up with a margin under 0.25 percent, a manual recount will follow.
All of Florida's 67 counties were required to report their unofficial results to the state by noon on Nov. 10, with some ballots from overseas voters still to arrive by the Nov. 16 deadline.
Most counties submitted the bulk of their results by the day after the Nov. 6 election. Yet two heavily Democratic counties, Broward and Palm Beach, were still counting their mail-in and early voting ballots on Nov. 8, even though Florida state laws require these ballots to be counted and the figures released by 7:30 p.m. on Election Day.
Republicans Rick Scott and Ron DeSantis claimed victories in the crucial races for the Senate and governorship, respectively.
But, as is common in Florida, the margins were tight. Democratic incumbent Sen. Bill Nelson refused to concede the race, predicting a recount. And as Broward and Palm Beach kept adding votes to their tallies, the winning margins have narrowed so much that Democratic gubernatorial candidate Andrew Gillum withdrew his concession.
Late on election night, Scott, the governor of Florida, was ahead by about 75,000 votes. DeSantis, until recently a Florida congressman, had a 55,000 vote lead over Gillum, the mayor of Tallahassee.
As of Nov. 10, Scott's lead had shrunk to fewer than 13,000 votes, while DeSantis's advantage narrowed to less than 34,000 votes.
Late Counting
Scott raised the suspicion of foul play, especially in Broward, which has a long history of election law violations.
"Their goal is to keep mysteriously finding more votes until the election turns out the way they want," he said in a statement to media around midnight of Nov. 8. "And when that fails, they will file a bunch of lawsuits in order to try to overturn the will of the voters."
Broward County alone added about 81,000 votes since the election night—more than 11 percent of all votes cast in the county as of Nov. 10.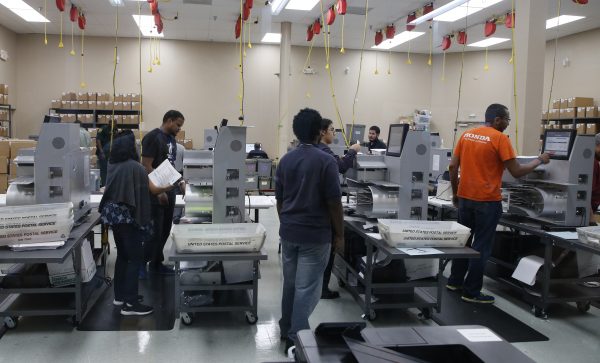 President Donald Trump weighed in with a series of tweets and comments to media, suggesting fraud occurred.
"Trying to STEAL two big elections in Florida!" he said in a Nov. 10 tweet. "We are watching closely!"
Scott called for an investigation, but didn't order one from his position as a governor. The Florida Department of Law Enforcement didn't open a probe on its own as it got no referral of criminal activity from the Florida Department of State, which oversees elections and had at least two election officials posted in Broward.
Palm Beach Lawsuit
Scott filed two lawsuits. One alleged that Susan Bucher, Palm Beach Supervisor of Elections (SOE), didn't allow Scott's campaign people to be close enough so they could monitor Bucher's staff who were copying damaged absentee or mail-in ballots. While damaged ballots need to be copied to clear ballots, that process could open the door to fraud.
In 2016, Broward County SOE worker Chelsey Smith observed four other staffers filling in ballots about a week before the election. Her account spurred allegations of fraud.
Broward elections supervisor Brenda Snipes said the staffers were copying damaged ballots, but that doesn't appear to be what Smith observed. In a sworn affidavit, Smith said she saw the workers each with a stack of blank ballots on their right and they were filling them in and putting on piles to their left. Smith said she was fired without explanation the next morning, but she recognized one of the workers in a Facebook picture as Broward Voter Services Director Mary Hall.
Scott's lawsuit also alleged that Bucher allowed her staff to pass judgment on a portion of "overvoted" and "undervoted" absentee ballots—those where people didn't properly mark their vote in all races, or marked more candidates than permissible.
State law allows only the canvassing board—composed of the elections supervisor, a county court judge, and the chair of the board of county commissioners—to determine, with public access guaranteed, which votes are valid.
Broward Lawsuit
Scott's other lawsuit alleges that Snipes denied Scott's campaign requests "to inspect all ballots that have not yet been canvassed." It demands that Snipes provide the numbers of ballots cast, counted, and those left to be counted.
Circuit Judge Carol-Lisa Phillips found Snipes in violation of Florida public records laws on Nov. 9. She ordered Snipes to turn over the ballot numbers broken down by absentee, early, and election day votes by 7 p.m. that day, Miami Herald reported. But Snipes didn't comply, prompting Scott to announce that he'll ask the judge to find Snipes in contempt of court.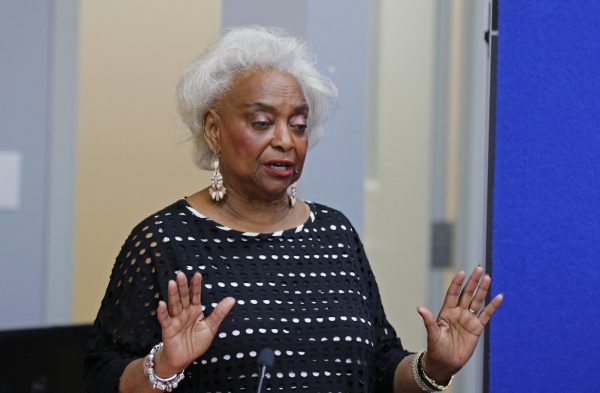 Republicans have blistered Snipes, pointing to at least 12 instances where she has "been outright incompetent and possibly criminal," The Daily Caller reported. In 2016, for instance, Broward posted early voting results a half hour before polls closed, which is illegal. In May, a judge found that Snipes illegally destroyed ballots after the 2016 congressional primary between Rep. Debbie Wasserman Schultz and then-Democratic rival Tim Canova.
Snipes said before the midterms that people were nitpicking her county and that other counties also have problems.
Caldwell Lawsuit
A third lawsuit was filed by Matt Caldwell, Republican candidate for the Florida Commissioner of Agriculture. Caldwell led his Democratic opponent, Nikki Fried, by about 21,000 votes on election night.
But the tide has since appeared to shift with the Broward and Palm Beach votes pouring in, resulting in Fried leading Caldwell by some 5,000 votes as of Nov. 10.
Citing Smith's 2016 affidavit and other Snipes transgressions, the suit questions whether all the mail-in and early votes Broward kept adding were received by the SOE by 7 p.m. on election day, as the law requires—with the exception of the overseas votes.
Since election night, Snipes' office has repeatedly updated the number of ballots cast, from 634,000 to eventually nearly 715,000. During that process, Snipes repeatedly refused to specify how many ballots were still left to count.
Caldwell has asked the court to order all absentee ballots received by the SOE after the legal deadline be rendered void.
Nelson Lawsuit
The Democrats also have lawyered up. Nelson retained Mark Elias, a partner at Perkins Coie, to lead his recount efforts. Elias was the one who hired Fusion GPS in 2016 on behalf of the Democratic National Committee and the Clinton campaign to dig up dirt on Trump. Fusion GPS, in turn, hired former British spy Christopher Steele, who compiled the infamous dossier of unverified claims about Trump and Russia.
Elias appeared confident that Nelson will end up the winner. "The outcome is currently unknown, but I would rather be Nelson than Scott," he said in a Nov. 9 tweet.
Nelson filed a lawsuit on Nov. 9, alleging suppression of votes.
Under Florida law, absentee and provisional ballots need to be signed by voters and the signatures need to match those authorities have on record. The suit demanded, however, that ballots with signatures not matching those on record be counted as valid, The Tampa Bay Times reported.
Elias argued the process of matching the signatures is inconsistent across counties, resulting in a disproportionate number of ballots cast by minority and young voters being discarded for mismatches.
Scott campaign manager Jackie Schutz Zeckman said Nelson's lawsuit is asking "the federal courts to allow voter fraud."
On Nov. 9, the Broward canvassing board identified 22 illegal ballots with mismatched signatures and other violations, but Snipes included them by mistake with about 183 valid ones. She then decided the illegal ones couldn't be found and had the whole batch included in the Nov. 10 results, according to Miami Herald.
Undervote
There is another anomaly in Broward. About 25,000 voters who marked their gubernatorial candidate on the ballot didn't mark one for Senate. An undervote of that magnitude didn't occur in other counties.
Some have suggested that the discrepancy may have been caused by the ballot design in the county, where the Senate race was tucked in the left column under voter instructions. Elias dismissed this possibility and said the scanners that read the ballots may have misread some and the issue would be resolved when they are re-calibrated for a recount.
Snipes has said "there's no calibration issue" with the machines, The Tampa Bay Times reported.
Mysterious Truck
At about 8:30 p.m. on election night, Florida resident JoAnn Knox was leaving the Broward County polling site at Volunteer Park in Plantation, where she was to witness the closing and tabulation of the vote.
She saw a truck at the far end of the parking lot and a long line of cars lined up leading to the truck. One after another, the cars unloaded bags and boxes, which were then loaded to the truck. Among that cargo were blue bags that, according to Knox, were used at the polling station to store ballots. Some of the cars had only one person inside, making Knox worry that someone could have tampered with the ballots. She took a video of the events and posted it on her Facebook page together with a detailed account of her experience.
Knox also took a picture of two women carrying a box labeled "provisional ballots." Similar boxes were also found in an elementary school in Miramar on Nov. 8, and at a community center in Tamarac on Nov. 10.
Caught On Video: Concerned citizen sees ballots being transported in private vehicles & transferred to rented truck on Election night. This violates all chain of custody requirements for paper ballots. Were the ballots destroyed & replaced by set of fake ballots? Investigate now! pic.twitter.com/GUPZnz7Gny

— Tim Canova (@Tim_Canova) November 8, 2018
Snipes' lawyer Eugene Pettis said those were supply boxes that also function as provisional ballot boxes. They come with ballots inside on election day, but those are taken out and stored in orange bags until they are sent to the elections office.
Pettis said the county sent out 577 of the crates to every precinct and trucks then collected them, Miami Herald reported.
It's not clear whether the explanation also applied to the blue bags seen in Knox's video.
The offices of Snipes and Knox didn't respond to requests for comment.