Florida police on Monday conducted a raid at the home of a former Florida Department of Health (DOH) employee who was fired in May for alleged insubordination.
Rebekah Jones, who has claimed that she was let go of by the department for refusing to manipulate pandemic figures for Florida officials, published footage on her Twitter account showing officers entering her home, and later drawing their guns.
Jones wrote on the social media platform that state police entered her home at 8:30 a.m. Monday, "pointed a gun in my face," "pointed guns at my kids," and took all of her hardware and technology.
1/
There will be no update today.

At 8:30 am this morning, state police came into my house and took all my hardware and tech.

They were serving a warrant on my computer after DOH filed a complaint.

They pointed a gun in my face. They pointed guns at my kids.. pic.twitter.com/DE2QfOmtPU

— Rebekah Jones (@GeoRebekah) December 7, 2020
She accused Florida Gov. Ron DeSantis of ordering the raid, saying that he "sent the Gestapo … to get me to shut up."
Jones previously helped manage the state's COVID-19 dashboard, which includes updated case counts and other information.
"They were serving a warrant on my computer after DOH filed a complaint," Jones wrote. "They took my phone and the computer I use every day to post the case numbers in Florida, and school cases for the entire country."
"They took evidence of corruption at the state level. They claimed it was about a security breach," she added.
"This is what happens to scientists who do their job honestly. This is what happens to people who speak truth to power. I tell them my husband and my two children are upstairs… and THEN one of them draws his gun. On my children. This is DeSantis's Florida," she said.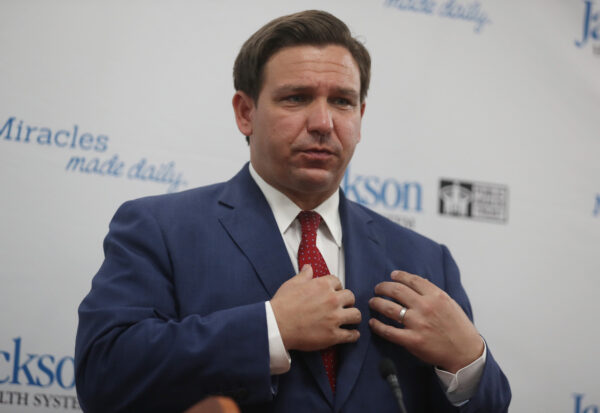 A spokeswoman for the Florida Department of Law Enforcement, Gretl Plessinger, confirmed that a search warrant was carried out at Jones's home, and that computer equipment was seized during the encounter.
A complaint alleges that Jones was suspected of accessing the state health department's messaging service without permission.
Florida Department of Law Enforcement (FDLE) Commissioner Rick Swearingen said in a separate statement that an investigation by the agency began last month following a complaint by the health department that an individual "illegally hacked into their emergency alert system."
"As part of our investigation, FDLE agents served a search warrant this morning at the Centerville Court residence where Ms. Jones lives after determining the home was the location that the unauthorized message was sent from," the statement said. "Agents knocked and called Ms. Jones both announcing the search warrant and encouraging her to cooperate. Ms. Jones refused to come to the door for 20 minutes and hung-up on agents."
The FDLE statement says that no weapons were pointed at anyone in the home during the incident.
"After several attempts, Ms. Jones allowed agents inside. Agents entered the home in accordance with normal protocols and seized several devices that will be forensically analyzed. At no time were weapons pointed at anyone in the home. Any evidence will be referred to the state attorney for prosecution as appropriate," Swearingen added.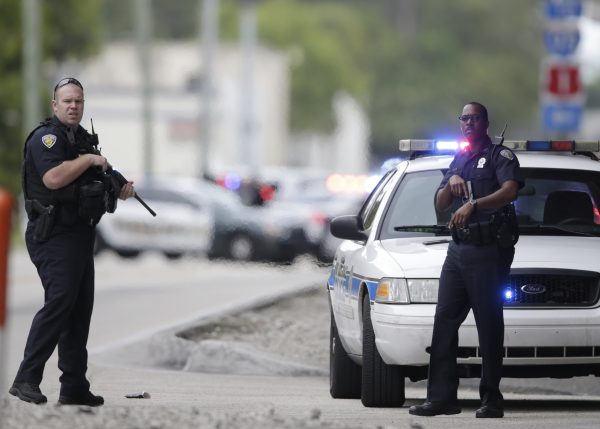 DeSantis's office and the state department of health didn't immediately respond to requests for comment by The Epoch Times.
Jones has claimed that before she was fired, she was instructed to lower the state's CCP (Chinese Communist Party) virus positivity rating so that Florida would appear to meet its target to reopen.
"To me, it did not read like some kind of political conspiracy or some higher directive," Jones told NPR in June. "It seemed like people who expected when I brought in those results, the results to support the plan they had written, and they did not, they seemed panicked, and like they had to figure out a way to make the results match the plan."
The governor's office said in May, however, that during her time with the department, Jones "exhibited a repeated course of insubordination … including her unilateral decisions to modify the department's COVID-19 dashboard without input or approval from the epidemiological team or her supervisors."
"The blatant disrespect for the professionals who were working around the clock to provide the important information for the COVID-19 website was harmful to the team," DeSantis spokeswoman Helen Ferre said in a statement at the time.
DeSantis said in May that Jones was under what he described as "active criminal charges" for cyberstalking and cyber sexual harassment, adding, "I have a zero-tolerance policy for sexual harassment."
A police report obtained by WEAR-TV showed a man told police officers Jones posted a website that included naked pictures of him and shared it with his employer and relatives.
Since she was fired by the Florida Department of Health, Jones has launched her own version of a state tracker of CCP virus cases.
Zachary Stieber contributed to this report.