A Florida judge ruled against the state's order that required schools to open for in-person education amid the CCP virus pandemic, siding with a major Florida teachers union that wants local districts to decide. Shortly following the judge's decision, the state filed a notice of appeal, which puts the judge's decision on hold.
Florida's Education Commissioner Richard Corcoran issued an emergency order in early July (pdf) mandating that all physical schools in the state will have to reopen campuses by the end of August for at least 5 days a week, and follow guidelines set by the Florida Department of Health.
The temporary order applies only to the upcoming fall semester, and gave the harder-hit south Florida counties of Miami-Dade, Broward, and Palm Beach an exception, allowing them to start the school year with virtual learning until at least Sept. 30.
The order also gave space for virtual classes, saying, "Although it is anticipated that most students will return to full-time brick and mortar schools, some parents will continue their child's education through innovative learning environments, often due to the medical vulnerability of the child or another family member who resides in the same household."
But Judge Charles Dodson in the Circuit Court in Tallahassee sided with the Florida Education Association (FEA)—Florida's largest teacher's union—which had alleged that the mandate was "unsafe." The order was issued after a 3-day trial that ended on Aug. 21, following a lawsuit that the FEA filed (pdf), which was joined by the NAACP and the NAACP Florida State Conference.
In a decision (pdf) on Monday, Dodson granted a temporary injunction that adjusted the Florida Department of Education's emergency order, to "allow local school boards to make safety determinations for the reopening of schools without financial penalty."
Dodson wrote that the state's order is "unconstitutional to the extent that it arbitrarily disregards safety, denies local school boards' decision making with respect to reopening brick and mortar schools, and conditions funding on an approved reopening plan with a start date in August."
"Schools should reopen when the local decision makers determine upon advice of medical experts that it is safe to do so," Dodson wrote.
He also wrote that local school boards do not have to offer the "full panoply of services" and cannot be withheld funding by the state for not doing so.
The FEA praised the court's ruling on Monday.
"This is only a temporary injunction, but we plan to press ahead in court. Local communities should have the freedom to make the best decisions for reopening or keeping open local schools. Our districts should not be ruled by reckless edicts from on high. Safety must come before politics,"  FEA President Fedrick Ingram said in a statement.
Later on Monday, the state filed a notice of appeal (pdf) which automatically puts a hold on Dodson's order until the appeal is over or unless the court rules differently.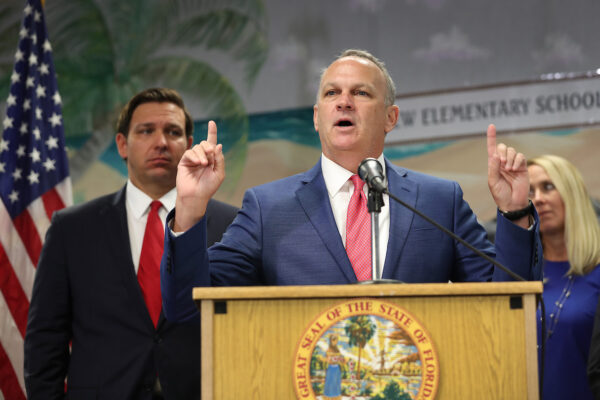 Corcoran told media outlets in a statement that he is confident the state will win the lawsuit.
"This fight has been, and will continue to be, about giving every parent, every teacher, and every student a choice, regardless of what educational option they choose," Corcoran told NPR in a statement. "If you are one of the 1.6 million students who have chosen to return to the classroom, a parent, or a classroom teacher that wanted to educate their student in person, we strongly encourage you to call the Florida Education Association and tell them to drop this frivolous lawsuit."
Florida Gov. Ron DeSantis and Corcoran have said repeatedly that all schools must open, but the decision for student in-person attendance would be up to the parents.
Most states closed down schools around March in a bid to curb the spread of the CCP (Chinese Communist Party) virus, a novel coronavirus that causes the disease COVID-19. Many schools provided online teaching courses for the remainder of the year, and some schools allowed for graduations that adhered to social-distancing guidelines.
More than 10,000 Florida residents have died while having tested positive for the CCP virus, according to state data.
Jack Phillips and Reuters contributed to this report.