A Florida woman was arrested for leaving her 3-year-old daughter alone in a car for hours while she worked at a strip club.
Police in Lauderhill said 23-year-old Manouchika Daniels was charged with child neglect after someone saw her daughter wandering around the strip joint parking lot all alone and called 911.
Officers arrived at the Vegas Cabaret strip club at around 2 a.m. on Tuesday, Sept. 17, and attended to the distressed child, who "appeared to be confused," the Miami Herald reported.
Lauderhill police Lt. Michael Santiago said in a news release that the little girl led officers to a vehicle that wasn't running and had the back window cracked open for ventilation. The Herald reported that the officers saw a child seat and toys inside the vehicle.
Santiago said that about 30 minutes later, Daniels showed up and told the officers she was the child's mother.
"She admitted that she just left the child there briefly while she dropped somebody off, but later in the case we realized that was not the issue," Santiago said, according to WPLG.
Officers found that Daniels had left the little girl in the car at around 11 p.m. Monday while she worked at the adult establishment.
"I mean, she could've been seriously hurt," Santiago said of the child. "A 3-year-old is especially vulnerable in this type of situation. You have traffic flow on University Drive and it's dark."
Daniels was ordered held without bond and her daughter was taken into protective custody.
Texas Mom Left Baby in Car While She Went into Night Club to Drink Shots: Police
The incident recalls the case of a Texas mother who was arrested in a night club after allegedly leaving her baby in a running car while she went inside to consume alcohol.
According to local news outlet KWTX, 26-year-old Samantha Vaughan was discovered before 2 a.m. on Sunday, July 28, inside TrackSide, a Copperas Cove drinking establishment which one Yelp reviewer called an "old run down bar."
Deputies found her baby in the backseat of a car, parked outside the club, according to an arrest affidavit seen by KWTX.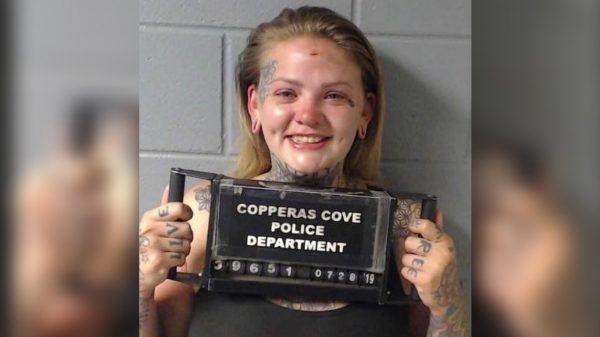 Vaughan told officers she was picking up her husband at the club and then ended up using the toilet and sitting "with him while she consumed the two shots."
The mother, whose booking photo shows tattoos on her hands that read "Live Free," allegedly refused to comply with requests by arresting officers and resisted being taken into custody.
She dropped to the ground, the report said, and then "continued to thrash her body around…yell and throw herself about."
KWTX reported that throughout her interaction with officers, Vaughan yelled and cursed, including using a racial slur.
Police officers cited in the report also said the woman "smashed her forehead" into a steel bar inside the police vehicle two times, resulting in a forehead laceration.
Fox News reported that a breathalyzer test determined her blood alcohol level was 0.148. In Texas, a blood alcohol content of 0.08 is the threshold for intoxication.
Vaughan has been charged with abandoning/endangering a child with intent to return, according to the report.
The Associated Press contributed to this report.