Update: Most of the charges were dropped.
Original story below.
A Florida man has been arrested for allegedly planning to attack a rally being held in support of a man who's in jail on charges linked to the Jan. 6 U.S. Capitol breach.
Law enforcement officers arrested Garrett Smith in Clearwater, Florida, on the evening of Jan. 6 after spotting him sprinting away from the rally.
They found explosives in his backpack, fireworks in his nearby vehicle, and additional explosives at his home after his parents gave law enforcement officers permission to search the premises.
A helmet Smith was wearing contained a logo that has been linked to Antifa, a far-left network that has repeatedly committed crimes in recent years.
Smith, 22, had recently traveled from Portland, Oregon, a hotbed of Antifa activity, Pinellas County Sheriff Bob Gualtieri told reporters during a briefing.
Smith was found with a "direct action checklist," according to authorities. Direct action is a term favored by members of Antifa: It refers to carrying out nefarious activities, such as looting stores.
The checklist contained the clothing Smith was wearing—all black with a black face covering, an ensemble Antifa members often don—as well as accessories such as a black helmet, an armored black vest, knee guards, and a personal shield. The bottom of the list included gear such as a gas mask, smoke rockets, and flammable rags.
After deputies found the explosives, the sheriff's bomb squad was called in and it was determined that the device in the backpack was active. Deputies cleared the area as a precaution.
No bombs were set off.
Smith has refused to talk to law enforcement.
"So we really have no idea as to what his political leanings are and whether he supported or opposed the protesters at the jail," Gualtieri said. "We also don't know exactly what his plan was or why Smith was running away from the protest area when he was apprehended by deputies and before he had an opportunity to detonate the explosive device.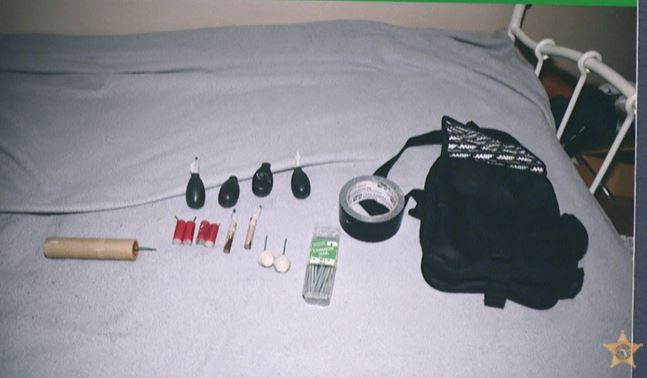 "He was all dressed. He had the device. He had his plan. He had his written document that explains it all. He had more at home. But why he actually didn't do it—something happened because it caused him to flee, and based upon what the deputy saw, he was running fast, he was running away from something. But I don't know what it is."
According to a criminal complaint, a deputy observed Smith running along a woodline away from the protest. The deputy caught up with Smith and detained the defendant, who was trying to obscure himself behind a tree upon seeing law enforcement.
When asked where he was running from, Smith said "the county."
Smith was charged with loitering and prowling, a misdemeanor, and three counts of felony making/possessing/discharging a destructive device, according to court records.
He was being held on a $300,250 bond.
A public defender was appointed and entered a not guilty plea. The attorney's name wasn't listed on the court docket.
Gualtieri said Smith, who has no criminal record, gave no indication of what he was planning on social media, and wasn't familiar to law enforcement, "is what we call a sleeper, and these are the most concerning individuals, because there's no opportunity to intervene and thwart their criminal activity until they actually act."