The Florida Department of Education (DOE) is investigating the No Place for Hate curriculum by the Anti-Defamation League (ADL) for possible violations of the state's Parental Rights in Education law.
Broward parent Deirdre Ruth filed a complaint with the department after discovering the curriculum taught in Broward public schools on a school board meeting agenda.
After researching the program online, she reported to the state that the materials—used to teach students as young as kindergarten—contain apparent violations of the law signed by Gov. Ron DeSantis (R) in March 2022.
Ruth, the parent of a 3rd grader, was pleasantly surprised when she received a call from a state investigator about a month later, she told The Epoch Times.
Her complaint focuses on a section called "Let's Get It Right: Using Correct Pronouns and Names."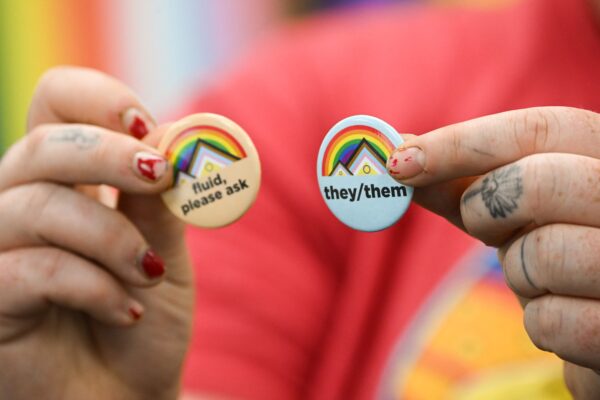 The concepts taught in the section are in "violation of HB 1557 [the Parental Rights in Education law] and encourages teachers to violate the law by telling them to do a get-to-know-you survey, which asks young students to pick their gender pronouns," Ruth wrote in her complaint.
The No Place for Hate website describes the program as "a holistic, school-wide approach to improving school climate."
It calls for school districts to sign up, and provides a "No Place for Hate Pledge" for students to sign.
The program includes an "all ages" curriculum where, according to Ruth's complaint, it gets into murky territory.
'Facets of Our Identity'
Gender pronouns are described on Page 24 as "facets of our identity," according to the ADL program.
"Calling someone by the wrong name or 'misgendering' them by using incorrect pronouns can feel disrespectful, harmful, and even unsafe," according to the curriculum.
The program, given to Broward County public school teachers to be taught to students as young as kindergarten, encourages concealing information about the children from their parents.
The Broward Community Foundation pays for the curriculum in Broward County Public Schools. Nationwide, the program has been used for 20 years, according to the ADL website, currently reaching "millions each year."
It's taught by more than 100,000 teachers and used in more than 1,600 schools, the website states.
"You should also ask whether it's okay or not to use their name and pronoun in communication home to parents/family members and in parent-teacher conferences. Keep in mind that some students may not disclose this information to some or all family members," the curriculum guide reads.
The curriculum goes on to recommend teachers keep a separate roster with the students' pronouns, and that teachers should share their own pronouns.
"You can act as a role model by sharing your pronouns and using them when introducing yourself," the curriculum guide suggests.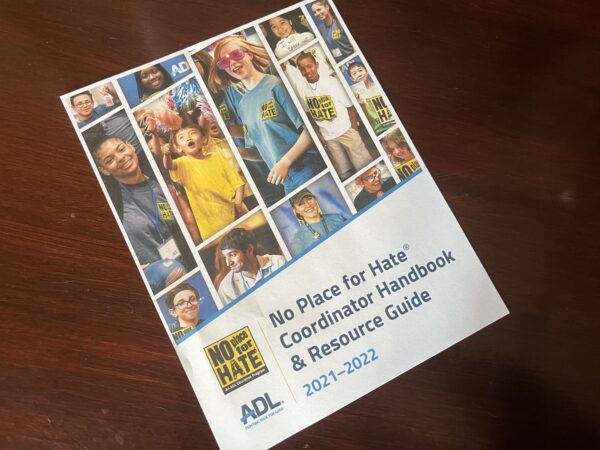 Ruth's complaint includes a list of ADL-recommended books for elementary students, including "Calvin," a book suggested for ages 4–8. The description of the book reads: "Calvin has always been a boy, even if the world sees him as a girl. Finally, he can wait no longer: 'I'm not a girl,' he tells his family."
"Broward is not being transparent about this curriculum," said Ruth, who filed the complaint in December after members of the School Board of Broward County voted 6-2 to continue with the curriculum.
"This program is extremely valuable," said member Sarah Leonardi, at the Dec. 13 board meeting, before voting to continue to program. "It is important we are vocal to not allow hate here in Broward."
Leonardi and board member Jeff Holness both said they used the program while teaching in Broward schools.
Jorge Altoona, a high-school senior serving as student adviser to the board, thanked members for continuing the partnership with ADL.
"In recent weeks, we have seen a rise in anti-semitism and homophobia," Altoona said. "It is imperative that the board continue to support these groups."
Board member Brenda Fam voted "No," saying it could result in litigation against the board if the literature is not in compliance with state law. She called the contract "ambiguous."
"I recommend that we do not sign this contract, as it puts the county at risk," said Fam, who is an attorney.
"The contract says the district will facilitate approval for the ADL program. When we open that door, we must open it to everyone. We cannot be advocating for any group. We should stay clear of this."
Now, the state is investigating.
'Fighting Hate'
Founded in 1913, ADL is the self-described "leading anti-hate organization in the world."
The organization's mission is "to stop the defamation of the Jewish people and to secure justice and fair treatment to all."
It fights, all forms of "bias, using innovation and partnerships to drive impact. A global leader in combating antisemitism, countering extremism, and battling bigotry wherever and whenever it happens, ADL works to protect democracy and ensure a just and inclusive society for all," according to the website.
Broward parent Elon Gerberg, founder of Florida Fathers for Freedom, says the ADL is not representative of the Jewish faith.
"Where in the Torah does it state that boys can become girls if they want, or that men can get pregnant?" Gerberg, a practicing Jew, told The Epoch Times. "This is as anti-Jewish as it gets."
Gerberg was targeted by ADL in December 2022 for organizing a Protect the Children rally, an event he put on with the group Gays Against Groomers.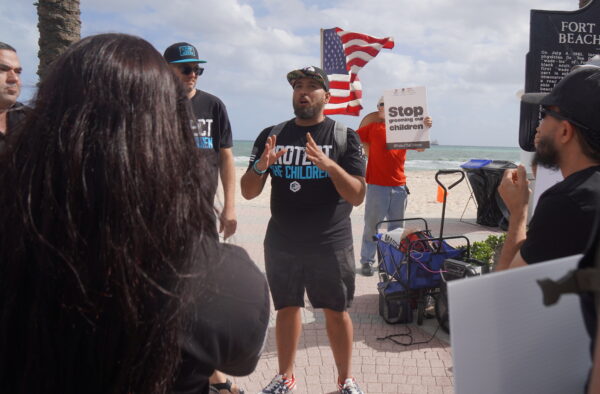 The ADL website called Gerberg's rally an "extremist-led anti-LBGT protest," and posted the headline: "Weekend of Anti-LGBT Extremism Highlights Heightened Threat to Community."
An ADL spokesperson CK castigated Gerberg and other participants as "misogynistic, white supremacist, and antisemitic," according to reports in South Florida's Sun Sentinel newspaper and on WLRN.
"None of this is grounded in the Jewish faith," said Gerberg.
"One of the 10 Commandments is to honor your father and mother. This is dividing them by telling children to keep secrets from their parents. Men and women also have roles in Jewish culture. In the highest sects of Judaism, men and women do not even sit together!"
ADL lists Broward, Palm Beach, and Miami-Dade counties as those in Florida using the No Place for Hate curriculum.
"An important component of freedom in the state of Florida is the freedom from having oppressive ideologies imposed upon you without your consent, whether it be in the classroom or the whether it be in the workplace," Gov. Ron DeSantis said before signing the Stop Woke Act in April 2022.
"We decided to do something about it."
The Epoch Times reached out to all Broward County School Board members, the investigator handling Ruth's complaint with the Florida Department of Education, the ADL, and the Office of Gov. Ron DeSantis, but did not receive responses before publication.
As a parent, Ruth is frustrated by the difficulty parents face in reviewing their children's curriculum. Had she not paid attention to a school board agenda item, she may not have known about the program, which she sees as problematic.
"How am I as a parent or the school district supposed to vet something like this?" she asked. "It is all online and not part of the regular curriculum."