Florida Gov. Rick Scott will activate the National Guard before Hurricane Irma, a potentially devastating Category 5 storm, can possibly make landfall in the state.
All 7,000 members of the National Guard will report for duty on Friday, Sept. 8, Scott said in a statement on Tuesday.
"With Hurricane Irma now a Category 5 storm, we must do all we can to prepare our families and communities for any potential impact from this major weather event," Scott said in a statement. "We do not know the exact path of this storm, but weather can change in an instant and while we hope for the best, we must prepare for the worst."
If additional resources are needed before Friday, Scott said he's "ready to activate as many guard members needed to support our aggressive preparedness action."
A state of emergency was declared in all 67 of Florida's counties, freeing up resources, including the Guard.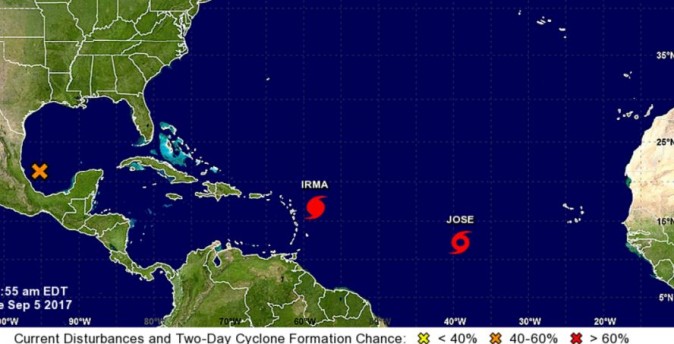 Scott said on Tuesday, he also asked President Donald Trump for a prelandfall emergency declaration to obtain more federal funds and resources.
On Tuesday, National Hurricane Center forecasters said in an 11 a.m. advisory that Irma is located some 225 miles east of the island of Antigua and 230 miles from Barbuda.
It packs maximum sustained winds of 180 mph, and it's moving at around 14 mph west.

The center noted that Irma is quite large, and forecasters urged people to not pay attention to its specific path.
"If ever there was a storm to take seriously in the Keys, this is it," Monroe County Emergency Management Director Martin Senterfitt told the Miami Herald. "The sooner people leave, the better."
The government of the Bahamas issued a hurricane watch for the Turks and Caicos Islands and the southeastern Bahamas, including the Acklins, Crooked Island, Long Cay, the Inaguas, Mayaguana, and the Ragged Islands, the NHC said.
Meanwhile, a hurricane watch has been issued for the north coast of Haiti from the border of the Dominican Republic westward to Le Mole St. Nicholas.
A tropical storm watch has been issued from south of Le Mole St. Nicholas to Port-Au-Prince.
A hurricane warning is in effect for:
* Antigua, Barbuda, Anguilla, Montserrat, St. Kitts, and Nevis
* Saba, St. Eustatius, and Sint Maarten
* Saint Martin and Saint Barthelemy
* British Virgin Islands
* U.S. Virgin Islands
* Puerto Rico, Vieques, and Culebra
A hurricane watch is in effect for:
* Guadeloupe
* Dominican Republic from Cabo Engano to the northern border with
Haiti
* Haiti from the northern border with the Dominican Republic to Le
Mole St. Nicholas
* Turks and Caicos Islands
* Southeastern Bahamas
A tropical storm warning is in effect for:
* Guadeloupe
* Dominica
A tropical storm watch is in effect for:
* Dominican Republic from south of Cabo Engao to Isla Saona
* Haiti from south of Le Mole St. Nicholas to Port-Au-Prince