Florida Explosion: Blasts at Gas Company in Tavares, Injuries Reported (+Photo, Video)
July 29, 2013 11:38 pm Last Updated: July 30, 2013 3:29 am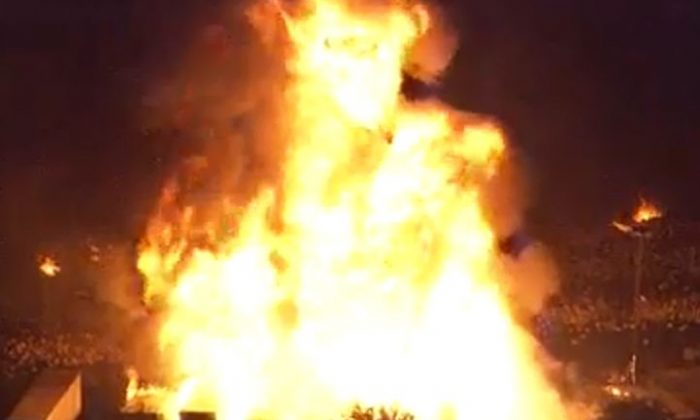 Reports on Monday night said there were several massive blasts near the Blue Rhino propane gas company in Tavares, Florida.
The Orlando Sentinel said that residents heard several loud blasts. Some said they saw massive columns of flame.
The blasts started at around 11 p.m. Officials have yet to determine the cause of the blasts and fire.
Lt. John Herrell told the Sentinel and WESH that all two dozen workers have been accounted for.  Seven workers were transported to local hospitals.
There were 53,000 20-pound cylinders at the plant, Herrell told WESH.
"My understanding is that they [fire officials] believe it's contained," he told the station at 1:20 a.m.
Video footage captured by WESH and YouTube users showed what appears to be propane tanks shooting up into the air on fire.
Don Ingram, a former production manager at the plant, told WESH-TV that workers during the night shift "do four to five thousand of those [propane tanks] in a night." He said the facility has a "great, extensive training program" and "top-notch" safety protocols at the plant.
"I don't think you fight this fire," he added. "It's just too dangerous." 
Ingram said there is a subdivision, a wooded area, and an industrial park are located near the facility. 
C.R. 448 has been closed for several miles in both ways, the paper reported.
WESH-TV reported there was an evacuation order around the plant, and a number of roads were shut down.
Five helicopters were deployed and several people were rushed to nearby hospitals with injuries. There were at least two with critical burns, according to the station.
Firefighters could not get close to the blaze due to the nature and intensity of the fire.
Residents say they can see the flames from as far as five miles away. "I heard a loud bomb sounds," Lisa Garner, who lives nearby, told the Sentinel. "I thought somebody ran into my house." 
"It sounds like bombs are going off," local Norma Haygood told WESH-TV.
Ashley McCormick, a resident who lives seven miles away, told ABC News: "We've probably heard close to 100 or more [explosions]. I mean there are hundreds of propane tanks out there. You could hear the explosions just…one after another and then after it would explode, a fireball would shoot up into the sky."
On Twitter, a number of users posted photos of the explosion. User Bucs352 wrote that the explosions were happening every few minutes.
"Yes there is but not a whole lot…more rural..nearest town 5-6 miles away..I'm 15 miles away and it rattled my windows," Bucs352 wrote.
 Instagram user Jarrettsab's posted a photo of the red sky Tavares, Fla. 
"Literally my entire news feed on FB is [of] the sky and flames in Tavares. This is crazy! #praying," wrote user Kristin Lloyd.