The Florida Ethics Commission found, on Dec. 3, there was probable cause that Nicole Fried, a leading Democrat challenger to Gov. Ron DeSantis in 2022, inaccurately reported her income.
Fried is the Commissioner of Agriculture, the first woman to be elected to the position, and a Manatee County commissioner.
The commission, in its regular scheduled session, found probable cause that Fried failed to "accurately disclose" her income in 2017 and 2018, which violated Florida's financial laws.
The complaint was filed by Florida GOP Chair Evan Power.
In a closed session, complaints against Nicole "Nikki" Fried, and Vanessa Baugh, were discussed.
Manatee County Commissioner Baugh, a Republican, was found to have "abused her office" when she organized a pop-up vaccine clinic.
Both women have denied any wrongdoing.
Fried was elected to office in 2018 as the only Democrat to win a statewide race.
She narrowly defeated state representative Matt Caldwell by fewer than 7,000 votes out of more than eight million votes cast.
In August—and two months past deadline—Fried filed financial disclosures that estimated her worth at almost $1 million and owned a six-figure stake in a large cannabis company.
Fried, a former medical marijuana lobbyist, said in previous reports that she has gone "above and beyond" legal requirements to separate her personal interests in cannabis, from her work promoting and regulating the industry as agriculture commissioner.
She has said she intended to sell off her own marijuana holdings if elected governor.
Fried and former Florida governor and current U.S. Rep. Charlie Crist (D-Fla., 13th District) both want the Democratic nomination to challenge incumbent DeSantis in 2022.
Fried was not available for comment by press time.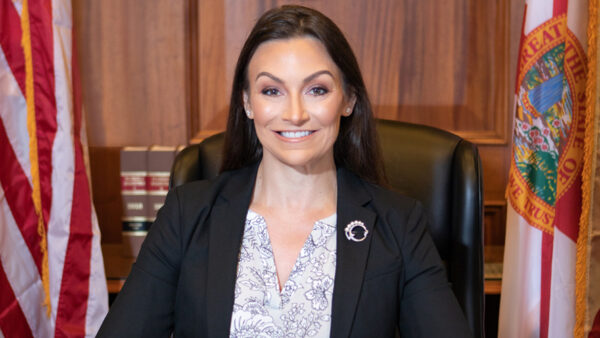 Eighteen separate complaints were filed against Baugh, which were condensed into one investigation.
The complaints came after Gov. DeSantis announced a vaccine site that reportedly served only residents of two wealthy zip codes, providing about 3,000 vaccines for COVID-19 to residents in the area age 65 and older.
DeSantis later said that the reason he chose the area was because it was underserved, and a low percentage of seniors had been vaccinated and the 3,000 shots were ordered in addition to the county's normal shipment of vaccines.
Baugh herself was involved in the negotiations for the site and had reportedly asked that her name be put on a VIP list to receive vaccine shots.
The list included two of Baugh's neighbors and was emailed directly to the county's public safety director.
Baugh has publicly stated that she did not receive her vaccine at the clinic, "despite the list."
Manatee County Democrats have called for the commissioner's resignation over negotiations around the vaccine pop-up site and Baugh's involvement.
Manatee Sheriff Investigates
On Dec. 6, the Manatee County Sheriff's Office announced it had concluded an investigation into criminal actions against Baugh and that there would be no charges.
Investigators at the sheriff's office said Baugh did not receive a "tangible benefit" from creating a VIP list for the vaccine clinic, and did not receive her vaccine through the pop-up clinic.
They also concluded that because she was on the list it did not give her "anything of tangible value."
"From the point we received this complaint our goal was to conduct a very thorough investigation," Sheriff Rick Wells said in a statement.
"We spent countless hours on this, focusing not only on the statutes mentioned in the complaint, but also examining whether other laws were possibly broken. Nothing criminal was found."
The Sheriff's Office said it forwarded its report to the Florida Ethics Commission.
Baugh said, in a statement, the sheriff's investigation "confirmed what I have maintained all along–no criminal act occurred in getting vaccines to our most vulnerable and reluctant area."
"I look forward to putting this distraction behind me and refocusing this energy on reducing traffic, lowering taxes, and revising the alarming growth in the size and scope of our local government," Baugh continued.
Her attorney George Levesque said he believed the complaint was based on politics and maintained his client's innocence.
The commission reported that in each case, both state officials have the "right to full evidentiary hearings, or reach a settlement agreement."
It added, "Finding probable cause is not a determination that a violation has occurred."