The severe flooding that has inundated much of the Midwest could last until late spring, forecasters have warned.
Much of Iowa and Nebraska have experienced severe flooding, including along the Missouri River, one of the largest in the United States. Parts of Missouri have also reportedly flooded.
AccuWeather Lead Long-Range Meteorologist Paul Pastelok said that across the Midwest, flooding could remain a persistent issue until late spring, which officially started March 20.
my heart is so heavy right now.. PLEASE PRAY FOR NEBRASKA. over 21+ counties have been evacuated due to historical floods, blizzards and hurricane force winds.. and our country doesn't know about it. PLEASE PRAY FOR NEB. #Nebraskastrong💛
(not my photos) pic.twitter.com/wdHmhB6Dwi

— kim rendon (@_kimrendon) March 15, 2019
"El Niño is likely to persist through the spring and not weaken like it usually does this time of the year," Pastelok told USA Today.
In a report on March 20, AccuWeather also noted that much of the Mississippi River watershed would likely experience flooding for much of the season.
"This year will be one of the bad years for flooding in the Central states," stated AccuWeather forecaster Alex Sosnowski.

The reason for that, he explained, is due to a "combination of frozen ground, ice-clogged rivers and streams, a sudden thaw and heavy rain."
However, in April and May, the storms may not be as strong as the recent so-called "bomb cyclone" that hit much of the United States.
Martha Bane, a managing director at the risk management firm Gallagher, suggested to USA Today that the economy in Nebraska will be adversely impacted for some time.
"When a large area is affected by a catastrophic loss, increased costs of materials and labor can add significant additional cost to the restoration," she said. "Local labor shortages can further exasperate the situation."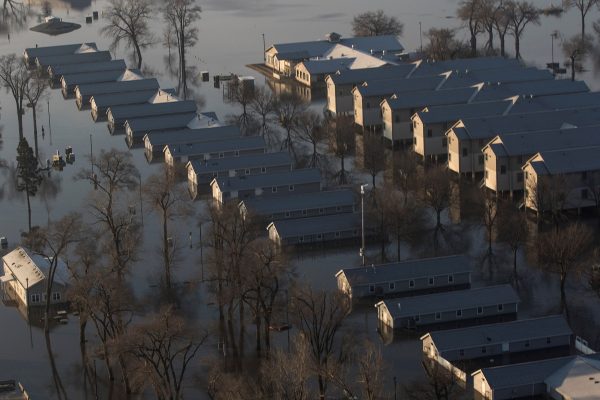 "Any sudden surge of warmth combined with heavy rain would likely lead to major and rapid flooding, perhaps on par with that of Nebraska and Iowa," he warned. "Through the end of March, the bulk of the major storms are likely to track south of the heavy snowpack region."
Into the summer, he said that Central states could experience even more flooding due to clusters of thunderstorms that form in those months.
"Thunderstorm complexes produce heavy rain and are responsible for the bulk of the rainfall over the Central states during the late spring and early summer," AccuWeather noted.
Not only is the Missouri River high, but it's moving fast! #Omaha #NebraskaFlood pic.twitter.com/mJA5CaGzCR

— Mark Stitz (@MarkStitz) March 15, 2019
Flood Waters Still Rising
Flooding from last week's storm has already caused nearly $1.5 billion in damage in Nebraska, killed at least four people with another missing, Reuters reported.
"This isn't over," said David Roth, a meteorologist with the National Weather Service's Weather Prediction Center.
"The river will have several more major crests through next week," he said, not counting the numerous tributaries that feed into the Missouri up and down the Midwest and will likely inundate communities into next month.
More than 2,400 Nebraska homes and businesses have been destroyed or damaged, with 200 miles of roads unusable and 11 bridges wiped out, Governor Pete Ricketts said on Wednesday.
Reuters contributed to this report.