Flood Insurance Rate Hikes Going Into Effect
September 30, 2013 8:32 pm Last Updated: October 1, 2013 7:16 pm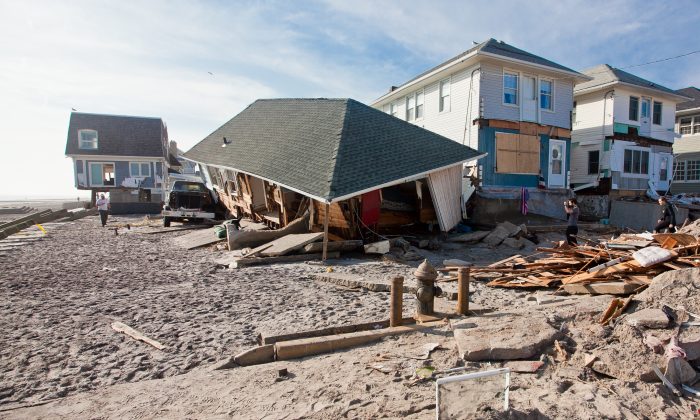 NEW YORK—The long-anticipated increases to flood insurance rates will start to become a reality from Oct. 1.
The increases are the result of the overhauled National Flood Insurance Program (NFIP), which is $25 billion in debt.
According to a FEMA representative, there are certain triggers that could cause insurance rate increases. Many NFIP subsidies for repeatedly flooded structures, businesses, and vacation homes will be phased out first. According to an op-ed in The New York Times by Nicholas Pinter, a professor of geology at Southern Illinois University, that could cause policy rates in some cases to rise 10 times or more.
Homes that are primary residences and have had subsidized insurance rates for years under NFIP will be exempt until there are new flood-risk maps or until the homes are sold.
According to the NFIP, there are currently only preliminary flood zone maps for New York City. Final maps are projected for June 2014.
The preliminary work maps are the second phase of flood maps issued by FEMA. The Advisory Base Flood Elevation (ABFE) was put out earlier this year to help people start rebuilding. A spokesman for FEMA said that the ABFE was intended as "educated advice where to build to."
"You could never be high enough. Hurricane Sandy proved that," said the spokesman.
In Broad Channel Island, west of Far Rockaway, residents rallied this weekend against impending increases. In Lower Manhattan, though, representatives for community Districts 1 and 3 said there had been little to no discussion about the new rates yet. Both districts were hit hard during Hurricane Sandy and have partial high-risk areas under the city's evacuation map.
The insurance rate increases were triggered by the Biggert-Waters Flood Insurance Reform Act of 2012. The potential negative impacts have elicited vows toward reform, even from Congresswoman Maxine Waters (D-Calif.), who co-sponsored the act. In a Sept. 27 statement, Waters bemoaned the "outrageous premiums."
"When I agreed to co-author this legislation, our goal was to create a bipartisan solution to repair our National Flood Insurance Program," said Waters in her statement. "Neither Democrats nor Republicans envisioned it would reap the kind of harm and heartache that may result from this law going into effect."
Waters said she is "working tirelessly" to delay rate changes for three years until FEMA maps are accurate and adjustments can be made to certain types of projected rate increases.
FEMA Map Information eXchange, or FMIX
Toll-free 1-877-FEMA MAP (1-877-336-2627)
National Flood Insurance Premium Website
http://floodsmart.gov