One of the world's busiest airports has come to a complete halt on Aug. 12 after swarms of Hong Kong's pro-democracy demonstrators packed its main terminal to protest against police brutality.
The airport protests marked the fourth consecutive day of peaceful sit-ins at Hong Kong International Airport, and came after a night of heightened violence that included police firing tear gas inside a subway station and shooting rubber bullets and pepper pellets at protesters at close range.
One female medic was also hospitalized after being shot in the eye with a pellet round.
Protesters at the airport chanted slogans condemning the "black police" while holding up signs that read "HK Police Are Killing Us," "An Eye for An Eye," and "We Want to Choose Our Chief Executive"—a request that Hong Kong protesters have repeated over the past two plus months on top of the demand for a full withdrawal of an extradition bill that would allow people to be sent to the mainland for trial.
Some protesters also covered up their right eyes in solidarity with the injured woman.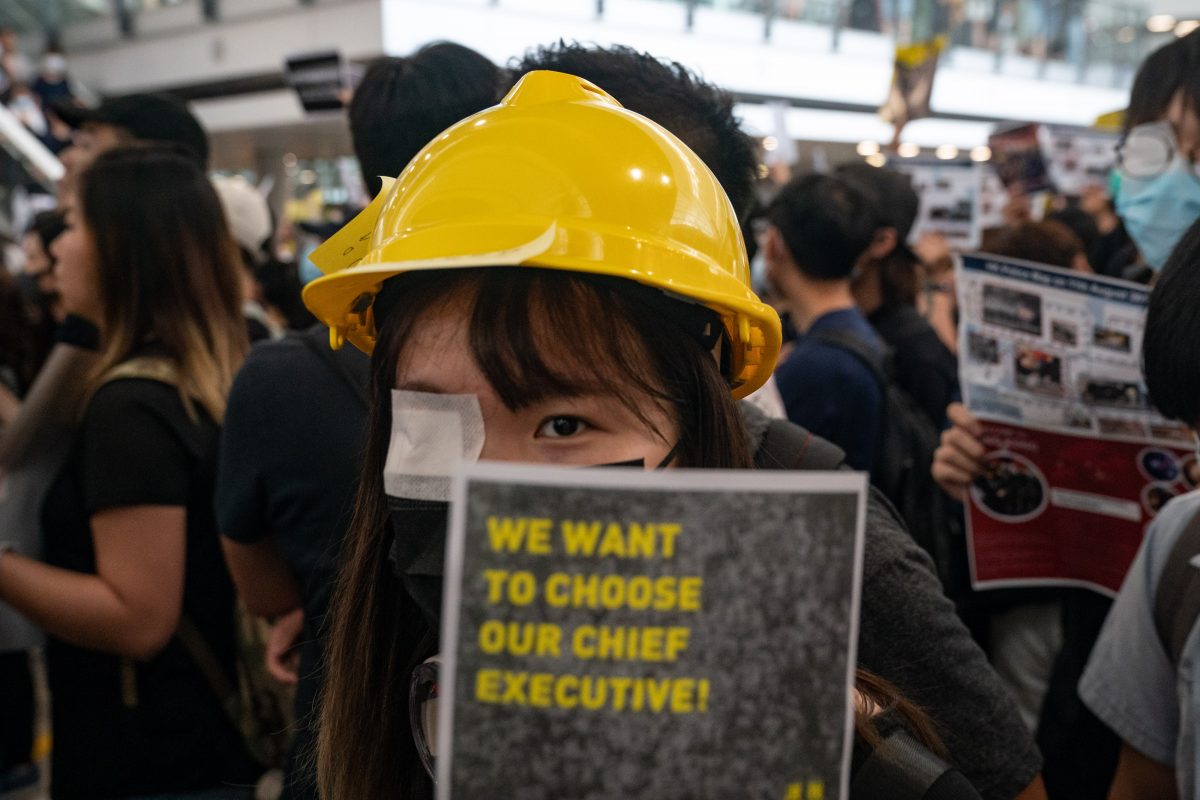 Hong Kong International Airport on the afternoon of Aug. 12 canceled all flights out of the airport, saying in a statement that the protests "seriously disrupted" its operations. It added that flights would resume at 6 a.m. on Aug. 13.
No violence was reported at the airport as of the evening of Aug. 12, and organizers have called on everyone to adhere to the principle of "no argument" and "no vandalism."
They want to "bring the most truthful side [of Hong Kong] to incoming travelers," the organizers said.
Government Pressure
Beijing and Hong Kong governments have taken on a growingly stern stance toward the protesters who have persisted for more than two months, condemning them as violent and radical.
For the third time in just over two weeks, China's Hong Kong and Macau Affairs Office, Beijing's highest agency for managing Hong Kong affairs, held a press conference on Aug. 12 praising the police who were injured during dispersal operations over the weekend.
The office's spokesperson, Yang Guang, accused the protesters of committing acts signaling "a budding terrorism" that threatened the lives of Hongkongers. The Chinese regime has used the threat of terrorism to justify the supression of minorities and religious groups in the regions of Xinjiang and Tibet, which has attracted censure by Western governments and rights groups.
Yang also asked the Hong Kong authorities to spare "no leniency or mercy."
Hong Kong's flag carrier Cathay Pacific Airways earlier on Aug. 12 warned of "disciplinary consequences" for employees involved in "illegal protests." China's aviation authority had earlier demanded the airline suspend staff members involved in the protests.
Last week, the airline suspended one pilot for "rioting," and dismissed two ground staff for leaking travel information for a Hong Kong police soccer team who were due to fly to China.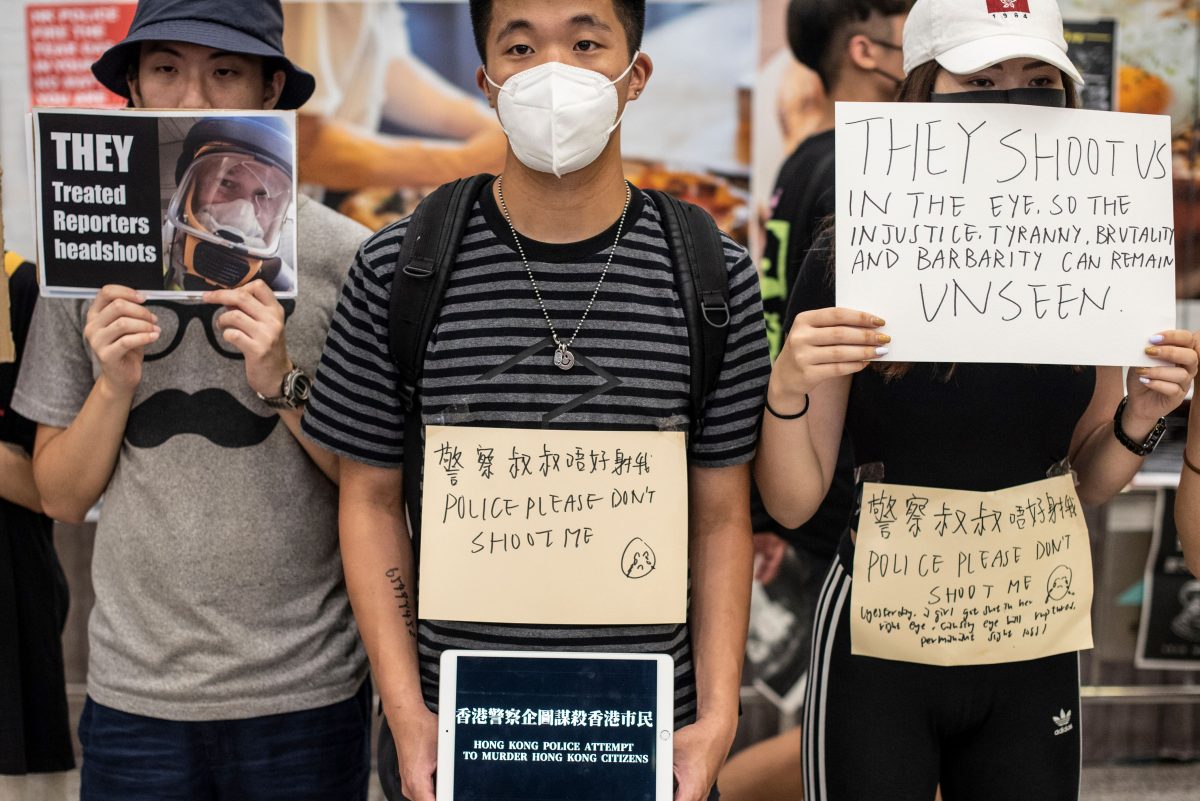 Civilian Responses
Despite ongoing criticism from Hong Kong and Beijing authorities, the protesters seem to draw the broader support of locals. At the airport, Hongkongers hauled over carts loaded with food and drinks in support of rally attendees, while the weekend protests in the city saw many residents coming out of their homes demanding that police stop using tear gas and go home.
Meanwhile, a group of masked protesters also held their own press conference on the same day criticizing recent police violence which brought Hong Kong to "its darkest weekend in contemporary history."
They said that the government's accounts of the protesters are "evidently mistaken" and that the "focus was completely misplaced."
"Hong Kong had turned into a torture field overnight," they said in a statement.
They said the firing of tear gas inside the Kwai Fong subway station disregarded the manufacturers' safety instructions, which said the device was strictly limited to outdoor use.
"We saw Kwai Fong Station being turned into a gas chamber," spokesperson Jerry Chan said.
"The protestors are repeatedly being called and treated like 'cockroaches' by the police."