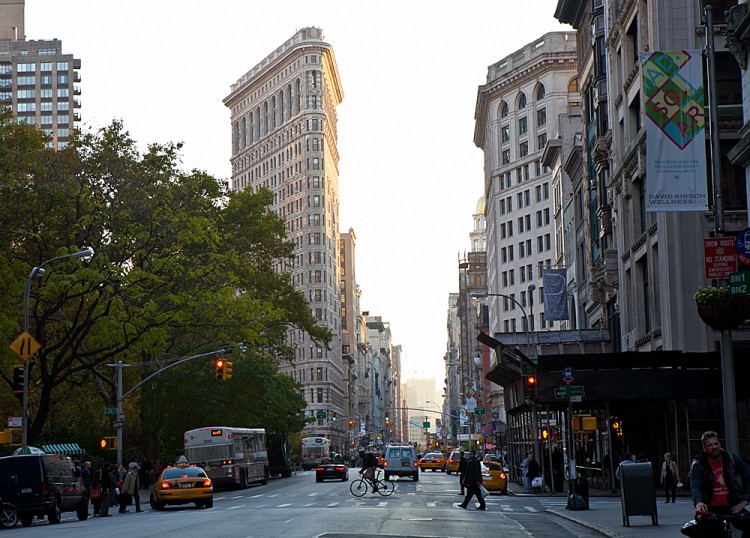 NEW YORK—More people are moving into the Flatiron District, buildings are being converted into residential units, and commercial and retail rents continue to increase.
John Ciraulo, vice chairman of Massey Knakal Realty Services, used 901 Broadway—built in 1869, and currently mixes use with apartments and retail—as an illustrative time lapse of increased popularity and rent in the area. The firm first sold the building in 1996 for $2.5 million as a vacant retail store, with rent below $100 a foot. Ten years ago the firm sold it again—this time for $6.5 million.
"Two years ago we sold it [again] for $25 million to a Russian/Spanish investor who put Brooks Brothers in there for close to $300 a foot," says Ciraulo.
A StreetEasy listing for a 2-bedroom-2-bathroom rental in the building asks for $15,500 a month.
Rent for some retail buildings on Broadway, Fifth Avenue, and Park Avenue South have more than doubled even over the past few years, explained Ciraulo.
High ceilings are a strong draw for those moving in the area, as are the architectural details of the buildings, many of them turn-of-the-century. However, Lynn Shanahan, president of Marimekko North America, said those offering space in the district should be more transparent about the inside of buildings, some of which might not be "up to par" for certain uses.
With more large companies moving in, Shanahan also wants the Flatiron/23rd Street Partnership Business Improvement District to remember the small businesses that started in the area and have invested in it. The partnership seeks to enhance the district's reputation and on Wednesday hosted the panel discussing these issues.
"There are a lot of great restaurants on all of the side streets—I think the discovery factor of this area is tremendous," said Shanahan. "If it turns out to be too exclusive, I think that it will lose its color, and that's why we're here."
A decade ago, the area was less desirable partially because Madison Square Park was poorly maintained. The park is centrally located in the district, which spans from 21st to 28th streets and Sixth to Third avenues.
Since then, more than 30,000 square feet of public space has been created, more than 4,700 residential units have popped up, and more restaurants, stores, and tourists have been drawn to the area—now more of a 24/7 community.
"I think the combination of the [Flatiron] BID and the [Madison Square Park] Conservancy have done an unbelievable job with the area," said Scott Alper, partner and chief investment officer at The Witkoff Group LLC. "The only thing that needs improvement are a couple of areas like the [pedestrian] islands that are going to be further developed in the next couple of years through the Department of Transportation."