A Tampa, Florida, couple returning home from a Thanksgiving vacation in South Florida were killed on Sunday when their SUV crashed into a canal in Davie, Florida, according to reports.
Local10 reported that Kevin Livingston, 42, and Michele Livingston, 35, both of Tampa, were killed in the accident.
Florida Highway Patrol Sgt. Mark Wysocky said their vehicle was traveling west on Interstate 75 in western Broward County when the left rear tire's tread separated. The driver then lost control of the vehicle and veered off the highway before crashing into a canal.
Several Good Samaritans attempted to rescue the two. The water, however, was too deep, Local10 reported.
Crash on WB Alligator Alley MM 33. No WB traffic @browardsheriff pic.twitter.com/mbXKYsB62w

— Linda Trischitta (@LindaTrischitta) November 26, 2017
"The water's estimated to be about 40 feet deep in that area," Wysocky said.
The accident remains under investigation. It's unclear whether the two were wearing seatbelts when the crash took place.
According to The Miami Herald, they were South Florida's fourth and fifth holiday weekend deaths.
On Thanksgiving Day, a couple who were expecting their first child died in a wrong-way crash along with another person.
The Florida Highway Patrol confirmed that Justin B. Lakin, 21, of Bradenton, Yvette R. Alexandre, 21, of Ruskin, and Lashay D. Waiters, 24, of Bradenton, were in the crash, according to Brandenton.com. They were taken to Tampa General Hospital, where they were pronounced dead.

Alexandre and Waiters had recently gotten engaged, family members told the outlet. They had planned to get married in January of next year.
Suzette Alexandre wrote on her Facebook Friday, "We will miss their (b)eautiful faces and smile. My Baby girl Yvette Alexandre and her fiance Lashay we will always love you guys."
WFLA reported that the couple was heading home after dropping off a friend. The two both attended the University of Central Florida in Orlando, where they met.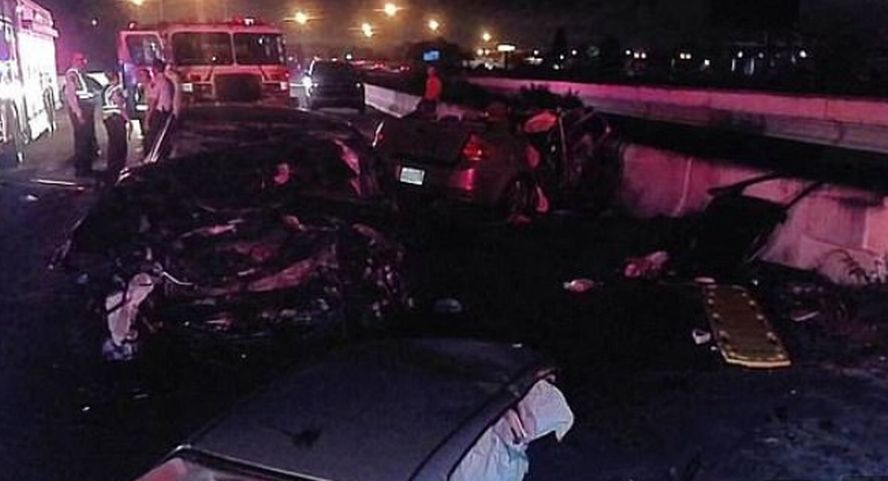 According to the Daily Mail, Yvette had written that she was pregnant two weeks after announcing their engagement.
Police said they're not sure why Lakin was driving the wrong way. According to WWSB, all passengers were wearing seatbelts and alcohol wasn't a factor in the crash.
…While you're here
Dear reader, we have a little favor to ask of you. We work hard to deliver important and interesting articles to you, but we can't do it without ad revenue.