Never losing touch with regular people is an important part of being successful—it's part of the attitude that leads to making it there in the first place.
In big business, it often means knowing what's going on right down to the ground in a company; in entertainment, it means always appreciating fans and never taking them for granted. For a couple of HGTV stars, Chip and Joanna Gaines, it means all of the above.
The successful hosts of home reno show "Fixer Upper," and owners of Magnolia Homes, also maintain a large following of fans on social media. They sometimes get to share in the joys in their fans' lives, too—a pretty special relationship for TV stars. The couple, who are also a married couple (in case you didn't know), also shared the joy of having their 5th child, Crew, with fans on social media in June 2018.
But when Chip recently shared a photo of how quickly their baby boy was outgrowing his high-tech SNOO bassinet worth nearly $1,300—complete with "calming sensations" that mimic the mother's womb, according to their website—an offhand remark from a fan turned into a chance for the TV-star parents to get involved in her life in a beautiful, personal way.
"Uh oh.. what happens when they out grow the #snoo??" wrote Chip in the social media post showing big boy Crew in his SNOO.
To which fan Kelly Claggett responded by sharing some good news: how she and her husband were finally having their first child after 12 years of trying; and how, now, they would need to buy a bassinet.
"Sell it to me!!" responded Claggett. "After 12 years my husband and I are FINALLY expecting!!"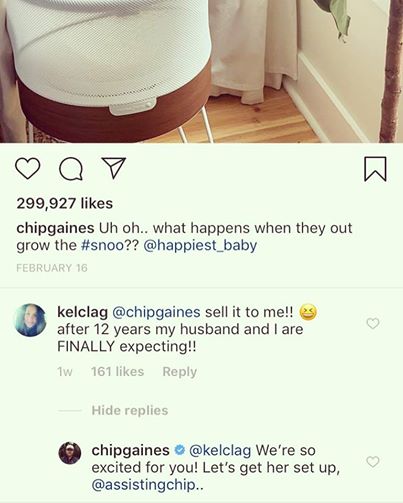 Now, the Gaineses are hardly hard up for cash—they just recently purchased their own castle—so, Chip knew just the right way to respond to Claggett's comment. "We're so excited for you!" he wrote. "Let's get her set up," he said, tagging his assistant to get the ball rolling.
And with that, they promptly had the top-of-the-line SNOO bassinet shipped to the Claggetts. And the proof came in the form of a post on March 1st. Claggett shared a photo posing with the SNOO smart sleeper box and her husband.
Along with this, Claggett commented, "I do not feel worthy of any of it but like I have told the ones of you who already know. God gets every ounce of glory in this. This is just his way of saying I SEE YOU AND I LOVE YOU!
"Our baby and family is blessed by this random act of kindness and I'll never stop trying to pay it forward."