Five-Year-Old Appeals for Mother's Freedom
August 27, 2006 12:00 am Last Updated: August 27, 2006 12:00 am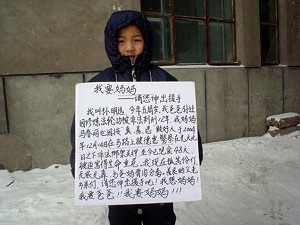 CHINA—On the eve of the 2005 Lunar New Year, five-year-old Sun Mingyuan stood on a street in Dehui City, China, with a sign hanging from his neck asking for help to rescue his parents, who had been detained for practicing Falun Gong. In mid-July of this year, he and his grandmother tried to visit his mother. Police denied permission for the visit.
His mother, Ma Chunli, from northeast China, was arrested in late 2004 for practicing Falun Gong, the outlawed spiritual practice. Since then, she has fasted for more than 500 days to protest her confinement. Her husband, Sun Qian, who also practices Falun Gong, was sentenced for 12 years after being beaten to the point of serious injury.
According to a Minghui Net report, Mrs. Ma Chunli, 35 years old, was formerly on the staff at the Dehui City Water Conservancy Bureau of Jilin Province. After having been diagnosed with breast cancer in 1997, she regained her health—in her view—through practicing Falun Gong. As a result, her whole family started practicing Falun Gong.
Because Mr. Sun had petitioned the government to end the persecution of Falun Gong practitioners, police had tortured him in a variety of ways. At one time, the police broke the tendons of his feet by the method of "stretching one's limbs in five directions," a cruel interrogation tactic.
The muscles below his waist were withered as a result of being tied up on "the death bed"—another torture method—for nearly a month. Currently he is detained among the "the old and disabled team" of Jilin prison. No family members are allowed to visit him.
Previously, police had abducted Ma Chunli five times and tortured her to the brink of death several times. On December 14, 2004, she was forcibly taken to the Public Security Bureau and imprisoned there. Dehui City police wrapped a black plastic bag around her head when they took her away.
In the detention center, Ma Chunli experienced tortures such as being tied up on "the death bed," hung from handcuffs, and beaten. In order to protest the torture and imprisonment, she began a hunger strike, which has lasted more than 500 days to date.
In response to her hunger strike, police forcibly pried open her teeth, inserting a hard plastic tube into her esophagus, and moving it back and forth to "force feed" her (a form of torture). This torture has endangered her life, and she has been sent to the emergency room several times.
On October 31, 2005, Dehui Municipal Court illegally sentenced her to six years in prison. Worried that she could die at any time because of her hunger strike, neither hospital staff, nor prison officials would accept her. The Municipal Court eventually had to take legal action to force the prison to accept her.
Ma Chunli's family was not informed of her whereabouts by the Changchun City Heizuizi prison until sometime around May of this year. At that time, her mother was asked to take care of her in the hospital.
At the end of June, prison guards denied relatives' request to visit Ma Chunli with the excuse that such a visit required a superintendent's approval. All superintendents had gone on vacation, and no one was available to grant permission.
In mid-July of this year, Sun Mingyuan's grandmother accompanied him in an attempt to visit his mother. Police again denied permission.
A policewoman told them: "Ma Chunli can no longer walk. She can only be seen inside the prison, and that requires authorization." They sought help from the authorities, but were told, "No one is working. Everyone is on vacation in Qinhuandao."